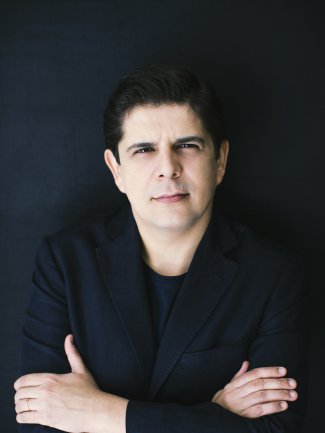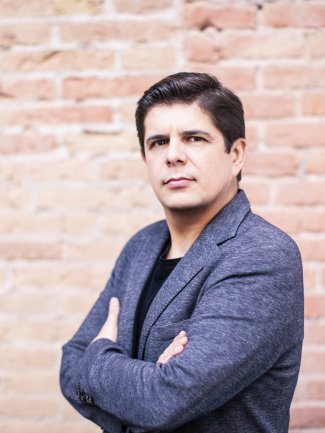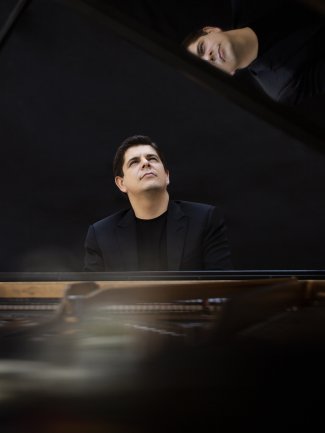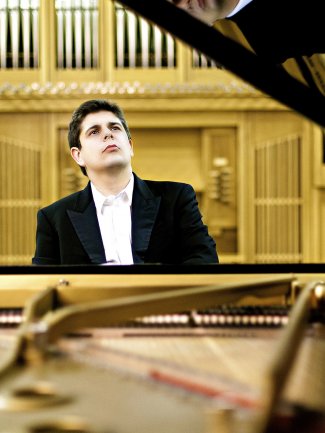 ©
Photo: Daniel García Bruno
©
Photo: Daniel García Bruno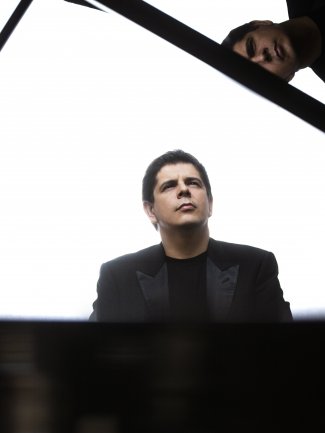 "His demeanour and technique… radiate calm, yet the precision and speed of his fingerwork can be quite shattering. Seldom, if ever, have I encountered such a combination of evident modesty and utter brilliance"

(Sunday Times)
The international career of Javier Perianes has led him to perform in the most prestigious concert halls, with the world's top orchestras, collaborating with conductors such as Daniel Barenboim, Charles Dutoit, Zubin Mehta, Gustavo Dudamel, Sakari Oramo, Yuri Temirkanov, Gustavo Gimeno, Santtu-Matias Rouvali, Louis Langrée, Juanjo Mena, Simone Young, Vladimir Jurowski, David Afkham, Pablo Heras-Casado, François-Xavier Roth, Daniel Harding and Klaus Mäkelä, and appearing at festivals such as the BBC Proms, Mainly Mozart, Lucerne, La Roque d'Anthéron, Grafenegg, Prague Spring, San Sebastian, Granada, Vail, Blossom and Ravinia. He was awarded the ​'National Music Prize' in 2012 by the Ministry of Culture of Spain and named International Classical Music Awards (ICMA) Artist of the Year in 2019.
The 2019/20 season features an array of high-profile concerts and a focus on Brahms' First and Second Piano Concertos. Perianes returns to the Scottish Chamber Orchestra, Orchestre Symphonique de Montréal, Cincinnati Symphony Orchestra, Orchestre National de Belgique, Gulbenkian Orchestra, Finnish Radio Symphony Orchestra and Orchestre National du Capitole de Toulouse, as well as debuts with Orchestre de Chambre de Lausanne, NAC Ottawa and Orchestre Philharmonique de Radio France.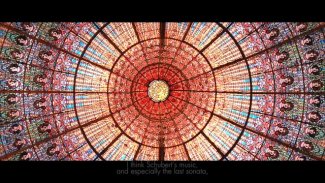 Javier Perianes – Schubert: Piano Sonatas Nos. 13 & 21 Album Trailer
© Harmonia Mundi
Show more

Perianes frequently appears in recital across the globe and is also a natural and keen chamber musician. This season he makes his recital debut at the Boulez Saal in Berlin. He also collaborates with regular chamber music partner Tabea Zimmermann for recitals in Germany and France, and joins the Quiroga Quartet once again for a tour of the Netherlands, Germany and Switzerland.

Recording exclusively for harmonia mundi, new releases this season include Ravel's Tombeau de Couperin, Alborada del Gracioso and Piano Concerto in G major with Orchestre de Paris and Josep Pons, and Cantilena; a project with violist Tabea Zimmermann including a selection of Spanish and Latin American works.
Gallery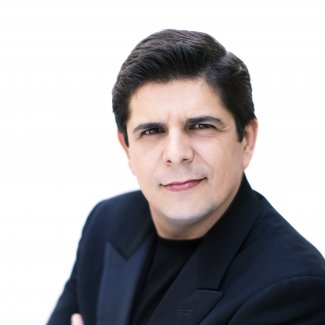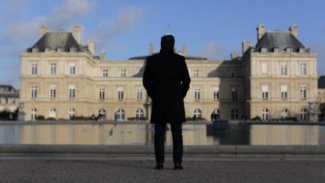 Claude Debussy documentary
© Igor Studio, Bouygues Telecom Foundation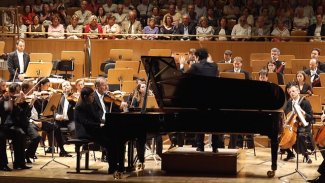 Javier Perianes - Beethoven: Piano Concerto No.4 (excerpt) with Wiener Philharmoniker
© IBERMÚSICA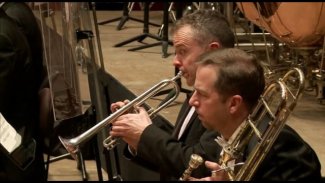 Javier Perianes - Ravel: Piano Concerto in G major with Andrés Orozco-Estrada & Sinfónica de Galicia (excerpt 1)
© Sinfónica de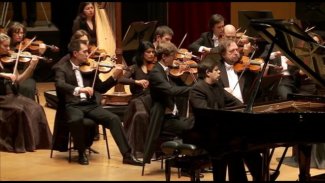 Javier Perianes - Ravel: Piano Concerto in G major with Andrés Orozco-Estrada & Sinfónica de Galicia (excerpt 2)
© Sinfónica de
"Javier Perianes can handle all Ravel's digit-twisting difficulties with apparent ease, but he never allows the finger-work to sound flashy. There's always a feeling of intimacy and delicacy, as if we're being given a glimpse of a child's picture book … The disc is a feast for the ear and the heart."
(Ivan Hewett, Telegraph, January 2020)
"For Schumann's Piano Concerto, the last minute substitute was Spaniard Javier Perianes, […] I'll wager he'll be back to play with the SCO again, very likely directing from the keyboard as he did here, even if his nods to the strings noticeably diminished along with any requirement for them […] His playing was beautifully measured and exquisitely lyrical and there was a palpable ensemble feel to the performance."
(Keith bruce, HeraldScotland, October 2017)
"…The Spanish pianist Javier Perianes finds in Camille Saint-Saëns Piano Concerto No. 2 an ideal mixture of virtuousic glitter and intimate moments. In the interplay with the orchestra, he shows a keen sense of the atmospheres and pictorial characters of the music: in the second movement, for instance, he lets a clutch of ethereal fairies flit over the fingerboard, and in the finale, he lion-like hammers the chords into the grand piano. With a wonderful Chopin Mazurka as an encore, Perianes whips up a magical enchantment of elegant and delicate nuances in tempo and colours which one wishes to hear in a solo recital very soon."
(Marcus Stäbler,Hamburger Abendblatt, April 2017)
"Perianes is a chamber-music natural, adept at judging the minutiae of advance and retreat, and unafraid to let the piano's weight of sound off the leash when required. The physicality of his playing works powerfully well with Cuarteto Quiroga's lean, cultivated sound and honed ensemble."
(Classical Source, November 2016)
"In the Ravel concerto, he was rhythmically crisp in the opening movement, poised in the lyrical central Adagio and nimble in the concluding Presto."
(LA Times, October 2016)
"Perianes breathed life into the melodious lines of Bartóks last piece in this genre with his sophisticated attack and dazzlingly clear sound. He drew in sound with the major theme in the first movement the fluttering of a bird and swirled boisterously through the rousing dance theme in the Allegro vivace."
(Münchner Merkur, October 2016)
"Beethoven's Piano Concerto No. 3 had a topnotch interpreter in Javier Perianes. In turn confrontational, tempestuous, lyrical and joyful, Perianes' account of this much loved concerto was delivered in the most satisfying sense. Simone Young took the orchestra through a beautifully gauged accompaniment to Perianes' high artistry. This was everywhere apparent as the soloist expounded the composer's musical argument in a way that sounded entirely convincing. The cadenza was flawless. … Avalanches of insistent and thoroughly deserved applause resulted, at last, in an encore. With lights on stage dimmed, the audience listened in absorbed silence to an exquisitely wrought, poetic offering: Chopin's posthumously published Nocturne in C sharp minor. Its haunting lyricism was exquisitely evoked."
(The West Australian, July 2016)
"His performance of Beethoven's 4th Piano Concerto was to captivate the Viennese, as he turned the opening Allegro's cadenza into a beautiful story while the orchestra listened attentively, realizing they spoke the same musical language. The Andante con moto was a vivid representation of Orpheus in the Underworld, and the final Rondo resulted in a heavenly Beethovenian boutade. At the end, during the Grieg Notturno Perianes gave as encore, many of their expressions clearly read: ​'he's one of ours'."
(Pablo L. Rodríguez, El País, June 2016)
"Of the second program…we shall recall above all the poetically poised and magnificently phrased performance of Beethoven's 4th Piano Concerto by Javier Perianes. The supreme shadings in the extensive cadenza of the first movement, and his way of muttering the Andante were highly memorable indeed."
(Arturo Reverter, La Razón, June 2016)
"Having already displayed his talent in Falla's orchestrally exhuberant, elegant and forceful Nights in the Gardens of Spain, Javier Perianes then performed the Ravel Concerto in G Major where he presented us with a more Jazz-like virtuosity.… Everything became luminous, and impressions turned into time-stopping sensations. Perianes elevated himself through crystal-clear, eloquent, and delicate phrasing, and with him the whole audience at the Palacio de Carlos V.… He had taken our senses hostage: some impressions will last a lifetime, and this surely is one of them."
(Gonzalo Lahoz, Platea Magazine, 26 June 2016)
"In the Spanish soloist Javier Perianes, the work found an ideal exponent. His demeanour and technique – those flexible wrists! – radiate calm, yet the precision and speed of his fingerwork can be quite shattering. Seldom, if ever, have I encountered such a combination of evident modesty and utter brilliance."
(The Sunday Times, May 2016)
"The soloist Javier Perianes seemed to relish the melting pot of influences, moving across them with ease yet always displaying pianistic warmth and lyrical sweep. With utmost naturalness at the keyboard, he also found room for old-fashioned virtuosity."
(John Allison, The Telegraph, April 2016)
"The soloist was the Spaniard Javier Perianes, a player of great elegance and understated flamboyance, in many ways the work's ideal interpreter. Limpidity gave way to weight in the gathering drama of the first movement … which Perianes negotiated with exquisite grace and a wonderful lightness of touch. The finale, expressing ​"the joy of a sea crossing" according to Saint-Saëns, was all elation and dexterous wit."
(Tim Ashley, The Guardian, April 2016)
"And the Spanish soloist, Javier Perianes, was a true find for this concert, a pianist who was technically at ease with a gossamer touch and a dynamic that rarely entered into loud territory. Perianes' interaction with González and the orchestra was full of empathy, and Beethoven's simple melodies emerged as infinitely beautiful."
(Nordjyske Medier, October 2015)
"The Spanish pianist Javier Perianes is rapidly establishing his reputation in the UK, with a Wigmore Hall recital and BBC dates under his belt, and his recent Mendelssohn release has been widely acclaimed. This date (replacing Menahem Pressler) with the LPO confirmed what an exceptional musician he is. From the piano's famous opening chord of Beethoven's Fourth Concerto, you knew that something special was going to unfold. The work is not a virtuoso vehicle for egotists but presents all manner of challenges in terms of poetry, narrative and dialogue… Perianes's encore – Chopin's A minor Mazurka, Opus 17/4 – lingered unforgettably in a world of half-lit melancholy. I cannot wait to hear Perianes again."
(Classical Source, March 2015)
"At once it was clear that we were going to hear a very expressive account of the concerto, for those first notes were played by Perianes with exquisite tenderness, and Ticciati's response and his conducting of the opening tutti in general was acutely sensitive. And as the movement progressed a fine balance was struck between intimacy of expression and clarity of execution, with Perianes producing an attractively clean, sparkling tone quality. His account of the cadenza had a certain authority of presentation: though phrased flexibly it seemed for the moment that this was the only way to play the music."
(Seen and Heard International, March 2015)
"Javier Perianes gave a magnificent performance of the Ravel Concerto in G major, with impeccable technique as well as great musical inspiration. From the beginning the bright glissandi and incredible finesse of his arpeggios blew the spark that electrified the atmosphere between stage and audience […]"
(Julián Carrillo, EL PAÍS, March 2015)
"There is a lovely luminosity to Perianes's tone throughout this repertoire, together with a poised romantic temperament that chimes in ideally with Mendelssohn's turn of phrase. Lyricism is the crux of the music, but, as Perianes shows, there is also a winning variety of colour, mood and atmosphere."
(The Telegraph, January 2015)
Javier Perianes
"Perianes borda la magia. Su piano parecía hablar, cantar, expresarse como nunca en la hermosa tarde-noche granadin…
https://t.co/ThSEgfeXoV
21 Jul