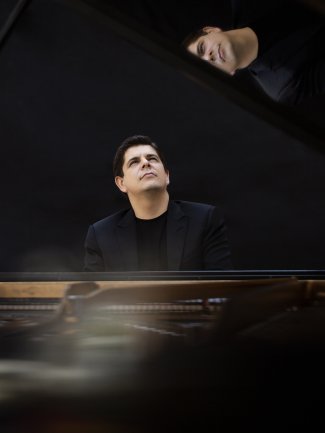 JAVIER

PERIANES

PERFORMS

JIMMY

LÓPEZ

BELLIDO'S​'

EPHEMERAE

'

IN

CANADIAN

&

US

PREMIERES
17/11/2023
Javier Perianes returns to North America for performances with Orchestre Symphonique de Montréal and The Philadelphia Orchestra.
Javier Perianes is joined by Rafael Payare for both the Canadian and US premieres of Jimmy López Bellido​'s piano concerto Ephemerae. The concerto was co-commissioned by London Philharmonic Orchestra, São Paulo State Symphony Orchestra, Oslo Philharmonic, and The Philadelphia Orchestra. The work is dedicated to Perianes, who also performed the world premiere in 2022.
The concerts with Orchestre Symphonique de Montréal will take place at the Maison Symphonique de Montréal on 22 November and two performances on 23 November. The rest of the musical programme is a journey through South America with Variaciones concertantes from Ginastera, Bachianas Brasileiras No. 8 from Villa-Lobos and Ravel's Bolero for Spanish reminiscence. The concert will be recorded for on demand viewing on Mezzo and Medici​.tv.
In Philadelphia, the performances are scheduled at the Verizon Hall on 1, 2 and 3 December. The piano concerto will be followed by Mahler's Titan Symphony.
Elise Jennings
Senior Artist Manager
Milly Paine
Publishing Manager