The HarrisonParrott Foundation has at its heart our mission to support and champion diversity and inclusion within the arts.
As passionate advocates for innovation, we want to challenge the idea that ethnicity, gender, disability and social background are impediments to full inclusivity — we believe everyone deserves access to the arts. We want to challenge preconceived assumptions of what the arts are and who they are for.
Music Access Awareness Week
Music Access Awareness week: is an annual charity campaign and symposium run by HarrisonParrott Foundation designed to engage with individuals and organisations involved across the music education sector (including educators, schools, professional musicians, hubs, foundations, trusts, orchestras, agencies and venues) in the United Kingdom to identify barriers to music access and help to solve them.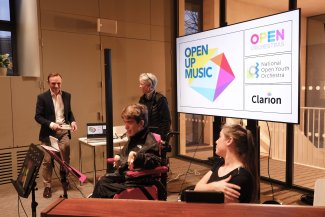 Lorna Aizlewood
Chief Operating Officer & General Counsel, Head of Birdsong Music Publishing
Lissy Kelleher-Clarke
Head of Artist Operations & Digital Transformation; HarrisonParrott Foundation Manager