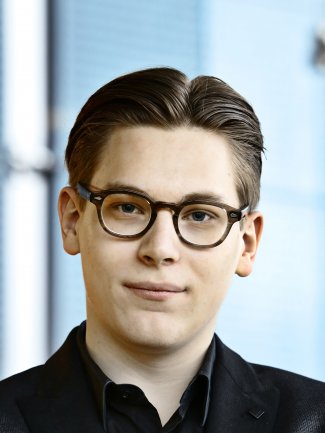 Klaus Mäkelä
Conductor / Cello
"He possesses a musical intelligence beyond the ordinary"

(Norrköpings Tidningar, 2017)
Still in his early twenties, conductor and cellist Klaus Mäkelä has already made a significant impact on the Finnish musical landscape and the 2017/18 season will see him make significant debuts across Europe, Scandinavia, the United States, Canada and Japan. From the 2018/19 season, Mäkelä will be Principal Guest Conductor with the Swedish Radio Symphony Orchestra and Artist in Association with Tapiola Sinfonietta.
This season Mäkelä debuts with the Swedish Radio Symphony Orchestra, Royal Stockholm Philharmonic Orchestra, Minnesota Orchestra, National Arts Center Orchestra (Ottawa), Tokyo Metropolitan Symphony Orchestra, NDR Radiophilharmonie, Orquesta Sinfonica de Galicia, Orchestre National du Capitole de Toulouse, Lahti Symphony Orchestra, Norrköping Symphony Orchestra, Kammerakademie Potsdam, Kristiansand Symfoniorkester, Orchestre de Chambre de Lausanne and Iceland Symphony Orchestra. He will also return to Helsinki Philharmonic Orchestra, Tapiola Sinfonietta, Gothenburg Symphony Orchestra, Turku Philharmonic Orchestra and Oulu Symphony Orchestra.
Also working in opera, Mäkelä will make his debut in December 2017 with performances of The Magic Flute with the Finnish National Opera.
Show more

Mäkelä has already conducted many Finnish orchestras and now appears regularly with Helsinki Philharmonic, Finnish Radio Symphony Orchestra, Tampere and Turku Philharmonics, Tapiola Sinfonietta and the Ostrobothnian Chamber Orchestra.

At the Sibelius Academy, he studied conducting with Jorma Panula and cello with Marko Ylönen, Timo Hanhinen and Hannu Kiiski. As soloist, he has performed with Finnish orchestras such as the Lahti Symphony, Kuopio Symphony and Jyväskylä Sinfonia as well as appearing at many Finnish festivals including the Kuhmo Chamber Music Naantali Music Festival, and Chamber Music Summer Festival in Helsinki.

Klaus Mäkelä plays a Giovanni Grancino cello from 1698, kindly made available to him by the OP Art Foundation.
Gallery
"A high level of performance, led by Klaus Mäkelä, glowed with colour… Young Mäkelä delivered a masterpiece as an opera conductor"
(Helsingin Sanomat, May 2017)
"Oulu Symphony Orchestra seemed obviously liberated by the Mäkelä's energy, particularly in Beethoven's Symphony No.7 op. 92 in which the jubilation could be sensed throughout the whole hall."
(Kaleva newspaper, January 2017)
"Our country's music education system has produced a number of internationally successful conductors. The latest addition is 20-year-old Klaus Mäkelä. With a bright talent and determination he captured the audience of the Kymi Sinfonietta concert. His bold movements encouraged the Orchestra to play with real feeling."
(Kymen Sanomat, October 2016)
"Mäkelä conducted gloriously – self confident and powerful, but at the same time graceful and controlled."
(Rondo Classic, March 2016)
"The young Klaus Mäkelä is a great conducting talent. His debut with Tapiola Sinfonietta showed that in front of the orchestra he has a natural authority. His musical abilities are so strong that it's easy for him to gain the trust of the musicians. In Tchaikovsky's Mozartiana and Arensky's Variations on a Theme by Tchaikovsky, he demonstrated his fine sense of phrasing, sound, rhythm and nuance."
(Helsingin Sanomat, January 2016)
"Klaus Mäkelä is an extraordinary talent, who will go far. He manages to channel his musical expression in a constructive way."
(Huvudstadsbladet, January 2016)
"You can already now say that Klaus Mäkela is a true conductor"
(Turun Sanomat, March 2015)