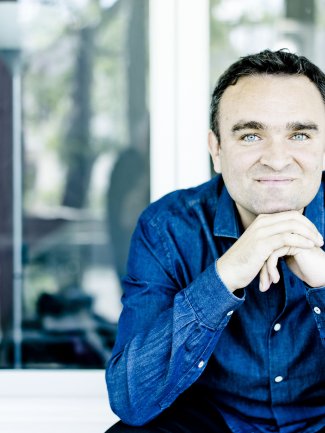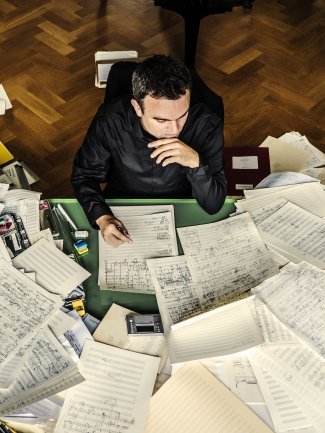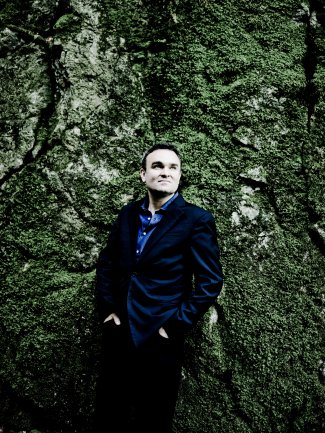 Jörg Widmann
Conductor / Composer / Clarinet
Johanna Hofem (maternity leave)
Principal Conductor: Irish Chamber Orchestra
Clarinetist, composer and conductor Jörg Widmann is one of the most versatile and intriguing artists of his generation. The 2018/19 season sees him appear as soloist with orchestras such as the Symphonieorchester des Bayerischen Rundfunks with Susanna Mälkki, National Symphony Orchestra, Taiwan with Shao Chia Lu, NDR Radiophilharmonie Hannover with Andrew Manze, and Kammerorchester Basel with Heinz Holliger.
Jörg Widmann is Artist in Residence at the National Symphony Orchestra, Taiwan, appearing as clarinetist in a performance of Mozart's Clarinet Concerto, as conductor in a play/​direct programme, as well as both composer and lecturer. Further residencies include the Orchestre de Paris where his works feature in various concerts.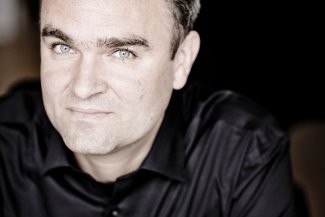 Show More

Chamber music performances in the 2018/19 season include concerts with the Hagen Quartet with performances in Hamburg's Elbphilharmonie, New York's Carnegie Hall, Freiburg and Baltimore, and trio recitals with Tabea Zimmermann and Dénes Várjon in Munich and Budapest. In February he will give the premiere of Peter Eötvös' Joyce, commissioned by the Centro Nacional de Difusión Musical and written for Jörg Widmann.

Continuing his intense activities as a conductor, Jörg Widmann performs this season with the Orchestra della Svizzera italiana, Tokyo Metropolitan Symphony Orchestra, Boulez Ensemble Berlin, Kammerakademie Potsdam and he will be on tour throughout Germany with the Junge Deutsche Philharmonie. As their principal conductor, he will lead the Irish Chamber Orchestra in concerts in Ireland, Europe and will embark on a tour to South America with Concerts in Buenos Aires, São Paulo and Rio de Janeiro.

In August 2018 Jörg Widmann conducted the premiere of his Violin Concerto No.2, performed by Carolin Widmann with the Tokyo Metropolitan Symphony Orchestra. This season sees performances of this piece with the Orchestre de Paris, hr-Sinfonieorchester, and Royal Stockholm Philharmonic Orchestra.

Widmann studied clarinet with Gerd Starke in Munich and Charles Neidich at the Juilliard School in New York. He performs regularly with renowned orchestras, such as Gewandhausorchester Leipzig, Orchestra National de France, Tonhalle-Orchester Zürich, National Symphony Orchestra, Washington, Orchestre symphonique de Montréal, Vienna Philharmonic Orchestra, Netherlands Philharmonic Orchestra and Toronto Symphony Orchestra. He collaborates with conductors such as Daniel Barenboim, Christoph Eschenbach and Christoph von Dohnányi.

Widmann gave the world premiere of Mark Andre's Clarinet Concerto über at the Donauerschinger Musiktage 2015. Other clarinet concerti dedicated to and written for him include Wolfgang Rihm's Musik für Klarinette und Orchester (1999) and Aribert Reimann's Cantus (2006).

Widmann is a Fellow at the Wissenschaftskollegs in Berlin and a full member of the Bayerischen Akademie of Schönen Künste, and since 2007, the Freien Akademie der Künste Hamburg, the Deutschen Akademie der Darstellenden Künste and the Akademie der Wissenschaften und der Literatur Mainz. He is professor for composition at the Barenboim-Said Academy, Berlin.
"But what makes him so irresistible as a composer and performer alike is the hefty dose of sheer joy in what he does: the pleasure of vital, visceral musicality that promises to bind together classical music of the past and present – and forge a way into the future."
(The Guardian, January 2018)
"He's a smiling, buoyant presence on stage, responding to each section of the orchestra in turn, locking eyes as well as semiquavers with the strings, and moulding melodies and passagework alike with a lithe, transparent tone. This was one of the least indulgent Mozart clarinet concertos I've heard, and its special grace lay in the unforced way Widmann, Gražinytė-Tyla and the orchestra played off each other."
(The Arts Desk, October 2017)
"Widmann had a weight of expression with a lightness of manner while playing Brahms, Berg, and Schumann that was captivating, exciting the mind and touching the heart. The Berg and Schumann pieces share qualities of each composer's vocal music; Berg's Op. 5 seemed a twin in color and expressive quality to his Sieben frühe Lieder, and the Fantasiestücke echoed the likes of Dichterliebe. Widmann's clarinet sang like a great vocalist."
(New York Classical Review, April 2017)
"Jörg Widmann's five string quartets make up a kind of meta quartet – a massive web of musical dialectics that celebrate, explode and generally redefine the genre's lofty, loaded heritage. No other contemporary composer has grappled with quartet form quite so intelligently or so probingly. It's astoundingly virtuosic stuff, mentally and musically, and jaw-droppingly beautiful at times: just listen to the gossamer-fine and haunting textures of the fourth quartet, or the stark violence that ends the third."
(The Guardian, July 2015)
"Tuesday's performance featured Germany's lively and engaging Jörg Widmann, a welcome presence whether as composer, clarinettist or conductor…Throughout he displayed masterfully fluid tone control over every register, from the highest cloud-covered peak to the lowest velvet burblings."
(The Times, February 2015)
Johanna Hofem (maternity leave)