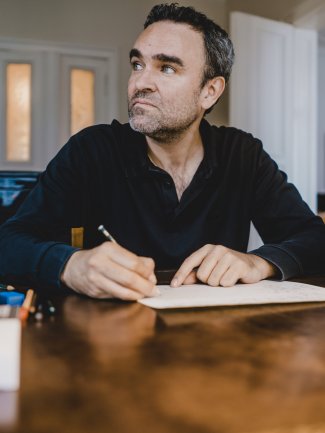 JÖRG

WIDMANN

 — ​

'

ARTIST

IN

RESIDENCE

'

AT

NTR

ZATERDAGMATINEE

AT

THE

CONCERTGEBOUW

AMSTERDAM
4/11/2022
Jörg Widmann, whose work as ​'Artist in Residence' of the NTR ZaterdagMatinee series at the Concertgebouw Amsterdam is being prominently featured (and which began in October with a performance of his work Con Brio, performed by Rotterdam Philharmonic Orchestra and Lahav Shani), will see many highlights over the course of this season, including the Dutch premiere of his full-length oratorio Arche, under the baton of Karina Canellakis on 12 November. The performance will be broadcast live on Radio 4.
Arche premiered under the baton of Kent Nagano for the spectacular opening of Elbphilharmonie Hamburg in January 2017. It is a massive work in five parts which demands more than 200 musicians and singers on stage, including soprano and baritone soloists, large orchestra, two adult choirs and a children's choir. For this performance, the combined forces alongside Netherlands Radio Philharmonic Orchestra include Groot Omroepkoor, Hongaars Nationaal Koor, Nationaal Kinderkoor and Nationaal Jongenskoor, as well as soloists Sarah Brady (soprano) and Thomas E. Bauer (baritone).
The next performance in this series will see him conducting Ensemble Modern in an all-Widmann programme on 10 December, which will include the world premiere of his new work Tartaros (Labyrinth VII) for 13 instruments. This new commission by the NTR ZaterdagMatinee explores a theme around Primeval Hell.
On 28 January, Hannes Minnaar plays Widmann's moving Trauermarsch for piano and orchestra with Netherlands Radio Philharmonic Orchestra under the direction of James Gaffigan.
'Widmann the Devil' is the title of the concert on 15 April, where Widmann play-directs Netherlands Radio Philharmonic Orchestra in a programme including Weber's Clarinet Concerto No.1, his own Versuch über die Fuge and Fantasy for Clarinet Solo, and conducting Mendelssohn's monumental Symphony No. 5.
Karin Schwarz-Feyhl
Associate Director, Artist Management