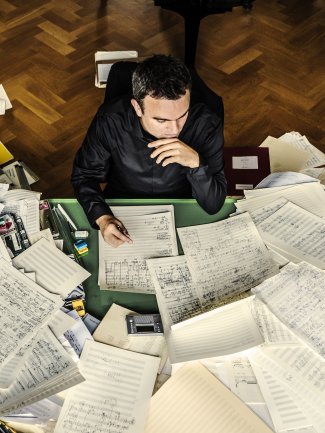 Jörg Widmann's Partita – Fünf Remineszenzen für Orchester is premiered in Leipzig
2/3/2018
On 8 March Jörg Widmann sees the premiere of his new work for big orchestra Partita – Fünf Remineszenzen für Orchester performed by Leipzig's Gewandhausorchester, conducted by Andris Nelsons and co-commissioned by Boston Symphony Orchestra (with performances in Boston on 29, 30 and 31 March). This performance (with additional concerts on 9 and 11 March) will not only mark the highlight of Jörg Widmann's residency as the first ever Gewandhaus Composer in the Orchestra's history – but will also mark the Orchestra's 275th anniversary.
As Gewandhaus Composer, Jörg Widmann is featured in a variety of concerts – as performer, composer and conductor.
In December 2017 the performance of his Viola Concerto with Antoine Tamestit kicked started this residency, followed by a recital with the Armida Quartet. On 28 February, Jörg's compositions will be displayed in a portrait concerto that also features him as a performer. He will finish his year as Gewandhaus Composer with the performance of Carter's Clarinet Concerto under the baton of Andris Nelsons on 21 and 22 June 2018.
Sabine Frank
Director & Managing Director (HP GmbH)
Karin Schwarz-Feyhl
Associate Director, Artist Management