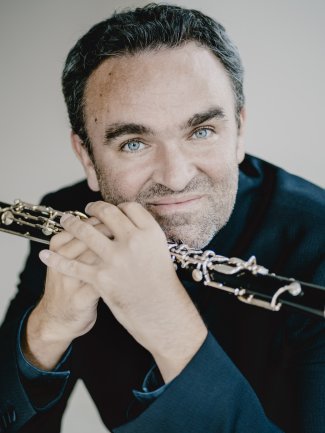 JÖRG

WIDMANN

RETURNS

TO

JAPAN

AS

CONDUCTOR

,

COMPOSER

&

CLARINETTIST
8/3/2023
Jörg Widmann finally returns to Japan this month to make up for a number of projects cancelled during the coronavirus pandemic. He conducts Ensemble Kanazawa in a programme featuring Mendelssohn's Hebrides Overture, Mozart's Symphony No.41 (Jupiter), his own Con brio and Fantasie für Klarinette solo on 11 March. At the beginning of the programme, Jörg Widmann brings his own twist to the Andante from Mendelssohn's Clarinet & Piano Sonata, which he has arranged for clarinet, string orchestra, harp and celesta. Widmann's arrangement of the Andante from Mendelssohn's Clarinet Sonata allows him to spin his own instrument's melodic lines with inherent feeling for the music's aria-like continuum.
9 March sees the long-awaited Japanese premiere of his Concerto for Viola with Antoine Tamestit and Yomiuri Nippon Symphony Orchestra under the baton of Masato Suzuki at Suntory Hall.
Finally, he will perform a chamber music recital with Quartet Amabile at Toppan Hall on 13 March which is dedicated to Widmann as a composer. It includes his String Quartet No.3 (Jagdquartett), Drei Schattentänze für Klarinette solo, the String Sextet 180 beats per minute and his Etudes No.2 and No.3 for Violin Solo followed by Weber's Clarinet Quintet.
Karin Schwarz-Feyhl
Associate Director, Artist Management