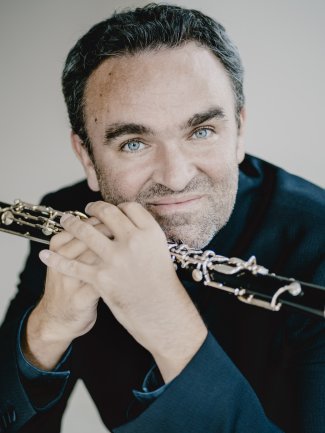 May Highlights for Jörg Widmann
13/5/2022
The month of May for Jörg Widmann began with a highly successful premiere of his opera Babylon at Hessisches Staatstheater in Wiesbaden.
Three hours of the premiere were followed by unbroken cheers that included the composer in attendance as well as his prominent librettist, the philosopher Peter Sloterdijk.
Frankfurter Allgemeine Zeitung, 2 May 2022:
On 14 May Jörg Widman will join forces with his sister Carolin Widmann to perform his Violin Concerto No.2 at Casa da Musica in Porto. According to the composer, this work (dedicated to his sister) is a ​"permanent playful variation of what is basically a strictly finite tonal material and gestural vocabulary, despite the seeming variety of sound and colours". The program is rounded off with Mendelssohn's Fifth Symphony (the ​'Reformation'), composed in honour of the 300th anniversary of the Presentation of the Augsburg Confession.
In Glasgow, Jörg Widmann will be heard as clarinetist with the BBC Scottish Symphony Orchestra. After a residency full of highlights including numerous play/​direct performances of his own and other masterworks, he will be the stellar soloist in Mozart's Clarinet Concerto in A major K622 under the baton of Thomas Dausgaard on 19 May.
Jörg Widmann's May will conclude with Mozart. The Mozarteumorchester Salzburg will partner him at the Mozartfest in Würzburg for Mozart's Clarinet Concerto in A major, alongside Mendelssohn's Symphony No.1 and Mendelssohn's Andante from the Sonata for clarinet and piano, in Widmann's own arrangement for clarinet, strings, harp and celesta. In this way, Jörg Widmann can once again be experienced as clarinetist, conductor and composer at the concert on 28 May.
On 29 May Jörg Widmann performs Mozart's Adagio for clarinet and 3 basset horns, K580a.
Johanna Hofem (parental leave)
Associate Artist Manager