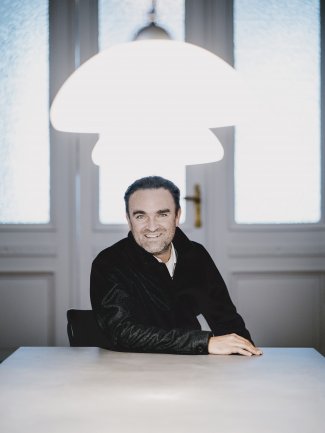 JÖRG

WIDMANN

APPOINTED

PRINCIPAL

GUEST

CONDUCTOR

OF

NDR

RADIOPHILARMONIE
11/5/2023
HarrisonParrott is delighted to announce the appointment of Jörg Widmann as Principal Guest Conductor of NDR Radiophilharmonie with effect from 2023/24 season for a three year period.
On making the announcement this morning, Achim Dobschall, Head of NDR Radiophilharmonie, Choir and Concerts division commented, ​"Jörg Widmann is one of the most sought-after composers and conductors of our time. At the NDR Radiophilharmonie, he will curate and conduct quite a few programs over the next three years. We are looking forward to his interpretation of works from the 18th and 19th centuries, which he combines with his own and other contemporary compositions, thus illuminating the orchestra's familiar core repertoire from a contemporary perspective."
Speaking of his appointment Jörg Widmann says, ​"For many years, I have had the pleasure and honour of working with the wonderful musicians of the NDR Radiophilharmonie. Nevertheless, when I conducted the orchestra in two concerts at the beginning of last year, something happened that went far beyond that: We simply fell in love with each other. I was therefore more than happy to comply with the orchestra's wish to work together even more intensively in my new role as principal guest conductor in the coming years. We want to combine the music of our time, including my music, with the great masterpieces of the past in a new and exciting way. I look forward to many wonderful concerts together."
At his first concerts in this new role, Jörg Widmann conducts the German première of his Danse macabre, Beethoven's Violin Concerto in C major with his sister Carolin Widmann and Beethoven's Symphony No.7. Glimpses of a better world: nothing less is at stake in the concert on 6 June when World-class trumpeter Håkan Hardenberger interprets Jörg Widmann's trumpet concerto Towards Paradise (Labyrinth VI) and Jörg Widmann also conducts Mendelssohn's Symphony No.3 ​"Scottish". Aria and fugue, two musical forms rich in tradition, form the content bracket in the concerts on 22 and 23 February. In this program, Jörg Widmann juxtaposes Mendelssohn's String Symphony No.8, written by the only 13-year-old Mendelssohn, with his own works Aria for strings and Versuch über die Fuge with soloist Sarah Maria Sun.
Read the full press release here.
Karin Schwarz-Feyhl
Associate Director, Artist Management