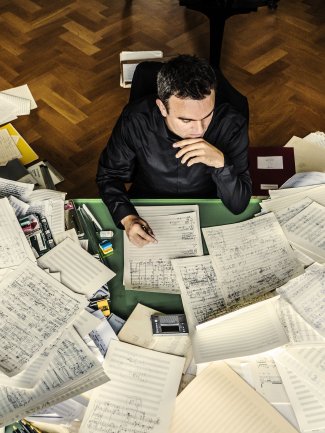 Jörg Widmann makes his Tonhalle-Orchester Zürich conducting debut
1/7/2016
In three concerts on 7, 8 and 9 July Jörg Widmann makes his Tonhalle-Orchester Zürich conducting debut in a play-conduct concert featuring Mozart's Clarinet Concerto and Widmann's Messe.
These concerts mark the end of Widmann's residency as the orchestra's creative chair this year which has included concerts, recitals and the premiere of Jörg Widmann's trio Es war einmal … .
Over the next few weeks Widmann will go on to make his debut with Orchestra Ensemble Kanazawa in a play-direct programme and tour to Argentina with Daniel Barenboim and the West-Eastern Divan Orchestra which will feature a performance at Buenos Aires' Teatro Colón.
Sabine Frank
Director & Managing Director (HP GmbH)
Karin Schwarz-Feyhl
Associate Director, Artist Management