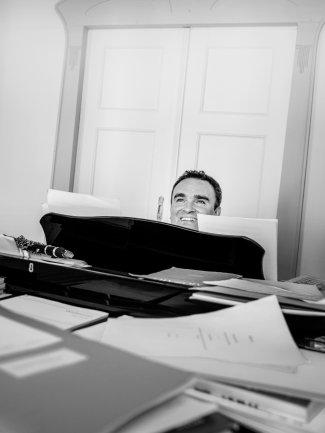 JÖRG

WIDMANN

ANNOUNCED

AS

CREATIVE

PARTNER

OF

DEUTSCHE

RADIOPHILHARMONIE
30/6/2023
HarrisonParrott is delighted to announce the appointment of Jörg Widmann as Creative Partner of Deutsche Radio Philharmonie with effect from 2023/24 season for a two-year period.
In his role as Creative Partner, Jörg Widmann will actively shape the programmes of the Deutsche Radio Philharmonie in all facets of his work, as clarinettist, conductor, composer and speaker. The central principle is the linking of works of our time with the music of the great masters. For ​'Mozart Week' in November 2023 and ​'Mendelssohn Week' in April 2024, Widmann has curated programmes from old and new works with the intention to open up new approaches and ways of listening; the contemporary works are to be given a stronger reference to tradition; the works of the old masters are to reveal new and exciting facets.
As composer-in-residence, Jörg Widmann already set groundbreaking accents in the programming of the Deutsche Radio Philharmonie during the 2007/08 season.
Karin Schwarz-Feyhl
Associate Director, Artist Management