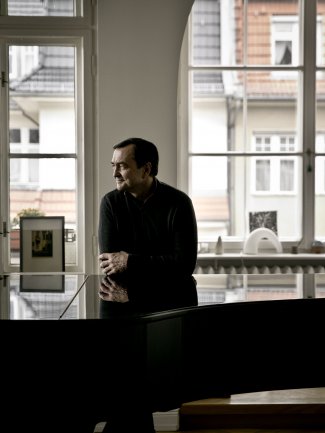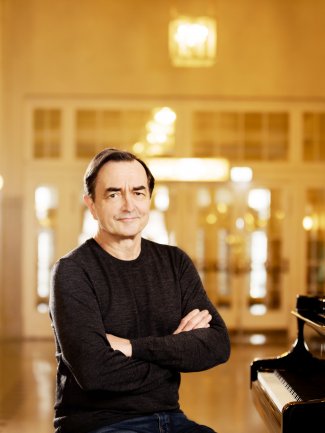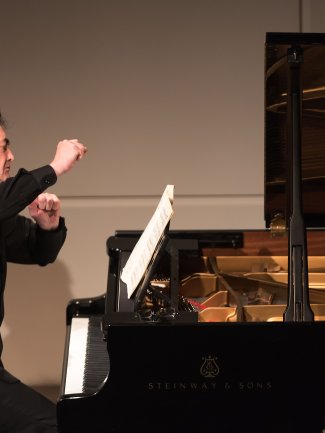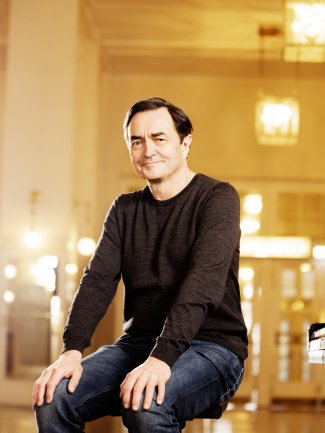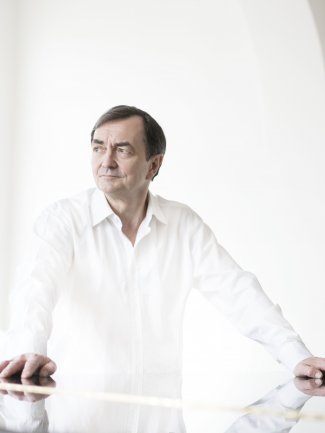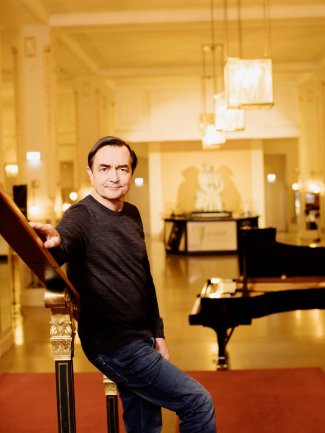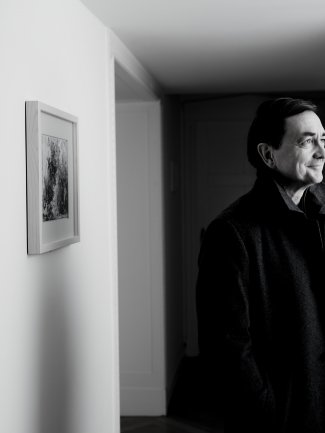 Pierre-Laurent Aimard
Piano
"This is manifestly a great work, and Aimard's stupendous technique, remorseless energy and fanatical…passion, were wondrous to encounter."

The Times, Paul Driver, April 2016
Pierre-Laurent is widely acclaimed as a key figure in the music of our time and has had close collaborations with many leading composers including György Ligeti, Karlheinz Stockhausen, George Benjamin, Pierre Boulez and Oliver Messiaen. Recent seasons have included the release of Messiaen's Catalogue d'oiseaux on Pentatone, which was honoured with multiple awards including the prestigious ​'Preis der Deutschen Schallplattenkritik.'
Deemed an ​"extraordinary visionary" by the Washington Post, Aimard was awarded the prestigious 2017 International Ernst von Siemens Music Prize in recognition of a life devoted to the service of music.
His 2020 worldwide programme focus has been based on ​'Beethoven the Avant-gardist'; a tour de force of pianistic discoveries which transcend traditional boundaries. In this unique and very personal take on Beethoven's legacy, developed in response to the composer's 250th anniversary year, Aimard juxtaposes Viennese classics with compositions of the avant-garde to reveal surprising cross-references. The programme was first presented in a series of North American recitals at the end of 2019 and will continue to the end of 2020, concluding with a live streamed recital for the Gilmore International Keyboard Festival.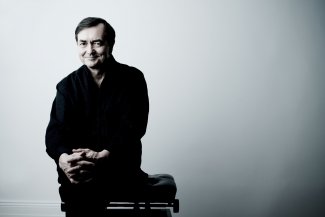 The 2020/21 season includes a residency as ​'Artist in Resonance' with Musikkollegium Winterthur in which Pierre-Laurent will celebrate a number of composers, including Beethoven and perform the full cycle of Piano Concertos over a series of concerts. He will celebrate Kurtág as part of a festival he devised for the Muziekgebouw aan't IJ and continue to tour internationally giving recitals at venues including: Auditori National Madrid, Alte Oper Frankfurt, Elbphilharmonie, Museo Reina Sofia and the Societa del Quartetto di Milano to name a few.

Pierre-Laurent continues to work with orchestras of a high level throughout the season including Danish National Symphony Orchestra, Bruckner Orchester Linz, Stuttgarter Kammerorchester, Philharmonie de Luxembourg, Orchestre de Paris and Chicago Symphony Orchestra.

Through his professorship at the Hochschule Köln as well as numerous series of concert lectures and workshops worldwide, Aimard sheds an inspiring light on music of all periods. He is a member of Bayerische Akademie der Schönen Künste, and in spring 2020 re-launched a major online resource, ​'Explore the Score', the culmination of several years work, which centres on the performance and teaching of Ligeti's piano music in collaboration with the Klavier-Festival Ruhr.
Gallery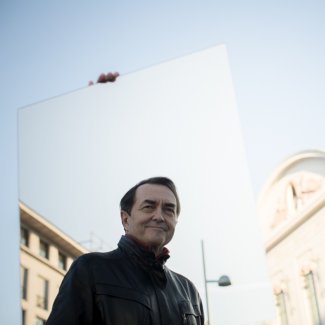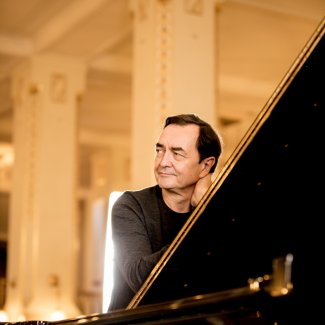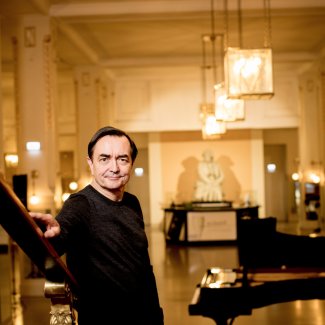 "But Mr. Aimard's overarching agenda, connecting Beethoven's music, in his 250th birthday year, to strands of 20th-century modernism, came through with clarity, attesting to the strength of his vision and the savvy of his juxtapositions…The roiling, abrupt ending of the ​"Moonlight" led, without pause, to the dark, wet sounds — like the autumn leaves I was crushing underfoot — of another section from Messiaen's ​"Oiseaux," ​"La Chouette Hulotte" ("The Tawny Owl"). The ferocious ending of Beethoven's ​"Appassionata" Sonata was immediately followed by the similarly pounding opening chords of Stockhausen's ​"Klavierstück IX."
(Zachary Woolfe / NY Times / 10 Nov 2020)
"This was Beethoven the eternal modern and revolutionary in all his fire and glory… Aimard's most telling effects lay in his mastery of grinding dissonances, a turbulent flow and the madcap whirl of fleeting quotations from American hymns, patriotic songs and Ives's catalogue…. Above all, as in the Hammerklavier, Aimard continually nurtured the sonata's long span, embracing the composer's disruptive power while respecting the need for elements to build; for the music, however chaotic, to make ​"sense". Without that structural strength, the audience surely wouldn't have clapped so loudly, or felt so uplifted and transformed."
(5*, The Guardian, March 2020)
"1808 Reconstructed never attempted to mimic ​"period" styles, but with Aimard you could sense the desire to capture something of the suspenseful excitement of Beethoven's own performances… we had an elegant attack and clean-limbed articulation, rising to a spiky, angular urgency in the first-movement cadenza. If the ghostly figures of the Andante lacked a little mystery, the closing rondo leaped and twirled with ravishing lucidity and perfectly-judged balance between piano and orchestra."
(5*, The Arts Desk, March 2020)
"Aimard, a true aristocrat, offered playing of great clarity gilded with a tasteful sense of rubato. His touch was lightness itself when called for. At other times he gripped the lip of the piano with his left hand to lend weight to earth-shattering runs in the right."
(Musical America, February 2019)
"This was playing of jaw-dropping virtuosity, infused with that ineffable quality that raises less than one-in-a-hundred musical experiences into the realm of the sublime."
(MuscialAmerica, October 2018)
"Aimard and Stefanovich muted those doubts, building up a cathedral out of stained-glass colours, piano tracery, rhythmic vaults, and thick trunks of sound. A Messiaen chord is a crystalline, faceted thing, full of internal symmetries that shimmer and glint. Just one would be enough to contemplate for a while, a snowflake on a fingertip. Instead, they come in flurries, piling up before your ear. […] To hear them play Visions is like listening with superpowered ears, each detail magnified and limpid, and at the same time arranged into an expressive structure."
(Justin Davidson, vulture, October 2018)
"He had you running to keep up with polyrhythmic complexities, the hyperactive layering of material, the fleeting moments of congruence and dispersal, and the mind-bending invention. You wonder how anyone can get the notes under two hands, then wonder all the more that all these elements combine to go to the heart of modernism, presenting extremes of tragedy, desperation, bafflement, fantasy and alienation, all expressed in a ferocious humanity. The Queen Elizabeth Hall was packed for Aimard's miraculous exposé of human and instrumental engineering."
(Classical Source, June 2018)
"The masterly French musician divided his recital Tuesday night at the University of Chicago's Logan Center between Beethoven's Opus 106 and a selection of piano pieces by the great Hungarian modernist Gyorgy Ligeti that pose formidable technical and intellectual demands of their own. It was in every respect a triumphant conclusion to this season's University of Chicago Presents Ligeti series, a series built around the participation of Aimard, who was Ligeti's preferred interpreter of his keyboard works […] What Aimard delivered was deeply satisfying, a ​"Hammerklavier" those lucky enough to hear it will long remember.… Aimard is among the greats of his generation."
(Chicago Tribune, March 2018)
"It was a wonderfully intelligent performance, which carefully probed the deeper resonances of a work that some still perceive as flippant. Aimard dazzled with his dexterity in the outer movements, but the strikingly weighty tone he adopted for the adagio exposed a streak of dark, troubling melancholy beneath the wistful surface poise."
(The Guardian, January 2018)
"…stunned into silence by the level of compositional invention and the surpassing artistry required to convey it….. Aimard's prodigious technique allows you to hear not the work behind the work of art but its poetry…Aimard's performance had extraordinary power and clarity, undimmed throughout. It also had the requisite range of shades and tints, without a trace of self-indulgence or overdone sentiment."
(Chicago Tribune, August 2017)
"At once mystic and blatantly sensual, the work is coloured by the performing styles of its creators: Aimard took Messiaen's original role with its weight and emotional insistence, while Stefanovich tackled the volatile and immensely taxing music composed for Loriod. Both pianists bring impeccable precision and clarity to Messiaen and the result was at once both profoundly intimate and monumental, as austerity gave way to sensuousness, before the cycle culminated in the cosmic grandeur and ecstasy of the final Amen de la consummation. It was quite simply impossible to imagine it better done."
(The Guardian, January 2017)
"He powered his way through it with a combination of commitment and deep sincerity, breathtakingly realising the sensuousness with which Messiaen conveys his metaphysical vision. A devotional serenity pervaded both the opening Regard du Père and the penultimate Je Dors, Mais Mon Coeur Veille, … Towards the end, Aimard seemed not so much to be playing the music as living it. … The final phrases plunged into an awestruck silence that seemed to last forever before the applause began."
(Tim Ashley, The Guardian, April 2016)
"This is manifestly a great work, and Aimard's stupendous technique, remorseless energy and fanatical…passion, were wondrous to encounter."
(The Times, Paul Driver, April 2016)
"Pierre-Laurent Aimard was the unfussily stylish soloist in Couleurs de la cité celeste. … Beautifully voiced brass chorales were punctuated here by coruscating solos from Aimard."
(The Arts Desk, April 2016)
"Aimard has a level of command and understanding to which resistance is futile. … With its extravagant imagery and hallucinatory narrative, this had been the musical equivalent of the Book of Revelation, and Pierre-Laurent Aimard was its high priest."
(Classical Source, April 2016)
"Yet the even more intense experience came with Ligeti's Piano Concerto, with the festival's artistic director Pierre-Laurent Aimard as the formidable soloist. Every facet of this score emerged with the utmost clarity and immediacy: its tantalising polyrhythms, its luminosity, its haunting quality, and finally, its hell-for-leather finale."
(Rian Evans, The Guardian, June 2015)
"Chiselled and glittering, Pierre-Laurent Aimard's piano cascades and avian flights knocked us sideways."
[Turangalîla] (Geoff Brown, The Times, June 2015)
"It was hard to imagine Ravel's wrist-wrecking and finger-crunching solo part being better played than this."
(The Guardian, February 2015)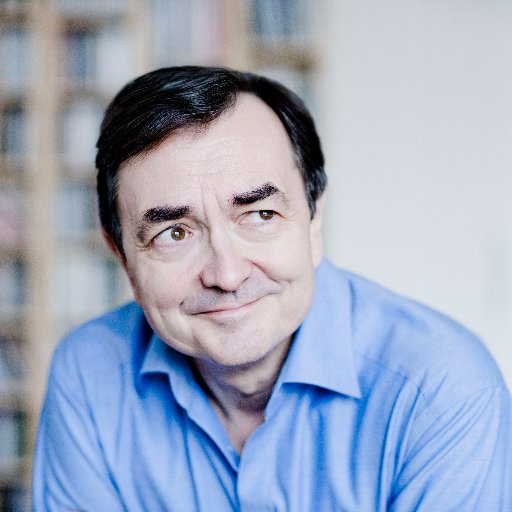 Pierre-Laurent Aimard
At the end of this month, I'll be reuniting with my dear friend George Benjamin and the Mahler Chamber Orchestra fo…
https://t.co/NPARWbg2d3
3 Aug