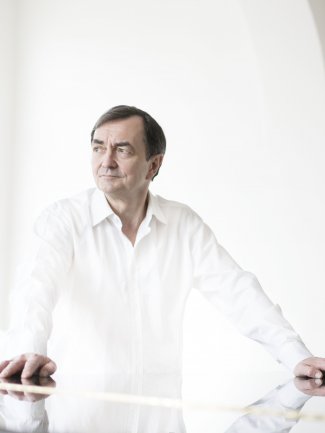 Live stream concert to celebrate György Kurtág's

95

th birthday
10/2/2021
From Muziekgebouw (Amsterdam) and Teldex Studios (Berlin) including Kurtág world premiere by pianist Pierre-Laurent Aimard
The 19th February will mark the 95th birthday of Hungarian composer György Kurtág. An event that originally would have been celebrated with the Kurtág Festival in Muziekgebouw aan ​'t IJ. Due to the coronavirus pandemic the festival has unfortunately been postponed to 2023. In order still to celebrate the living legend, Muziekgebouw has organised a unique live stream concert with ensemble Asko|Schönberg (in the Muziekgebouw​'s Great Hall) and pianist Pierre-Laurent Aimard (from the Teldex Studios in Berlin). Together they pay homage to the iconic composer. The live stream is available at 20:00 CET on muziekge​bouw​.nl, free of charge.
Boudewijn Berentsen, Business Manager at Muziekgebouw aan ​'t IJ: ​"The coronavirus forces us to search for creative solutions. The scheduled Kurtág Festival had to be postponed, but as an alternative we now offer this celebratory concert for Kurtág online. Without an audience, but in collaboration with Asko|Schönberg and Pierre-Laurent Aimard. Due to the current lockdown, Aimard is unable to make the trip to Amsterdam. Instead, we record his input from Berlin, where he resides. Because of our close relationships with these musicians – who have been working with Kurtág for decades – we have the unique ability to make this concert happen."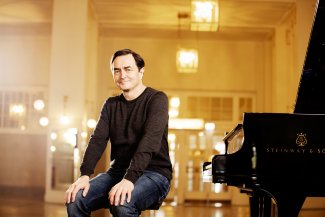 Master of miniatures
György Kurtág is one of the most important composers from the 20th and 21st century. He is regarded the master of miniatures. His hyperfocused music is averse to emphasis and display. Without compromise, Kurtág realises moments of unearthly beauty, giving each and every note an unimaginable gravity. Through simple means he is able to create soundscapes that take your breath away. This has garnered fans from all over the world. Asko|Schönberg has actively collaborated with Kurtág for several decades now, and is the ensemble par excellence to bring to light the gems in Kurtág's music. The album with Kurtág's entire ensemble repertoire – a historical document that the ensemble worked on with Reinbert de Leeuw for years – hailed global praise and was awarded an Edison Classic.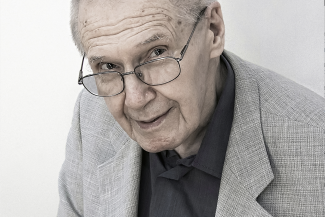 Online world premiere Kurtág
As a number of the works played by Pierre-Laurent Aimard during the live stream have never been performed before, these will have their world premiere online. Despite his age, Kurtág continues to compose every day. Aimard is in close contact with the composer. In Aimard's contribution to this celebratory concert, he brings Kurtág's most recent Játékok (short pieces for piano). These pieces performed by Aimard are mostly so called ​'manuscript pieces', unpublished
works that are not yet part of the repertoire. Játékok ("games") are collections of short pieces, in which Kurtág follows a musical idea or creates a portrait of a friend. Kurtág himself calls them ​'pedagogical performance pieces'.
This concert will later be broadcasted by the NTR on NPO Radio 4.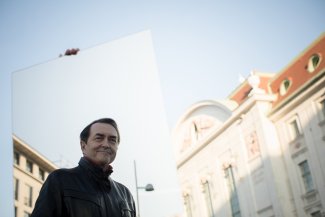 Concert information Kurtág 95
19 February, 20:00 CET, free live stream via muziekge​bouw​.nl.
Programme:
György Kurtág (by Asko|Schönberg):
Signs, Games and Messages, part 5: In Nomine all'onghorese (2017)
Tre pezzi per clarinetto e cimbalom op. 38 (1996)
Samuel Beckett: What is the Word, op. 30a (1990)
Six pieces for trombone and piano (1987)
Hommage à R. Sch., op. 15d (1990)
György Kurtág (uitvoering Pierre-Laurent Aimard):
Dialog Varga Bàlint 70 (2011)
Für Heinz (2014)
Draft-Sheat (unshaped-rough) for Tünde Szitha (2011)
…yet another letter to Péter Eötvös… (2010)
- … the dog… (2020)
Window to the corridor; for Màrta (2011)
…wie soll ich… (2014)
Passio sine Nomine (2015)
A Ligatura for Màrta (2020)
Musicians:
Asko|Schönberg: Liesbeth Steffens (viola), David Kweksilber (clarinet), Pauline Post (piano), Koen Kaptijn (trombone), Michiel Weidner cymbalom
Gerrie de Vries vocal (solist in What is the Word)
Pierre-Laurent Aimard piano (vanuit Teldex Studios in Berlijn)
Camilla Walt
Artist Manager