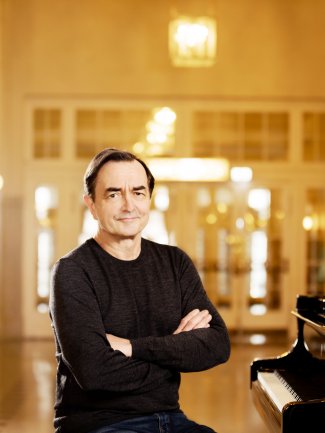 Pierre-Laurent Aimard tours Europe with Gürzenich Orchestra and François-Xavier Roth
7/2/2020
This month Pierre-Laurent Aimard joins forces with Gürzenich Orchestra and conductor François-Xavier Roth as part of the orchestra's ​"Die neue Akademie" (The New Academy) series. Aimard will travel across Europe performing in Cologne, Munich, Lyon, London and Hamburg. Inspired by Beethoven's own ​'Akademie' concerts, the series aims to shed new light and reimagine these musical soirées in a twenty-first-century context to honour Beethoven's 250th birthday celebrations this year.
During Beethoven's life, he would occasionally bring his new compositions to Viennese audiences in a musical marathon evening that juxtaposed large-scale orchestral and choral works next to soloist performances. In the same spirit, Gürzenich Orchestra's ​"New" academy concerts will present orchestral works (including a piano concerto) alongside solo-piano works. The overriding theme focuses on Beethoven as well as showcasing contemporary voices that bring ​'Beethoven's visionary spirit to life', so Aimard will perform a selection of solo piano works by Ligeti, Boulez and Filidei and Beethoven.
This tour features a concert at the Southbank on 21 February as part of Aimard's year-long Beethoven and the Avant Garde project which forms part of his three-year-long residency there. The programme features works by Beethoven, John Cage, Helmut Lachenmann, Bernd Alois Zimmermann and UK premieres of Francesco Filidei and Isabel Mundry. You can watch the concert streamed live from Philharmonie Cologne on 11 February, 8pm.
Camilla Walt
Artist Manager