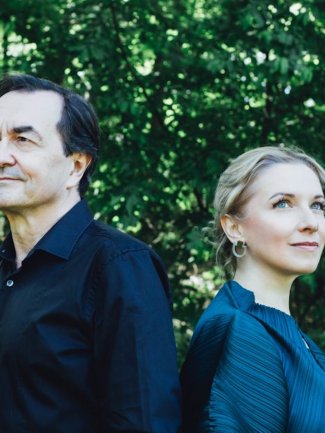 Pierre-Laurent Aimard and Tamara Stefanovich Celebrate György Kurtág
3/3/2023
Pierre-Laurent Aimard returns to the Muziekgebouw Amsterdam alongside long-time collaborator Tamara Stefanovich as key participants in the Muziekgebouw's festival dedicated to Hungarian composer & pianist György Kurtág, ​"Master of the Miniature". A recognised global expert on Kurtág's music and collaborator of over forty years, Aimard curates and features prominently in four of the festival's eight concerts. His performances place a particular emphasis on Játékok (Games), Kurtág's still-growing collection of piano miniatures.
On 8 March, Stefanovich performs the Double Concerto for Piano and Cello and …quasi una fantasia… with Asko|Schönberg, conductor Lin Liao, cellist Jean-Guihen Queyras and guitarist Elliot Simpson.
On 9 March, Aimard is joined for his first concert by his students Lorenzo Soules and Fabian Muller for an exploration of Kurtág's early piano works with selections from Játékok volumes 1, 2, 3, 4 and 8. He then reunites with Stefanovich to explore Kurtág's unpublished works and further selections from Játékok Vol. 9 and 10, complimented by some of Schubert's Ländlers and Waltzes. This reunion follows the recent release of the duo's critically acclaimed album Visions, currently available from Pentatone.
The following day on 10 March, Aimard contrasts Kurtág with Beethoven in a solo recital featuring selections from Játékokvol. 5, 6 and 7 and Beethoven's Bagatelles op. 33, 119 and 126. Finally, Aimard joins forces with Asko|Schönberg, conductor Lin Liao, and singers Andrea Brassói-Jőrös, Matija Bizjan, Gerrie de Vries and Tony Arnold for a monumental take on Kurtág's evocative and haunting vocal music including the seldom-performed The Sayings of Péter Bornemisza.