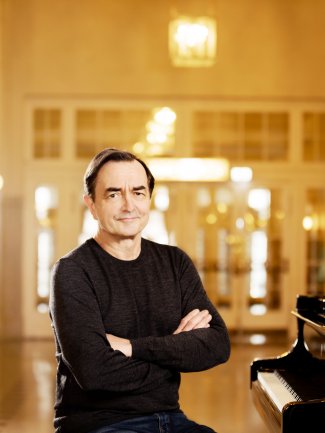 Pierre-Laurent Aimard joins forces with Chamber Orchestra of Europe
8/3/2019
Pierre-Laurent Aimard joins forces with his long-standing partner — the Chamber Orchestra of Europe — in one of their signature programmes, where they juxtapose Mozart's Piano Concertos Nos.15 and 25 with two of Elliott Carter's chamber music works — Quintet for piano and winds and the iconic American composer's last work Epigrams, which was dedicated to Pierre-Laurent Aimard. Together, they perform at the Philharmonie Berlin (9 March), Kölner Philharmonie (10 March) and Cité de la musique in Paris (11 March). In Belgium, Pierre-Laurent and the Orchestra join forces with conductor David Afkham to perform Mozart's Piano Concertos Nos.15 and 25 in two concerts as part of the Klarafestival in Brussels (March 14) and Antwerp (March 15). Praising Aimard's recording of Mozart's Piano Concertos with the Chamber Orchestra of Europe as ​"one of the most exquisite Mozart recordings of all time", Die Zeit commented:
"Aimard plays Mozart with grandeur and wit, with passion and ease, with clarity and grandezza, […] In short: He is the ideal Mozart pianist."

(Die Zeit)
Further ahead, Pierre-Laurent Aimard travels to Japan to join the Yomiuri Nippon Symphony Orchestra for a performance of Messiaen's Sept haïkaï under the baton of Sylvain Cambreling (19 March). On 23 and 24 March, they appear together at the Tokyo Metropolitan Theatre performing Beethoven's Piano Concerto No.3- a work that Aimard recorded in live performances together with Nikolaus Harnoncourt and the Chamber Orchestra of Europe. His reading was celebrated for its ​"uncommonly eloquent creative dialogue" (The Telegraph), ​"interpretative approach to this eternally rejuvenating masterwork" (Sunday Telegraph) and ​"special sense of discovery and excitement" (The Times). Also as part of this tour of Japan, Aimard performs a recital based around ​"Variations" at Tokyo's Kioi Hall. The programme features Benjamin's Shadowlines, Webern's Variations for Piano, Op. 27 and Knussen's Variations, Op.24 and is crowned by Bach's Goldberg Variations — the leitmotif work of Aimard's 2019/20 recital season.