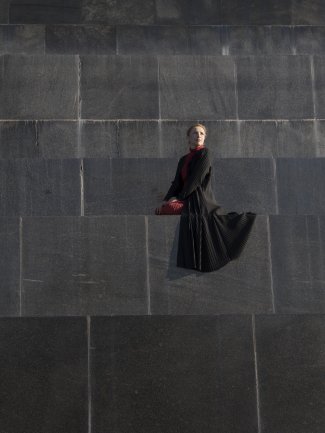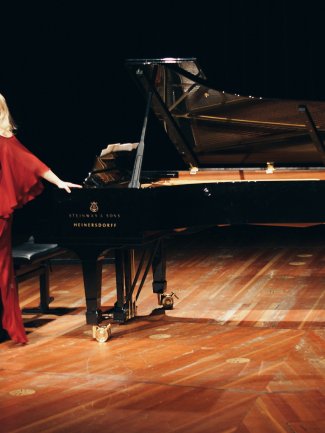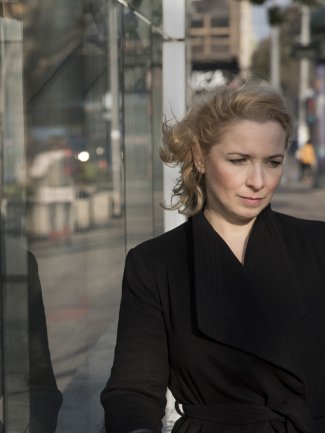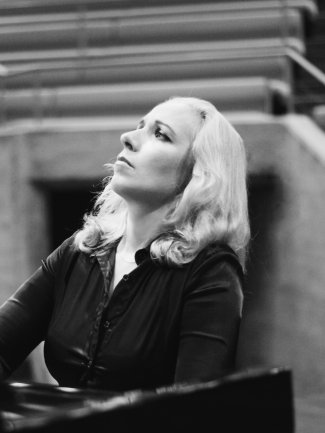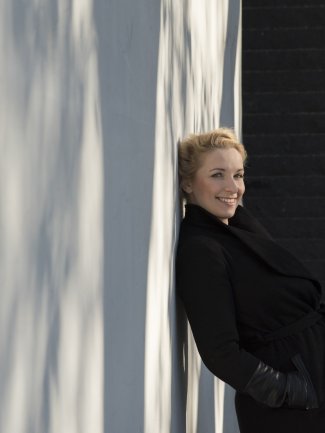 "The colossal energy of Stefanovich's performance was hugely impressive"

(The Telegraph)
Known for captivating interpretations of a wide repertoire, Tamara Stefanovich performs at the world's major concert venues including Carnegie Hall New York, Berlin Philharmonie, Suntory Hall Tokyo and London's Royal Albert and Wigmore Halls. She features in international festivals such as La Roque d'Antheron, Ravenna, Salzburger Festspiele, Styriarte Graz and Beethovenfest Bonn. Stefanovich has appeared with orchestras including The Cleveland and Chicago Symphonies, London Symphony and London Philharmonic orchestras, Bamberger Symphoniker, Britten Sinfonia, Deutsche Kammerphilharmonie Bremen and Swedish Chamber Orchestra.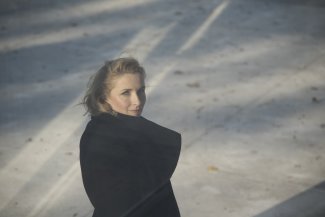 Show More

The 2018/19 season saw Tamara Stefanovich debut with the hr-Sinfonieorchester, giving the world premiere of Zeynep Gedizliogu's new piano concerto alongside returns to Stavanger Symphony Orchestra and the Danish National Symphony Orchestra for performances of Hans Abrahamsen's Left, alone. Highlights of the 2019/20 season include performances with Israel Philharmonic Orchestra and Kirill Petrenko, Symphonieorchester des Bayerischen Rundfunks with Pablo Heras-Casado and Philharmonia Orchestra under Karl-Heinz Steffens amongst others.

Tamara Stefanovich has collaborated with conductors such as Vladimir Ashkenazy, Osmo Vänskä, Susanna Mälkki and Vladimir Jurowski, as well as leading composers including Pierre Boulez, Peter Eötvös and György Kurtág. She regularly leads educational projects such as the innovative online project of interactive pedagogical analyses of Boulez' Notations: www​.explorethescore​.org. Tamara is cofounder and curator of a newly created festival ​"The Clearing" at Portland International Piano Series.

Her award-winning discography includes a recording of Kurtág's ​"Quasi una Fantasia" and his double concerto with Asko|Schönberg Ensemble and Reinbert de Leeuw/Jean-Guihen Queyras for ECM. She received the Edison Award and her recording of Bartók's Concerto for two pianos, percussion and orchestra with Pierre-Laurent Aimard and the London Symphony Orchestra under the baton of Pierre Boulez (Deutsche Grammophon) was nominated for a Grammy Award. Following her first solo recording with works by Bach and Bartók Tamara is dedicating her second album ​"Influences" to works of Ives, Bartók, Messiaen and Bach. Since its release on Pentatone in March 2019 ​"Influences" has received five star reviews and has been praised by critics.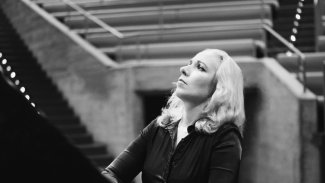 Tamara Stefanovich - Bach: Partita No. 2 (excerpt)
© Tamara Stefanovich - Bach: Partita No. 2 (excerpt)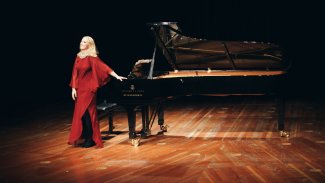 Tamara Stefanovich - Bartók: Three Burlesques (excerpt)
© Tamara Stefanovich - Bartók: Three Burlesques (excerpt)
"Her mastery of the technical challenges in every one of these pieces one quickly took for granted, but the textural imagination she brought to every piece was a constant delight."
(The Guardian, November 2019)
"Stefanovich took its technical challenges in her stride with the same aplomb and fierce engagement that she brought to the Ives; it was hardly surprising after so many notes that her encore should have been entirely silent, a tiny piece of Kurtág in tribute to his 90th birthday this month, in which the pianist mimes a performance but without sounding a note. An exceptional recital, every bit of it."
(The Guardian, February 2016)
"A dazzlingly clear performance"
(The Guardian, March 2015)
"Ms. Stefanovich's performance was staggeringly brilliant"
(New York Times, March 2015)
"Ligeti's Etudes are now central to the modernist piano repertoire, but are rarely performed with the agility or grace we heard here… The sheer playfulness of these pieces was beautifully expressed… (Stefanovich) delivered a stunning, bravura performance. A spectacular conclusion to an impressive recital."
(The Arts Desk, December 2014)
"Tamara Stefanovich… performed the freshest piano concert yet presented by Portland Piano International… Stefanovich proved a savvy musical chef, pairing Messiaen with late Franz Liszt on the first half of Monday's concert and Sergei Rachmaninov with Ligeti on the second half… no sleepy eyes this night. As Stefanovich used one hand to turn the page from Messiaen into Liszt and Rachmaninov into Ligeti, and the other hand to sustain the last chord into the beginning of the next, the audience's energy and curiosity perceptibly heightened. Under the hands of Stefanovich, these composers highlighted characteristics in each other that otherwise wash out in the static of their own voice… Stefanovich not only lived up to her nickname as the ​"dexterous wizard," but through her masterclass at Portland Piano Company on Saturday and her brief explanations on stage, she demonstrated a disarming ability to inspire students and listeners to explore new musical spaces."
(Oregon Arts Watch, October 2014)
"Tamara Stefanovich performed one of the most intriguing piano concerts that I've ever heard on Monday evening at Lincoln Hall… All of the pieces were played brilliantly by Stefanovich, but the exchange of etudes left the biggest impression of the evening. Stefanovich's pairing of six Ligeti études with six by Rachmaninoff worked superbly. In fact, each seemed to expand the sonic landscape of the other… Stefanovich created colorful sonic landscapes with the Rachmaninov, controlling the dynamics and playing with verve…. The audience went wild after the Stefanovich concluded the final Ligeti étude. She is a tremendous talent, and hopefully we will see her again soon in Portland."
(Northwest Reverb, October 2014)
(Northwest Reverb, October 2014)
"[Tamara Stefanovich] once again proved her unmistakeable standing as one of the leading pianists of current times."
(NMZ, March 2014)
Tamara Stefanovich
Arthur,5, upon contemplating pirates "I find them to be taking too much interest in mermaids.They should be lootin…
https://t.co/l2WUqyM2ae
12 Jul