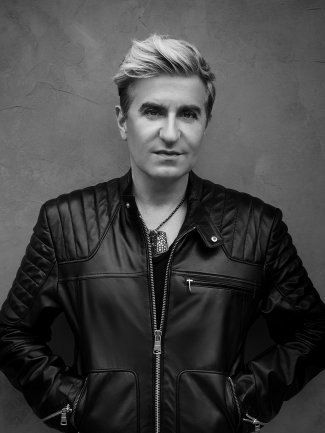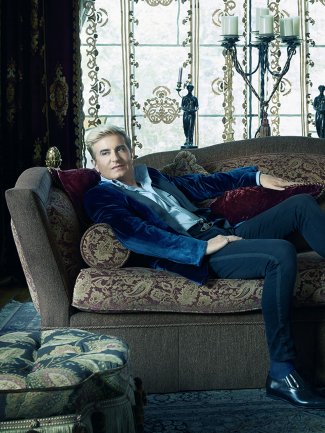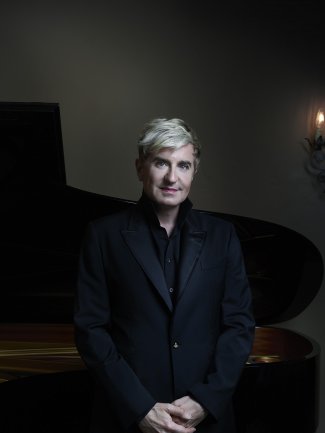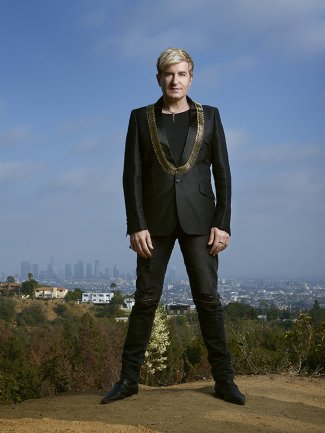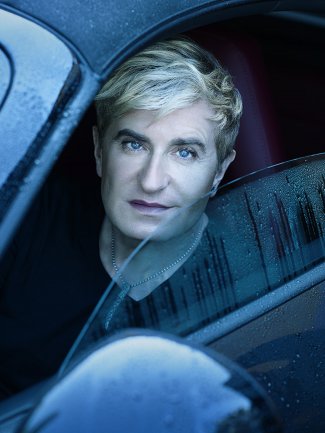 Jean-Yves Thibaudet
Piano
Lydia Connolly
Director, Head of Artist Management
Marie Strubé
Senior Artist Manager
Phoebe Goddard
Associate Artist Manager
"Sophistication and suavity, both clarity and freedom"

(The New York Times)
Gallery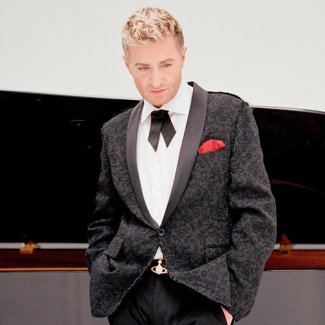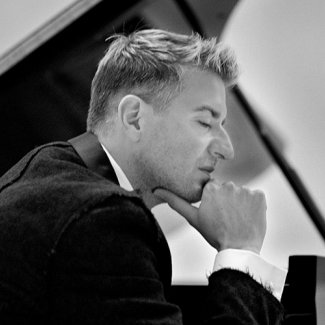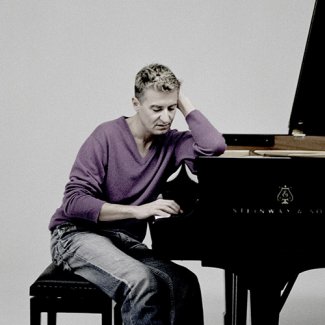 Artist-in-Residence: Colburn School
Through elegant musicality and an insightful approach to both contemporary and established repertoire, Jean-Yves Thibaudet has earned a reputation as one of the world's finest pianists. He is especially known for his diverse interests beyond the classical world; in addition to his many forays into jazz and opera — including works which he transcribed himself for the piano — Thibaudet has forged profound friendships around the globe, leading to fruitful collaborations in film, fashion, and visual art. A recording powerhouse, Thibaudet appears on more than 70 albums and six film scores. He is a devoted educator and is the first-ever Artist-in-Residence at the Colburn School, which awards several scholarships in his name.
Thibaudet begins the season with a tour of Europe with Boston Symphony Orchestra, performing two of his signature works: Gershwin's Concerto in F and Saint-Saëns's Piano Concerto No.5. He goes on to play the Gershwin concerto in season-opening engagements with Toronto and Baltimore symphony orchestras, as well as concerts with Nashville and Indianapolis symphony orchestras; further performances of the Saint-Saëns concerto include dates with North Carolina Symphony, and Pittsburgh and Chicago symphony orchestras.
Thibaudet joins Gustavo Dudamel and Los Angeles Philharmonic for Khachaturian's Piano Concerto in November, which will be recorded for future release on Decca. He then performs Ravel's Concerto in G with Houston Symphony, Orchestre Philharmonique de Radio France, Bern Symphony Orchestra, New World Symphony, and San Diego Symphony. A renowned interpreter of Messiaen's Turangalîla-Symphonie, Thibaudet performs the piece with Montreal Symphony Orchestra in December. Thibaudet joins Esa-Pekka Salonen and the Orchestre de Paris in Debussy's Fantaisie; he and Salonen reunite in San Francisco for a synesthetic performance of Scriabin's Prometheus: The Poem of Fire—a piece he also performs with Helsinki Philharmonic Orchestra.
In addition to his orchestral dates, Thibaudet embarks on a trio tour of the United States with longtime collaborators Gautier Capuçon and Lisa Batiashvili, featuring works by Haydn, Ravel, and Mendelssohn. He also continues his multi-season focus on Debussy's Préludes, performing both books in their entirety at recitals in Europe; these performances will be accompanied by a reissue of his seminal 1996 recording of the Préludes on limited-edition vinyl. Thibaudet and Michael Feinstein will also continue their acclaimed program Two Pianos: Who Could Ask for Anything More?, presenting works by Gershwin, Rodgers, and others in new arrangements for piano, voice, and orchestra.

Thibaudet records exclusively for Decca; his extensive catalogue has received two Grammy nominations, two ECHO Awards, the Preis der Deutschen Schallplattenkritik, Diapason d'Or, Choc du Monde de la Musique, Edison Prize, and Gramophone awards. His most recent solo album, 2021's Carte Blanche, features a collection of deeply personal solo piano pieces never before recorded by the pianist. Other highlights from Thibaudet's catalog include a 2017 recording of Bernstein's ​"Age of Anxiety" with Baltimore Symphony Orchestra and Marin Alsop; recordings of the complete solo piano music of Debussy and Satie; Grammy-nominated recordings of Ravel's complete solo piano works and Saint-Saëns's Piano Concerti Nos. 2&5; the jazz albums Reflections on Duke and Conversations With Bill Evans; and Aria – Opera Without Words, which features arias transcribed for solo piano by Thibaudet himself.

Thibaudet has also had an impact on the worlds of fashion, film, and philanthropy. He was soloist on Aaron Zigman​'s score for Wakefield; this was the first time that the composer had allowed a pianist other than himself to perform his film work. He was also soloist in Dario Marianelli's award-winning scores for the films Atonement (which won an Oscar for Best Original Score) and Pride and Prejudice, as well as Alexandre Desplat's soundtracks for the 2012 film Extremely Loud & Incredibly Close and Wes Anderson's The French Dispatch. He had a cameo in Bruce Beresford's film on Alma Mahler, Bride of the Wind, and his playing is showcased throughout. In 2004 he served as president of the prestigious charity auction at the Hospices de Beaune. His concert wardrobe is designed by Dame Vivienne Westwood.

Jean-Yves Thibaudet was born in Lyon, France, where he began his piano studies at age five and made his first public appearance at age seven. At twelve, he entered the Paris Conservatory to study with Aldo Ciccolini and Lucette Descaves, a friend and collaborator of Ravel. At age fifteen, he won the Premier Prix du Conservatoire and, three years later, the Young Concert Artists Auditions in New York City. Among his numerous commendations is the Victoire d'Honneur, a lifetime career achievement award and the highest honor given by France's Victoires de la Musique. In 2010 the Hollywood Bowl honored Thibaudet for his musical achievements by inducting him into its Hall of Fame. Previously a Chevalier of the Ordre des Arts et des Lettres, Thibaudet was awarded the title Officier by the French Ministry of Culture in 2012. In 2020, he was named Special Representative for the promotion of French Creative and Cultural Industries in Romania. He is co-artistic advisor, with Gautier Capuçon, of the Festival Musique & Vin au Clos Vougeot.

HarrisonParrott represents Jean-Yves Thibaudet for worldwide general management.
"There was plenty of Mr. Thibaudet's trademark refinement in his playing of lacy, ruminative, lyrical passages. He dispatched bursts of arpeggios and spiraling figures with virtuosic élan. Yet I especially liked the way he tore into vehement episodes: He tossed off bursts of double octaves with steely fortissimo sound, and brought earthy rawness to the driving left-hand chords and crunchy theme that opens the finale…"
(March 2019, New York Times)
"Having Jean-Yves Thibaudet as solo protagonist in Ravel's Concerto for the Left Hand proved luxury casting indeed. Few keyboard artists embody Ravel's blend of supple elegance and unbridled bravura so naturally and effortlessly. The French pianist's limpid refinement in the lyrical sections was as neat and idiomatic as his explosive bursts were exciting. Thibaudet's five-fingered virtuosity handled the leaping notes with such ease and fluency, one would swear that two hands were playing."
(April 2018, Chicago Classical Review)
"No easier to let go of will be Jean-Yves Thibaudet in Ravel's Piano Concerto for the Left Hand. Simply put, he was a titanic force, turning what might be perceived as a limitation into an expressive and technical opportunity…the pianist also a proved a digital wizard, voicing lines in his one hand the way Baroque masters play fugues with two. He did it all with obvious joy and seeming ease, too, unfurling melodies with the heavenly smoothness of a golden spinning wheel."
(Cleveland, February 2018)
"But there was a firecracker in the middle of the evening: Franz Liszt's Second Piano Concerto. Forsaking virtuosity for its own sake, pianist Jean-Yves Thibaudet and de Waart laid out an Olympian conception of a work that is a study in contrasts and contradictions… (they) knew what they wanted to say and how to say it together, in a performance at once impassioned and restrained, with a firecracker's punch and a candle's glow."
(San Diego Tribune, October 2017)
"star performers were welcomed, and they included … no less than Jean-Yves Thibaudet and Yuja Wang as the two-piano team in the (Mozart) double concerto. Thibaudet set a supremely suave tone. Wang's responses were more adamant… This is an irresistible piano duo in the making."
(LA Times, Sep 2017)
"Jean-Yves Thibaudet brings a genuine Jazz feeling to this piece [Gershwin Piano Concerto in F] somewhere between a classical piano concerto and sparkling improvisation….the cadenzas were sensitive and expressive…[and] the rhythmic explosion of the ​"Agitato" finale was stunning."
(Ludwigsburger Kreiszeitung, July 2017)
"The fusion of traditional form and American Jazz was performed by the star pianist Jean-Yves Thibuadet, who played not only with flawless technique but also with French elegance."
(Bietigheimer Zeitung, July 2017)
"From the first delicate notes, his attitude was clear: no pianistic affectation. Instead — simple, yet with crystal clear touch"
(Westdeutsche Zeitung, June 2017)
"…one of the most formidable 20th-century works: Messiaen's mystical, ecstatic, 75-minute ​"Turangalila-symphonie." The superb pianist Jean-Yves Thibaudet played the daunting piano part commandingly."
(New York Times, October 2016)
"Jean-Yves Thibaudet played the extensive piano part with extraordinary dexterity and riveting forcefulness, as well as with enthusiasm and captivating wit."
(Classical Source, October 2016)
"Thibaudet played the jazzy, mercurial G Major Piano Concerto of Ravel…proving again the brilliance of his technique and his stylistic mastery of this repertoire. The piano, technically a percussion instrument, has seldom sounded less percussive. It's hard to imagine this music emerging with more loving finesse and more exquisite detail."
(The Seattle Times, June 2016)
"the prodigious Jean-Yves Thibaudet … was spectacular, lending French panache to the proceedings in an account that was both technically formidable and charged with energy and passion"
(Santa Barbara Independent, March 2016)
"Thibaudet returned for an impeccable rendition of Beethoven's Piano Concerto no. 5 in E flat major … In his natural flair and joyful engagement, Thibaudet appeared to play with pure spontaneity. Something wondrous occurred in the Adagio un poco mosso… a highlight of the evening. With the swelling of the strings, Beethoven's resonating theme emerged. Then Thibaudet emerged, his notes transparent like sparkling stars on a cloudless night."
(Bachtrack, January 2016)
"…a scintillating Age of Anxiety…has the poetic Jean-Yves Thibaudet as protagonist…Never be deceived by his flamboyance. He is the most soulful of players."
(Gramophone, March 2017)
"The piano score was rendered with flair by Jean-Yves Thibaudet, who brought an energetic touch to the rollicking sections and a poetic limpidity to the moments of gossamer filigree."
(The New York Times, August 2015)
(The Boston Globe, August 2015)
"He's a master colorist and a great communicator, able to reduce a large concert hall to an intimate chamber of intent listeners."
(The Seattle Times, September 2015)
"The performance was so exuberant and inspired it was impossible not to be swept up in the work."
(The New York Times, February 2015)
Lydia Connolly
Director, Head of Artist Management
Marie Strubé
Senior Artist Manager
Phoebe Goddard
Associate Artist Manager