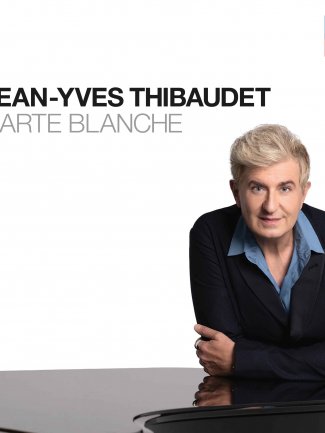 JEAN-YVES

THIBAUDET

NEW

ALBUM

–

CARTE

BLANCHE
9/9/2021
Jean-Yves Thibaudet releases his new solo album — Carte Blanche – on Decca, recorded at Colburn School in Los Angeles.
Carte Blanche is a collection of short pieces which reflect on the people and pieces that have impacted Thibaudet's life as an artist. ​"I have made many recordings of mainstream repertoire," says Thibaudet, ​"so I wanted to do something more personal and intimate. These are pieces I love deeply – some I've played for my whole life – and each one reflects a special moment for me, has a story."
The album features pieces evoking Thibaudet's friendships throughout his life and career – such as Aldo Ciccolini's arrangement of Elgar's Salut d'Amour – as well as some very personal memories including Chopin's Waltz in A Minor, the very first piano piece Thibaudet ever heard. The album also includes Thibaudet's own arrangements of Poulenc's Hotel and Barber's Adagio for Strings, as well as Dario Marinelli's Oscar-winning soundtrack of Pride and Prejudice, arranged as a suite for solo piano by the composer, especially for this album.