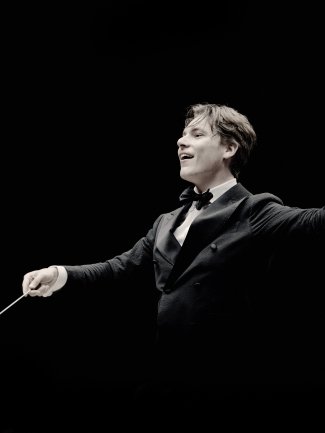 KLAUS

MÄKELÄ

 — 

PROMS

DEBUT
3/8/2022
On 12 August Klaus Mäkelä makes his Proms debut with Oslo Philharmonic Orchestra and soloist, Yuja Wang. The performance will be broadcast live on both BBC Radio and TV.
Mäkelä opens the programme with Sibelius' Tapiola, the tone poem which featured on his debut Decca recording with Oslo Philharmonic Orchestra, released this spring to critical acclaim. Yuja Wang joins the orchestra for a performance of Liszt's Piano Concerto No.1, whilst the second half of the programme is dedicated to Strauss' Ein Heldenleben.
Mäkelä's third season as Chief Conductor of Oslo Philharmonic Orchestra launched in Norway on 10 August and features 11 contrasting programmes, with repertoire ranging from Jean Baptiste Lully and Pietro Locatelli to Alban Berg, Mahler, Strauss and Shostakovich to Anna Thorvaldsdóttir, Julia Perry and Jimmy López Bellido. In addition to this summer's Prom, highlights of the new season include tours to Germany, Austria and Belgium.
Anna Rodrigues
Legal & Business Affairs Associate