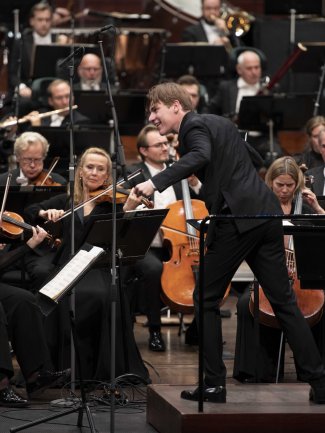 Klaus Mäkelä and Oslo Philharmonic's long-awaited tour
10/5/2022
After a long wait and pandemic-cancelled tours, Klaus Mäkelä and Oslo Philharmonic make their first appearances together outside of Norway this May. Klaus Mäkelä started as Chief Conductor and Artistic Advisor of the orchestra in August 2020.
The first concert takes place in Paris Philharmonie on 10 May, marking a debut for the orchestra and a long term collaboration with the Philharmonie. Oslo Philharmonic open the tour with Mahler's Symphony No.3 performed alongside mezzo-soprano Jennifer Johnston, Orchestre de Paris Women's Choir and Oslo Children's Choir.
The concerts in Vienna Konzerthaus (21 to 23 May) and Hamburg Elbphilharmonie (30 May to 1 June) feature all seven Sibelius symphonies, with the concerts in Hamburg playing an important part of the International Musikfest Hamburg. The idea in both cities is to present this milestone of Nordic music in a very concentrated form and have the orchestra stay in one place for a longer period of time. In both Hamburg and Vienna, the concert halls also feature Klaus as a Portrait Artist in other programmes conducting the excellent local orchestras and in chamber music projects. The Residencies also support Klaus' and Oslo Philharmonic's first release on Decca which features the complete Sibelius Cycle.
On 3 June the Oslo Philharmonic The final concert sees a return to London's Barbican for the orchestra. The programme features Mahler's Adagio from Symphony No.10, Berg's Seven Early Songs with soloist Lise Davidsen, and Sibelius' Symphony No.5.