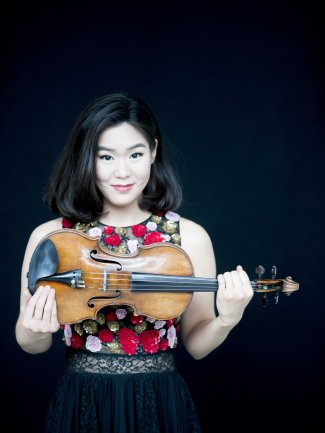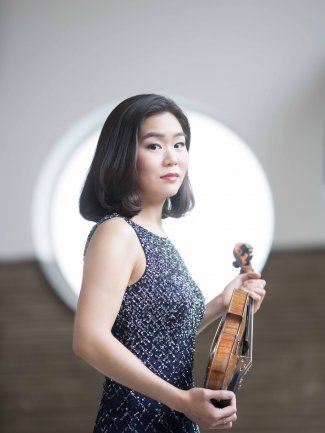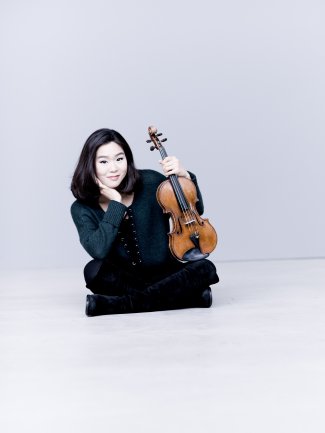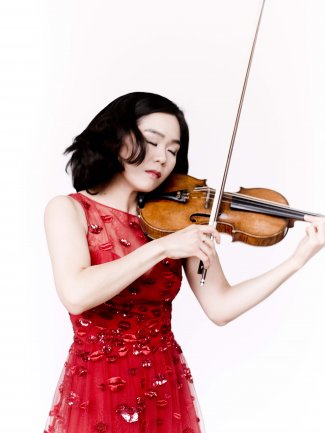 "In Yoo's hands, the dreamy, swaying slow movement was like a ballet's love adagio, and the final movement resembled a vivacious dancing festivity scene."

(Helsingin Sanomat)
Esther Yoo, the young American-Korean violinist, is the first ever Artist-in-Residence with the Royal Philharmonic Orchestra – a year long residency starting in 2018. Acclaimed for her ​"dark, aristocratic tone" (Gramophone Magazine) and ​"impeccable artistry" (South Florida Classical Review), Esther Yoo first came to international attention in 2010 when she became the youngest prizewinner of the 10th International Sibelius Violin Competition (aged 16).
In 2017/18 Esther debuts with Orchestre National de Belgique, Royal Scottish National Orchestra, and the symphony orchestras of Vancouver, Bay Atlantic, and Hawaii, as well return performances with the Philharmonia Orchestra and Hong Kong Philharmonic Orchestra. As this season's Artist-in-Residence with the Cambridge Corn Exchange, Esther will perform alongside the Royal Philharmonic Orchestra and in recital with the Z.E.N. Trio. She will tour the UK and Asia with the Z.E.N. Trio (Zhang Zuo, Esther Yoo and Narek Hakhnazaryan), supporting the international release of their debut album.
In spring 2016 Deutsche Grammophon released her Tchaikovsky album with the Philharmonia Orchestra under Vladimir Ashkenazy, following her 2015 debut on the label, featuring the Glazunov and Sibelius concertos.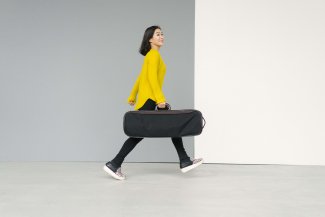 Show More

In previous seasons, Esther has performed with the BBC orchestras, Minnesota Orchestra, Deutsche Radio Philharmonie Saarbrücken Kaiserslautern, Charlotte, Toronto, Gävle, KBS, RTÈ and Iceland symphony orchestras, and the philharmonic orchestras of Seoul, Warsaw and Kansai. She has worked with conductors such as Vladimir Ashkenazy, Karina Canellakis, Andrew Davis, Pablo Heras-Casado, Jaime Martin, Michał Nesterowicz, Santtu-Matias Rouvali, Osmo Vänskä and Christopher Warren-Green.

Chamber music highlights include her Lincoln Center debut (2017), Wigmore Hall debut (2016), a world-wide tour with recital partner Robert Koenig (2017), and two BBC-recorded performances with the Z.E.N. Trio.

Born in the U.S. and raised in Europe since the age of 6, Esther began playing the violin at the age of 4 and made her concerto debut aged 8. She is currently a student of Ana Chumachenco in the Excellence Bachelor Programme at the Hochschule für Musik und Theater in Munich.

Esther plays the 1704 ​"Prince Obolensky" Stradivarius, generously lent to her by a private collector.
"Esther Yoo's rendering (Sibelius Violin Concerto) was beautifully clean, with distinguished tonal luster and sinew…This was a softer and warmer approach to the work, and Canellakis' orchestra (Vancouver) served as a key anchor in executing it convincingly…One expects great things from Esther Yoo."
(April 2018, Vancouver Classical Music)
"Making her RSNO debut, violinist Esther Yoo was completely at home with the orchestra as she performed Mendelssohn's violin concerto with tight dexterity and balanced grace and a tone which was lean yet strong, deliberate yet gentle. Her cadenzas sparkled, with seriously impressive ornamentation and silkily subtle double-stopping, though it was her dialogue with the orchestra which really showcased her command of the music."
(The Herald, December 2017)
"The gorgeous, dark tone of her 1704 ​'Prince Obolenksy' Stradivarius was a constant delight, suitably veiled in the Canzonetta and vivacious in the finale…Hers was an affectionate account of the [Tchaikovsky] concerto, the first movement's ardent melody nobly phrased. [Yoo] is one of the most promising violinists I've heard in recent years. She never forces her tone and allows the music to speak for itself."
(Bachtrack, October 2017)
"Esther Yoo, who has already played with the Philharmonia Orchestra under the direction of Vladimir Ashkenazy and Lorin Maazel, moved perfectly to the pulse of Pablo Heras-Casado — dynamic and with an emphasis on the melodic character of the work….which was well exploited by the violinist demonstrating scrupulous technique and sweeping passion."
(Bachtrack, July 2017)
"It would, indeed, be difficult to imagine a more nobly poised take on this glorious score than this [Tchaikovsky Violin Concerto recording], with Esther Yoo sustaining a radiantly golden tone throughout even the most treacherous pyrotechnical terrain, captured in sound of tactile precision."
(The Strad, September 2017)
"this is the finest version [Tchaikovsky Violin Concerto] to cross my path in the past year… Her dark, aristocratic tone is treasurable…She plays with compact vibrato and can pare her sound down to a fine pianoissimo without her 1704 ​'Prince Obolensky' Stradivarius ever sounding undernourished…"
(Gramophone Magazine, August 2017)
"Violinist Esther Yoo closes season with impeccable artistry…From the moment she took the Gusman Hall stage, Yoo displayed impeccable technique, highly personal interpretive instincts and musical maturity far beyond her years."
(South Florida Classical Review, May 2017)
"There was a magical moment in the Bruch Violin Concerto No. 1 in G minor, played just before intermission. It came at the start of the slow second movement: a brief pause, a slight intake of breath, the lush opening notes taken so softly as to be barely audible. The impressive soloist, Esther Yoo, played with cool but expressive incisiveness. Her tone, compact and refined, with a fast, subtle vibrato, displayed an inspired kind of classicism that suits this emotive music perfectly."
(Michael Anthony, Star Tribune)
"Of the soloists, it was BBC New Generation Artist Esther Yoo who owned the morning with a performance of The Lark Ascending that achieved an audience hush of a level that surely must be a first for an all-age concert; innocence, beauty, pain and effortlessness melded in a way that will lodge for years in the memory, and the audience roared its approval."
(bachtrack.com, July 2016)
"Yoo commands a rich tone that can be pared to something silver-fine and her dynamic range is wide while her technique is excellent and music-serving. … Yoo is very expressive throughout, she is as intensely poised and then as fiery as you like, and her full timbre in high-lying passages is notable. It's a smouldering account, biding its time to full emotional release, first in the unstintingly sympathetic orchestra and then in a full-on cadenza, Yoo unfazed by its technical hurdles."
***** (Classical Source, May 2016)
"Esther Yoo, the youngest violinist to be placed in the International Jean Sibelius violin competition returned to the composer's concerto for her debut recording. Hers is a rounded, vibrant performance, with red-blooded support from the Philharmonia under Vladimir Ashkenazy. Yoo is a convincing advocate, lavishing thick, dark tone on its long melodies."
(The Guardian, February 2016)
"It's easy to see what all the fuss is about in relation to the young Esther Yoo… What strikes you most is the richness of Yoo's tone, combined with a radiant intensity in the Sibelius concerto, and joie de vivre in the Glazunov. She oozes confidence, rhythmic vitality, and a natural expressiveness that gives every phrase an engaging presence and freshness of thought."
***** (The Scotsman, February 2016)
"Sibelius's Violin Concerto in D minor, with BBC New Generation Artist Esther Yoo as the soloist was equally stunning. Yoo's solo passages were bewitching, as she played her cadenza in the middle of the first movement with such a huge and intricate amount of detail it was almost hard to conceive the sounds were coming from just one instrument, and the balance between soloist and orchestra was just perfect under Ashkenazy's intuitive direction."
(Miranda Heggie, Herald Scotland, November 2015)
"It was a committed, commanding performance, full of passion and vivacity."
(Peter Collins, Wales Online, May 2015)
"There are times when a standing ovation feels like a courtesy…This was not the case on Friday evening when the young violinist Esther Yoo had the audience on its feet. Dazzling technique, empathy and presence. Everything was there."
(Lars Westin, Arbetarbladet, May 2015)
"It is not often I get shivers down my spine, and tears in the corner of my eye, but it felt as if Esther Yoo played on strings also in my mind, transforming the music into a pure spiritual matter — a journey into an enchanted garden of memories… The following standing ovation was well deserved after this final performance — one of the pinnacles of this high-quality season."
(Camilla Dal, Gävle Dagblad, May 2015)
"The performance of the young American violinist Esther Yoo led [the listener] into the serene, contemplative world of Mozart. [The violinist's playing was] wonderfully sensitive and highly musical, combined with technical perfection, a secure instinct for the musical period and a great joy in making music. Add to that the beautiful sound of her violin, bright and silvery – the tone slightly grainy, the depths resonating and the highs floating."
(WAZ, February 2015)
"Esther Yoo made [the opening of Mozart's Violin Concerto in A major] blossom wondrously with her clear and intensely resonating violin tone and her highly sensitive interpretation."
(Siegener Zeitung, February 2015)