Esther Yoo releases third album on Deutsche Grammophon
28/9/2017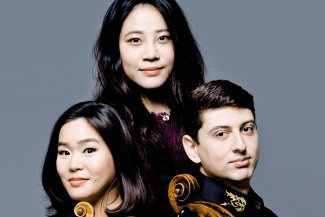 Esther Yoo releases her third album today (29 September) on Deutsche Grammophon, this time in collaboration with her trio partners Zhang Zuo and Narek Hakhnazaryan – The Z.E.N. Trio.
The Z.E.N. Trio met in 2015 as BBC Radio 3 New Generation Artists and have since performed concerts together for BBC radio as well as across the UK and elsewhere in Europe, including at the Glynde and Cheltenham festivals. This album – of Brahms' Piano Trio Op 8 (the revised edition) and Dvořák's ​'Dumky' Trio – will be their debut album as an ensemble.
In support of their album release, the trio will embark on a tour across the UK and Asia, including recital performances at Cambridge Corn-Exchange (02 Oct), Royal Liverpool Philharmonic's St. George's Hall (04 Oct), and Hong Kong's City Hall Concert Hall (09 Oct) as well as Beethoven triple concerto performances with Shenzhen Symphony Orchestra (06 Oct) and Hangzhou Philharmonic Orchestra (08 Oct).
The opening concert of the tour is in partnership with Esther's position as this season's Artist-in-Residence at the Cambridge Corn Exchange.