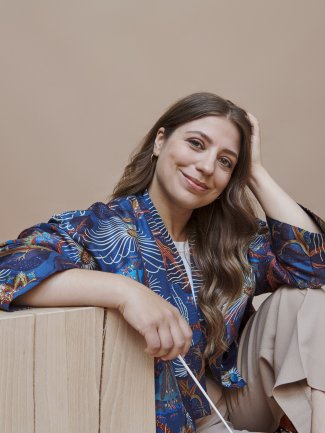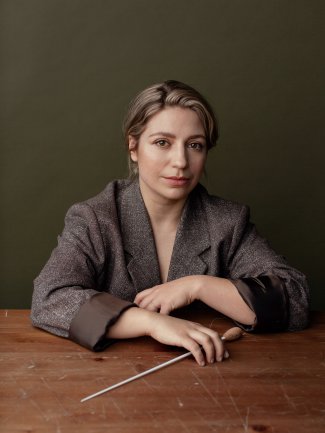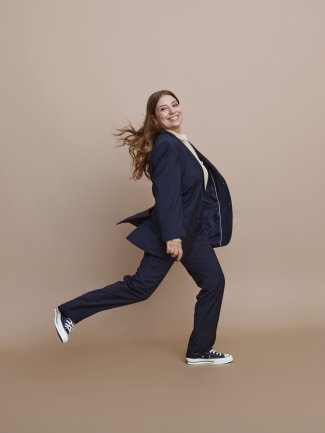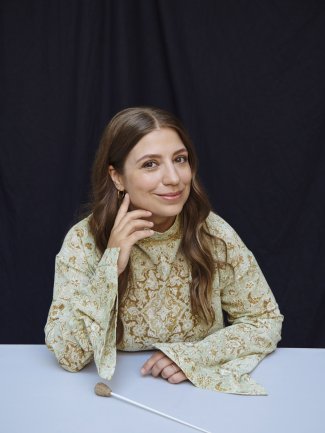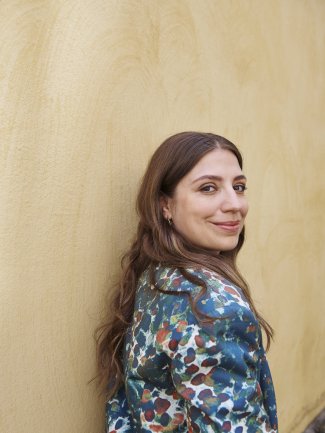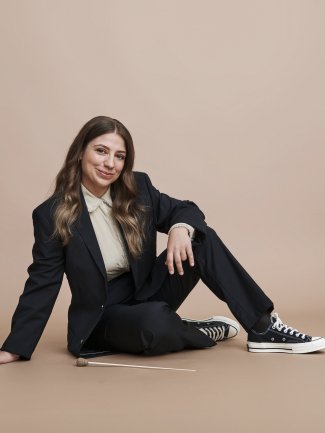 Dalia Stasevska
Conductor
Katie Cardell-Oliver
Associate Director, Artist Management
Jane Brown
Director, Artist Management
Ance Kolibere
Associate Artist Manager
"The star of the evening was conductor Dalia Stasevska"

(Aamulehti)
Chief Conductor: Lahti Symphony Orchestra
Principal Guest Conductor: BBC Symphony Orchestra
Dalia Stasevska's charismatic and dynamic musicianship has established her as a conductor of exceptional versatility. Chief Conductor of Lahti Symphony Orchestra and Artistic Director to the International Sibelius Festival, Dalia also holds the post of Principal Guest Conductor of BBC Symphony Orchestra. She has made several appearances at the BBC Proms including the First Night of the Proms in 2023.
In 2023/24, Dalia will guest conduct The Cleveland Orchestra, Pittsburgh Symphony Orchestra, Danish National Symphony Orchestra, hr-Sinfonieorchester, Deutsches Symphonie-Orchester Berlin, Cincinnati Symphony Orchestra, Seattle Symphony Orchestra, Berner Symphonieorchester, Sydney Symphony Orchestra and West Australian Symphony Orchestra.
Recent engagements have included orchestras such as New York Philharmonic, Los Angeles Philharmonic, Chicago Symphony Orchestra, Cincinnati Symphony Orchestra, San Francisco Symphony, Toronto Symphony Orchestra, The Philadelphia Orchestra, Minnesota Orchestra, the National Symphony Orchestra and Netherlands Radio Philharmonic Orchestra at the Concertgebouw Hall, Amsterdam.
Last season, with BBC Symphony Orchestra, she embarked on a six-concert tour to Japan with soloists Sol Gabetta, Nicola Benedetti and Roderick Williams. In spring 2024, Dalia and BBC Symphony Orchestra collaborate on a Total Immersion project focussing on Missy Mazzoli. Performing works of living composers is a core part of Dalia's programming, and with Lahti Symphony Orchestra, they present works by Andrew Norman, Thomas Adès, Helen Grime, Kaija Saariaho and Outi Tarkianen, to name a few.

A passionate opera conductor, 2023 saw Dalia's highly successful debut at the Glyndebourne Opera Festival with a revival of the iconic Peter Hall production of Britten's A Midsummer Night's Dream. In previous seasons, she returned to Finnish National Opera and Ballet to conduct a double bill of Poulenc's La voix humane and Weill's Songs with Karita Mattila, and to Norske Opera to conduct Madama Butterfly and Lucia di Lammermoor. Other productions include Don Giovanni with Kungliga Opera Stockholm, directed by Ole Anders Tandberg, Cunning Little Vixen with Finnish National Opera and Sebastian Fagerlund's Höstsonaten at the 2018 Baltic Sea Festival in Stockholm, featuring Anne-Sofie von Otter.

Her debut solo album Dalia's Mixtape with BBC Symphony Orchestra released in Spring 2024 on Platoon features ten tracks of some of the freshest sounds in contemporary music. Released one month at a time with music by genre-bending composers such as Anna Meredith, Caroline Shaw, Andrea Tarrodi, Noriko Koide, Judith Weir and others. In June 2023 together with Lahti Symphony Orchestra and pianist Olli Mustonen, she released piano concerti by Rautavaara and Martinu on BIS.

Dalia originally studied as a violinist and composer at the Tampere Conservatoire and subsequently violin, viola and conducting at the Sibelius Academy. As a conductor her teachers include Jorma Panula and Leif Segerstam. In December 2018, she had the honour of conducting Royal Stockholm Philharmonic Orchestra at the Nobel Prize Ceremony in Stockholm. She was awarded the Royal Philharmonic Society's Conductor Award in 2020, Alfred Kordelin Prize in 2022 and BBC Music Magazine's Personality of the Year award in 2023.

Dalia was bestowed the Order of Princess Olga of the III degree by President Volodymyr Zelenskyy in October 2020 for her significant personal contribution to the development of international cooperation, strengthening the prestige of Ukraine internationally and popularisation of its historical and cultural heritage. Since February 2022, she has actively been supporting Ukraine by raising donations to buy supplies and on a number of occasions delivering them herself.

HarrisonParrott represents Dalia Stasevska for worldwide general management.
"Dalia Stasevska brought fire and elan to the action, taking the players from spun-glass delicacy to vigorous bellicosity … was in every sense the concert's star, amplifying the sense of bravery and defiance that made it a memorable first night."
The Arts Desk, July 2023 (First Night of Proms)
"The evening's engaged and outgoing programming reflected her press-on musical personality … her defiance in the choice of works and the performances was hard to miss, and the impact unerring."
The Guardian, July 2023 (First Night of Proms)
"Stasevska's Sibelian credentials are impeccable. From the brass snarls at the beginning, Stasevska led a fierce, defiant account, until the entry of the chorus in the noble central hymn. The BBC SO played out of their skins for Stasevska, her dramatic gestures firing up the explosive timpani and whistling piccolo in the opening tempest."
Bachtrack, July 2023 (First Night of Proms)
"One of the liveliest characterisations came from the pit, where Dalia Stasevska conducted the London Philharmonic Orchestra in a terrific account of Britten's brilliant score, vividly conjuring up all the danger lurking in the woods, harp and percussion providing shards of moonlight."
Bachtrack, July 2023 (Glyndebourne Opera Festival)
"Dalia Stasevska conducts Britten's filigree score with bold colours and tougher accents than many, giving this revival its own self- confident air."
Financial Times 5*, July 2023 (Glyndebourne Opera Festival)
"…Her skill and style on the podium, which make her one of the most intriguing young conductors on the scene today. And as a programming choice, it speaks to an inventiveness from Stasevska that will hopefully be repeated with return engagements."
Backtrack, March 2023 (debut with The Philadelphia Orchestra)
"It was the kind of performance that, without trying to, had audience members roaring with applause after the first movement, then, at the end, immediately rising for a standing ovation — one of the most passionate I've heard at Geffen Hall this season."
The New York Times, January 2023 (New York Philharmonic)
"Stasevska led a richly colored and boldly projected performance of this kaleidoscopic score."
Chicago Classical Review, December 2022 (Chicago Symphony Orchestra)
"With her inventive and well-conducted program, it's no surprise that she is turning heads around the world."
Cincinnati BizJournals, November 2022 (Cincinnati Symphony Orchestr)
"It's been years since I've seen a conductor so fabulously energised and able to galvanise players to give their all."
Telegraph 5*, July 2022 (BBC Proms with BBC Symphony Orchestra)
"She was thrilling to watch and ignited the orchestra with sheer force of personality, making for a very exciting performance."
The Arts Desk, July 2022
"This is a conductor who can elicit the finest nuances with her precise directing, the softest moments often preceding great sweeps of her arms as she gathers in all the musicians while equally precisely bringing out one or another group."
(5*, Bachtrack, March 2022)
"Stasevska is an important talent. Throughout the program, her time-keeping was rock solid, her cues impeccable, her musical understanding and commitment to these pieces unwavering."
(Musical America, October 2021)
"Stasevska led what might have been the finest performance this piece has ever had."
(New York Classical Review, October 2021)
"The best was saved until last. Dalia Stasevska, the young Finnish conductor on the podium, had until this point been content to guide things with skilful modesty. Now suddenly she came alive, shaping a performance of Sibelius's Second Symphony that had me absolutely on the edge of my seat. The sheer urgency of the music, the way it has to struggle against its own tendency to disintegration and find a path to heroic affirmation has rarely seemed so thrilling."
(The Telegraph, July 2021)
"Stasevska's pacing was masterly – a coiled spring of a performance to push the current uncertainties of the music world from our minds."
(The Guardian, July 2021)
"Stasevska made the intensity ignite immediately. The performance was painted with a large brush, without slipping out of precision. The sound was great and full-bodied. I remember thinking earlier that Stasevska has a special ability to build extremely long phrases. This was emphasized in the interpretation of Fantasy."
(Helsingin Sanomat, Sonja Saarikoski, November 2020)
"There is peace in Stasevska's leading. It also has the exceptional ability to take each work as it is, on its own terms. This is by no means self-evident. It is often easy to hear which work is closest to the conductor himself. Now I can't say. Stasevska directed all the concert works as if it were just this."
(Helsingin Sanomat, Sonja Saarikoski, November 2020)
"Stasevska's abundant talents delivered one of the best performances of Tchaikovsky's Pathétique Symphony I've heard: fresh, clear, urgent, completely faithful to the score and the composer's intent. Tempi were bracing and balletic. The 5/4 second movement glided through the hall with ballroom grace and she kept driving the impulsion forward throughout the sobbing finale, where so many conductors tend to drag their feet."
(Natasha Gauthier, Artsfile, October 2019)
"She has the real conductor's gift of establishing pin-drop silence and total concentration in a hall filled with 5,000 people, and there's a guilelessness and total sincerity in her conducting which is very winning."
(Ivan Hewett, The Telegraph, August 2019)
"By the end, laurels won, the packed audience hungry for more, she had the orchestra right behind her, flying triumphant. This was an auspicious Proms debut, expectant and adrenalin-charged."
(Ateş Orga, Classical Source, August 2019)
"Her international reputation is strongly growing, and after seeing her in concert it is not hard to understand why. She is bursting with musical knowledge and energy."
(Hufvudstadsbladet, September 18)
"She is full of energy and conducted the chorus with power and control."
(NORDJYSKE, May 18)
"She's a real find, making her UK debut with an orchestra clearly having a ball"
(Arts Desk, April 2018)
"Stasevska knows how to shout and to whisper. […] From the very beginning it was clear that her approach never sees classical music as a ​'charming entertainment'. Instead she comes across as a fully mature artist whose interpretations have real power and vision. She conducts with immense intensity and control, but at the same time has understanding for small nuances. […] Let us follow Stasevska's career very attentively and hopefully for a long time!"
(Etelä-Suomen Sanomat, 2015)
"The star of the evening was conductor Dalia Stasevska. She made Finnish National Opera's orchestra sound full with rich colours."
(Aamulehti, 2015)
"Dalia Stasevska conducted with dedication. From the very beginning, she almost seemed to be an inseparable part of Janáček's music, its freshness and naturalness."
(Etelä-Suomen Sanomat, 2015)
"A young, creative and energetic Dalia Stasevska created a fresh and alive, but at the same time very sensitive interpretation. Her grip to the music was rhythmic, insightful and fresh. Many details emerged from the orchestra which often remain unheard in the overall texture of other interpretations. […] From the very opening bars, the music sounded soft and sweet, the piani in the Lacrimosa were touchingly quiet, like a soft comforting touch of fingertips. She showed the same delicacy in the handling of the choir. Stasevska lets fortes ring out for a moment, only to quickly pull them back, to give space to the next one. Mozart's rich tapestry sparkled and lived like in a kaleidoscope."
(Itä-Savo, 2015)
Katie Cardell-Oliver
Associate Director, Artist Management
Jane Brown
Director, Artist Management
Ance Kolibere
Associate Artist Manager