Esther Yoo debuts at the

BBC

Proms
15/7/2016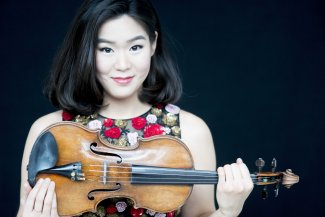 Esther Yoo makes her BBC Proms debut with the BBC Philharmonic and Alpesh Chauhan at two BBC Ten Pieces concerts on 23 and 24 July performing Vaughan Williams' The Lark Ascending.
This will be among the final performances for Esther as a BBC Radio 3 New Generation Artist, a scheme that has supported two successful seasons, including performances and broadcasts with the BBC Philharmonic, BBC Symphony Orchestra, BBC National Orchestra of Wales, and her BBC Radio 3 Wigmore Hall debut.
BBC Ten Pieces is an initiative to take classical music to schools across the UK. Led by the BBC Learning and the BBC Performing Groups, this project aims to expose classical music to primary and secondary age students, and inspire them to develop their own creative responses to music.
Charlie-Rose Blockley
Manager, Composers & Artists