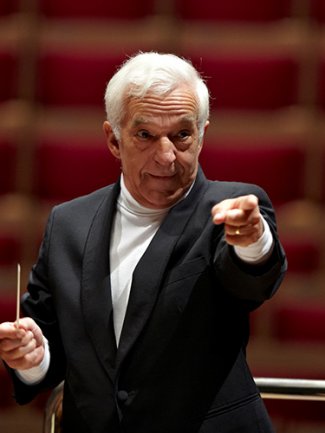 Vladimir Ashkenazy and Esther Yoo: Tchaikovsky album release
31/3/2017
Vladimir Ashkenazy and Esther Yoo release their latest album on Deutsche Grammophon. Following the success of their first collaborative album featuring the Sibelius and Glazunov Violin Concertos (Deutsche Grammophon, February 2016), Ashkenazy and Yoo have come together again for this album of Tchaikovsky works.
Recorded with the Philharmonia Orchestra, the album features Tchaikovsky's Violin Concerto, Valse-Scherzo, Sérénade mélancolique, two dances from Swan Lake (Pas de Deux and Danse Russe) and Glazunov's arrangement of Mélodie from Souvenir d'un lieu cher.
Speaking about the album, Esther said: ​"Preparing for this album was one of the greatest creative outlets for me and I am grateful and proud to have been able to express so many personal sentiments into each piece. The fact that I had the opportunity to record with such exceptional musical partners, the Philharmonic Orchestra and Maestro Vladimir Ashkenazy, with whom I have formed a special bond over the past few years, has made this second album even more meaningful".
Gordon Hunt, Principle Oboist Philharmonic Orchestra went on to say: ​"For someone so young, the maturity that has indeed grown in her playing in such a short time is quite astonishing…and it's more and more of a pleasure to listen to her and to play with her".