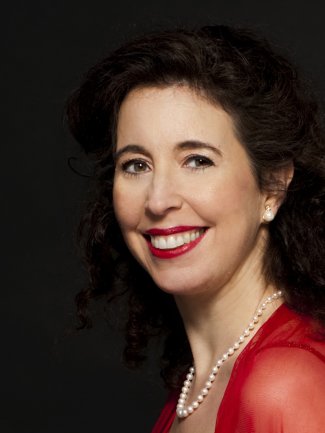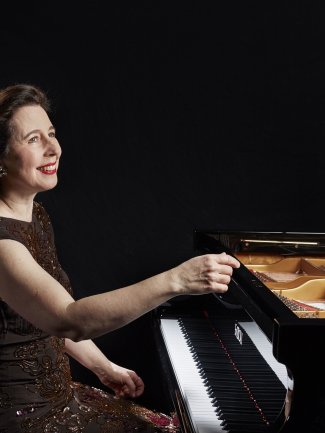 "I know of no musician whose Bach playing on any instrument is of greater subtlety, beauty of tone, persuasiveness of judgement or instrumental command than Hewitt's is here"

(BBC Music Magazine)
Artistic Director: Trasimeno Music Festival
In September 2016, Angela began her ​'Bach Odyssey', performing the complete keyboard works of Bach in a series of twelve recitals, finishing in June 2020. In 2018 she performs the complete Well-Tempered Clavier in London, Tokyo, Ottawa, New York, Hong Kong, Amsterdam, Vancouver/​Victoria, and Stratford (Ontario). Other recitals will take her to Lisbon, Prague, Rotterdam, London's Royal Festival Hall, Girona, Minneapolis, Ferrara, Bari, Perugia, Portland (Oregon), Cleveland, Bern and Newcastle.
Orchestral highlights include her recent BBC Proms appearance with Messiaen's Turangalîla (BBC Symphony Orchestra/​Oramo), a UK tour with the Tonkünstler-Orchester Niederösterreich (Beethoven's ​"Emperor" Concerto), her debut in Vienna's Musikverein conducting Bach Concertos with the same Orchestra, the Cartagena Festival in Colombia, and performances in Chicago (Music of the Baroque with Jane Glover) and with the Xi'an Symphony in China. She will also appear in residency at Harvard University.
Hewitt's award-winning recordings have garnered praise from around the world, and her ten-year project to record Bach's major keyboard works for Hyperion has been described as ​"one of the record glories of our age" (The Sunday Times). Hewitt's seventh volume of Beethoven Sonatas was released in June 2018; other recent releases include a second album of Scarlatti Sonatas and a new recording of Bach's Goldberg Variations.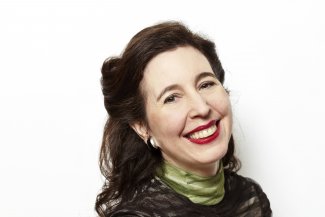 "From the outset, Glover insisted that the orchestral lines sing forth, a seemingly endless flow of melody defining her vision of the first movement. Pianist Hewitt concurred, bringing expressive shape to even rapid-fire arpeggiated figures. Hewitt's tone changed constantly to express the ever-shifting character of the music, the pianist sometimes moving from bright to dusky timbres at the drop of a sixteenth note. In minor-key passages, she illuminated the depth and darkness of late Mozart."
(Chicago Tribune, January 2019)
"Angela Hewitt's piano playing was superb; it's a challenging part [Messiaen's Turangalîla Symphony] (full of rapidly hammered fistfuls of notes), and she tackled it with the bravura and élan of a Griezmann, her right-hand-raised grandes gestes adding to the drama."
(MusicOMH, July 2018)
"Ravel's colors and range of expression produce a unique beauty and demand both exceptional technique and an effortless manner. Hewitt handles all this music with seeming ease and an unusual feeling of musical weight, which makes her interpretation of Gaspard de la nuit less atmospheric but ominous. She is eminently rational throughout the recording, always keeping Ravel's clear thinking and language to the fore."
(WQXR, June 2018)
"Grand architectural design was always in view, as things generally grew louder and slower. […] In the penultimate variation, Hewitt added octaves, apparently to achieve a richer, organ-like sonority. When the aria returned at the end, it seemed a fragile memory of better times. These were ​"Goldbergs" unlike any other."
(The Washington Post, May 2018)
"The pianist had the audience on the edge of their seats in her entrancing performance of Beethoven's Sonata No. 17 in D minor ​'The Tempest', whipping up a highly-charged musical storm – a stunning tour de force."
(Susan Nickalls, The Scotsman, July 2016)
"What enviable poise and expressive beauty to launch the central Andante, what muffled and sustained opening octaves, what concentrated focus. This [Liszt's Sonata in B minor] is possibly the very finest of Angela Hewitt's many recordings."
(Bryce Morrison, Gramophone, March 2015)
"I won't mince words. This Art of Fugue is marvellous. The variety and beauty of tone alone make compelling listening, bringing contrasts, clarity and warmth to Bach's intellectual marvels."
(Geoff Brown, The Times, October 2014)