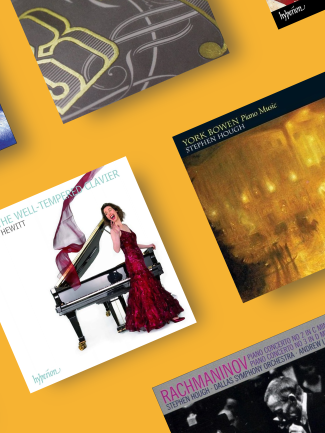 HYPERION

RECORDS

BEGINS

STREAMING

FOR

FIRST

TIME
28/7/2023
Four months after its acquisition of multi-award-winning British label Hyperion Records, Universal Music Group is making the treasures from the label's celebrated catalogue of recordings widely available on all streaming platforms for the first time on 28 July, including the works of HP artists Alban Gerhardt, Angela Hewitt and Sir Stephen Hough.
With an ambition to release the entire catalogue of over 2,500 recordings for streaming by Spring 2024, the first 200 albums were released on 23 July, with further collections to follow every fortnight from 15 September 2023.
Alban Gerhardt's extensive catalogue with Hyperion comes to all major streaming platforms, featuring classic repertoire from Bach through to Schnittke. Highlights include his ECHO Klassik Award-winning Reger: Cello Sonatas with Markus Becker and his latest release, Phantasy in Blue with Alliage Quintett. The releases will start with Alban's International Classical Music Award-winning Shostakovich: Cello Concertos, recorded with WDR Sinfonieorchester Köln and Jukka-Pekka Saraste, and his complete catalogue will be available by early October 2023.
As part of Hyperion's momentous digital release, Sir Stephen Hough's multiple award-winning Hyperion discography will become available for streaming for the first time. Albums in the first batch of releases will include York Bowen, Brahms, Chopin, Mompou, and Rachmaninov's piano concertos recorded with Andrew Litton, along with Sir Stephen's romantic piano concerto recordings.
Angela Hewitt's tremendous discography with Hyperion includes ten albums which are now available to stream. Following its official release in November 2022, Hewitt's recording of Mozart's Piano Sonatas Nos. K279-284 & K309 is included alongside her beautiful Love Songs. A foremost interpreter of Bach, Hewitt's recording of J.S. Bach's Art of Fugue, the 2018 recording of The Six Partitas and the Diapson d'Or award-winning recording of the Goldberg Variations will also feature in the July release. Hewitt's complete set of recordings will be available on all major streaming platforms on 13 November, featuring her expansive range of repertoire, from Scarlatti, Rameau and Couperin, through to Liszt, Debussy and Messiaen.
In future, all new Hyperion titles will be available for streaming on the same day as the physical and download releases.