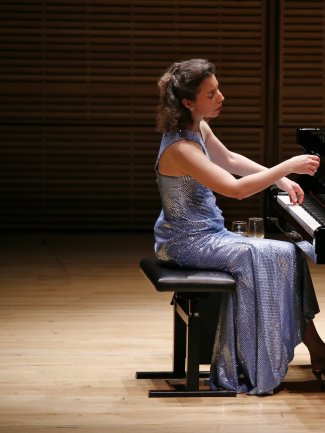 ANGELA

HEWITT

PERFORMS

WITH

ORPHEUS

CHAMBER

ORCHESTRA

AT

The

92

nd Street Y
9/11/2022
Angela Hewitt reunites with Orpheus Chamber Orchestra to perform together for the first time at 92nd Street Y in New York on 17 November.

Following her historic four-year ​"Odyssey" of Bach's complete works for solo keyboard at 92Y, Hewitt play-directs an all-Bach programme, including his Keyboard Concerto No. 2, 4, 5 and 7. Hewitt is also joined by Antoni Trionfo and Abi Fayette, performing Bach's Triple Concerto for Flute, Violin and Keyboard in A minor.

As well as performing in New York, Hewitt performs the same programme in Morristown on 16 November and Rockport on 19 November.

These concerts conclude Hewitt's North American tour which also included recital dates in Halifax, Northwestern University in Chicago and the Isabel Bader Centre in Kingston, Ontario.