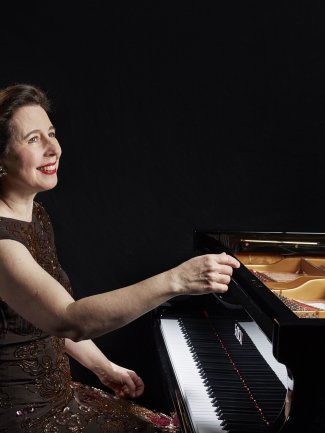 Angela Hewitt to receive Wigmore Hall Medal
4/12/2019
Wigmore Hall have today announced that Angela Hewitt is to receive the prestigious Wigmore Hall Medal on 2 June 2020. The Medal will be awarded following Hewitt's performance of The Art of Fugue which concludes her Bach Odyssey – a four-year and 12-recital survey of the composer's complete works for keyboard, commenced in 2016.
Inaugurated in 2007, the Medal recognises major international artists and significant figures in the classical music world who have made a significant contribution to the Hall's activities over the years – past recipients of the Wigmore Medal include Sir András Schiff, Dame Felicity Lott, Steven Isserlis and most recently Iestyn Davies.
Angela Hewitt is such an artist, having made her debut at the Hall in 1985 and given over 80 performances there since. In addition to her celebrated interpretations of Bach, these performances have also focused on Beethoven, Haydn, Mozart, Schumann, Brahms, Chopin, Chabrier, Ravel, Messiaen and commissions from leading contemporary composers.
Commenting on the award, Hewitt said: ​"Thank you, Wigmore Hall and director John Gilhooly, for awarding me this most prestigious honour, and adding my name to such an illustrious list of former winners. There is no other recital hall stage in the world that feels more like ​"home" than does Wigmore, and my performances there over the past 35 years have been the backbone of my career, always giving me the inspiration to go on."
John Gilhooly, Wigmore Hall's Artistic & Executive Director, responded: ​"Angela is an exceptional artist, and her performances at Wigmore Hall over the past 35 years have been characterised by a tireless curiosity, technical flair and an overriding sense of artistic integrity. As her landmark Bach Odyssey reaches its conclusion, it is the perfect time to celebrate everything that Angela represents and the great esteem in which she is held by audiences here and around the world."
The Medal will be presented to Hewitt in the year of the 35th anniversary of her Wigmore debut and in the same year that she receives the City of Leipzig Bach Medal – the first woman and only the second pianist to receive the award.