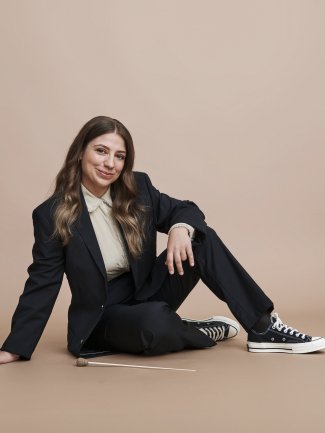 Dalia Stasevska extends contract with Lahti Symphony Orchestra to

2025
24/3/2023
Sinfonia Lahti has announced a contract extension with chief conductor Dalia Stasevska who will lead the orchestra until the end of July 2025 in concerts at home and internationally, and will continue to be the artistic director of the Sibelius Festival.
"I am delighted to continue as Lahti Symphony Orchestra's chief conductor. I have developed a close relationship with the orchestra and the city. I am sincerely grateful for the support and assistance given to Ukraine in particular. I admire the open-mindedness of the orchestra and the audience, and their willingness to come with me in new directions, and now that we are well under way, I am looking forward to our next two seasons together", says Dalia Stasevska.
Maija Kylkilahti, acting general manager of Lahti Symphony Orchestra, is delighted that the cooperation will continue. ​"Dalia Stasevska is one of Finland's most sought-after conductors internationally, and despite the high demand we have been able to secure a one-year extension from her. Her visits to Lahti have brought wonderful experiences both to the audience and to the orchestra."
"Lahti Symphony Orchestra's high artistic profile as one of Lahti's major attractions has been excellently maintained under Stasevska's baton, and it is excellent that this cooperation will now continue," — Tiina Granqvist, the City of Lahti's director of education.
Ance Kolibere
Associate Artist Manager