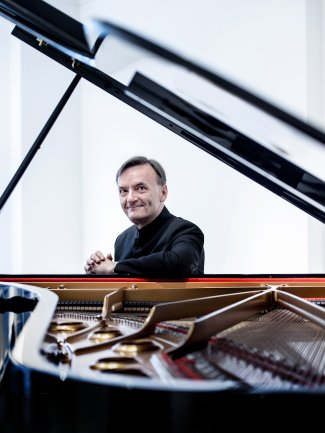 ©
Photo: Sim Canetty-Clarke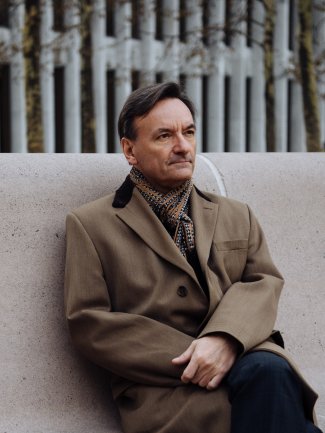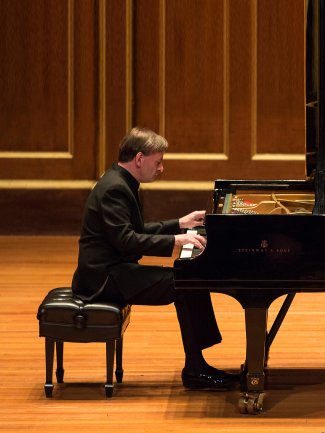 ©
Photo: Sim Canetty-Clarke
"Few living pianists manage to combine open-hearted virtuosity with so tangible and unaffected a sense of an inner world beyond the notes."

(The Arts Desk)
Named by The Economist as one of Twenty Living Polymaths, Sir Stephen Hough combines a distinguished career as a pianist with those of composer and writer. He was the first classical performer to be awarded a MacArthur Fellowship, was made a Commander of the Order of the British Empire (CBE) in the New Year Honours 2014, and was awarded a Knighthood for Services to Music in the Queen's Birthday Honours 2022.
In the 2022/23 season Hough performs over 90 concerts across five continents. Concerto highlights include returns to the Concertgebouworkest, Detroit, Cincinnati and Washington's National symphony orchestras, BBC Symphony and Philharmonia orchestras, and the National Symphony Orchestra, Taiwan. 2023 Artist in Residence with Orquestra Sinfônica do Estado de São Paulo, Hough performs the complete Rachmaninov concertos in Brazil as well as in Australia with the Sydney and Adelaide symphony orchestras. He is also Artist in Association with the Iceland Symphony Orchestra, with whom he tours the UK in Spring 2023. Recent highlights include the New York Philharmonic, Dallas and Atlanta symphony orchestras, Singapore and Finnish Radio symphony orchestras, Wiener Symphoniker, Orchestre National de France, London Philharmonic and City of Birmingham Symphony orchestras.
Hough is a regular guest at festivals such as Salzburg, Mostly Mozart, Edinburgh, La Roque-d'Anthéron, Aldeburgh, and the BBC Proms, where he has made 29 appearances. Recent recitals include Wigmore Hall (the UK's first live classical music concert in a major venue following the 2020 nationwide pandemic lockdown), Royal Festival Hall, Caramoor, Toronto, Tallinn, Gstaad and Manchester's Bridgewater Hall, while 2022/23 highlights include New York (The 92nd Street Y), Paris, Sydney, Atlanta and Sage Gateshead.
Hough's extensive discography of around 70 CDs has garnered international awards including the Diapason d'Or de l​'Année, several Grammy nominations, and eight Gramophone Awards including Record of the Year and the Gold Disc. Recent releases for Hyperion include Beethoven's complete piano concertos (Finnish Radio Symphony Orchestra/​Hannu Lintu), ​'The Final Piano Pieces' of Brahms, Chopin's Nocturnes, a Schumann recital, Schubert Piano Sonatas, and Elgar's Violin Sonata with Renaud Capuçon for Warner Classics. His recording of Mompou's Música callada is released in 2023 (Hyperion). His award-winning iPad app The Liszt Sonata was released by Touch Press in 2013.

As a composer, Hough's song cycle Songs of Love and Loss, co-commissioned by Wigmore Hall, The 92nd Street Y, New York, and Tippet Rise in Montana, receives its world premiere in January 2023. He wrote the commissioned work for the 2022 Van Cliburn International Piano Competition, performed by all 30 competitors, and his String Quartet No.1 Les Six Rencontres, commissioned for the Takács Quartet, received its world premiere in Costa Mesa, California in 2021, and was recorded for Hyperion Records, due for release in January 2023. Hough has also been commissioned by Musée du Louvre, London​'s National Gallery, Westminster Abbey, Westminster Cathedral, the Genesis Foundation, Gilmore International Keyboard Festival, the Walter W. Naumburg Foundation, Orquesta Sinfónica de Euskadi and the Berlin Philharmonic Wind Quintet. His music is published by Josef Weinberger Ltd.

As an author, Hough's memoir Enough: Scenes from Childhood is published by Faber & Faber in Spring 2023. It follows his collection of essays Rough Ideas: Reflections on Music and More (Faber & Faber, 2019) – a 2020 Royal Philharmonic Society Award winner and one of Financial Times' Book of the Year 2019 – as well as his first novel, The Final Retreat (Sylph Editions, 2018). He has also been published by The New York Times, The Telegraph, The Times, The Guardian and the Evening Standard. Hough is an Honorary Bencher of the Middle Temple, an Honorary Member of the Royal Philharmonic Society, a Visiting Fellow at Lady Margaret Hall, Oxford University, a Visiting Professor at the Royal Academy of Music, the International Chair of Piano Studies at the Royal Northern College of Music (of which he was made a Companion in 2019), and is on the faculty of The Juilliard School in New York.
"Hough offers musicianship of the finest order. And after the fleeting Sonata in E minor fragment, Hough makes the Sonata in A major, D664 all beguiling simplicity. He sings in the Allegro moderato, muses in the Andante and dances in the finale. It's a graceful delight."
Rebecca Franks, BBC Music Magazine, May 2022
"What a joy it is to bask in Stephen Hough's musicianship. […] The G major andante, with its strange echoes of the allegro from Beethoven's 18th piano sonata, is pure Houghian delight: precision, phrasing, suspension, a delicacy of touch coexisting with an unfettered robustness. The carefree innocence of the A major's opening movement is meat and drink to the pianist, and his playing of it demonstrates — again — why he is a supreme interpreter of Schubert: the nuance, shading and sonority seem both acutely focused and entirely innate."
Dan Cairns, The Sunday Times, April 2022
"Hough turned in a stylish Tchaikovsky, combining technical prowess with a sophisticated musical personality. In the first movement, he played nobly and with direction. Declarative episodes were vigorous without being forced, and nimble passagework was dispatched with a feathery touch. […] Hough brought great emotional warmth to the slow movement, and again displayed considerable freedom in his shaping of rhapsodic lines. The finale surged forth with fiery spirit."
Dallas Morning News, Tim Diovanni, February 2022
"Beethoven's Third Piano Concerto […] brought out a bristling, vehement side to the soloist Stephen Hough that was compelling from the start. Underscoring the instability of the music, he pounced on phrases, finding sharp accents and, in the first movement cadenza, impetuous virtuosity. All this suddenly seemed like a distant memory in his noble, affecting adagio — the back and forth with the winds was hypnotic — until he snapped back into a climactic rondo delivered with serious bite."
The Times, Neil Fisher, December 2021
"Both its deeply considered, distinctive rethinking of canonic repertory and the sheer poetry of its execution make this a release that neither students of Chopin nor lovers of fine piano-playing will want to miss."
Patrick Rucker, Gramophone Magazine, December 2021
"If there's a right time in life to record certain works, then Stephen Hough has chosen precisely the right time to record these masterpieces [by Schumann]. They're familiar works but in Hough's hands we hear them afresh. Mature, worldly, insightful, probing – his playing is all these and more."
Pianist Magazine, September 2021
"There had definitely been no lack of glitter or fizz in the account of Saint-Saëns's Fourth Piano Concerto that had opened the concert. Stephen Hough was the soloist, dazzling in the precision of his bravura flourishes and assertively muscular in the statements of the theme on which the first movement is built, as the concerto's mood switches from the portentous to the frivolous and back again."
The Guardian, Andrew Clements, May 2021
"The awe-inspiring range and command of Stephen Hough's pianism may be a given, but here [in his latest album Vida Breve] he has rarely sounded more imperious […] A hair-raising blend of mastery and imagination characterises the finale's whirling diablerie [in Chopin's Funeral March Sonata]. Two encores offer unforgettable solace […] showcasing his liquid honey touch and caressing instinct for nuance and inflection. […] A superb release."
(Bryce Morrison, International Piano, March 2021)
"A superlative hour of virtuoso music-making from Britain's top pianist […] Hough is a profound thinker as well as a mercurial performer […] Even in the most grandiose passages of [the Bach-Busoni Chaconne] he found a dark nobility, rising to anger at the mid-point climax, but then conjuring a mood of sublime consolation at that magic moment when Bach turns the tonality from minor to major. His interpretation [of the Schumann Fantasie] was breathtaking in its bravery, the perfect example of why live performance if the lifeblood of music."
(Richard Morrison, The Times, June 2020)
"Wonderful, almost miraculous […] There isn't a colour, weight of attack or nuance of phrasing or rhythm that passes him by. Yet every effect, from the decorative flights in the early concertos to the imperial fortissimos of No.5, arrives and departs with natural ease. The most thrilling and moving performance? I'd nominate the kaleidoscopic No.3, blessed here with a particularly fiery Beethoven cadenza and a central largo so tenderly, thoughtfully stroked and probed that my tear ducts opened."
(Geoff Brown, The Times, May 2020)
"This is a deeply rewarding and distinguished set of the Beethoven piano concertos. Stephen Hough, Hannu Lintu and the excellent FRSO are perceptive and stylish interpreters of the music."
(John Quinn, MusicWeb International, April 2020)
"Blend imaginative yet learned interpretation, profound sensitivity and poetry, and personal charisma, and you have here one of the finest accounts of Brahms's late piano works on record, one that stands head and shoulders above most contenders."
(Michelle Assay, Gramophone Recording of the Month, January 2020)
"The [CD] by Hough of the [Rachmaninov Paganini] Rhapsody is exceptional, as he balances bravura with passions, poetry and a hint of whimsy."
(BBC Music Magazine (Building a Library – best recording), June 2019)
"The performance of Beethoven Piano Concerto No.3 showed soloist in superb, even remarkable form […] Every note and line he played gave the impression of purpose, that Hough had found musical insight and personal meaning in every moment of the score. His approach was not just intellectual but emotional, with uncommon freshness and fire."
(George Grella, New York Classical Review, February 2019)
"Witty, wistful, extrovert, introspective and cheeky by turn, this is a masterclass in a certain style of piano-playing, and a dream of an album."
(Jeremy Nicholas, Gramophone, July 2018)
"Each half [of Hough's Royal Festival Hall recital] brought one of the two sets of Debussy's Images. What dazzled me the most was this selfless and unshowy pianist's effortless handling of the aqueous arpeggios in ​'Reflets dans l'eau', bright and delicate, rippling from his graceful right hand. There were many more chances to savour his featherweight brilliance and acute feeling for Debussy's explorations of sound, from the meditative moon piece in the second book of Préludes, beautifully handled, to the piscine ballet of ​'Poissons d'or'."
(Geoff Brown, The Times, April 2018)
"Thunder and lightning – this time from the keyboard – featured earlier in the week (Prom 20), when Stephen Hough gave a powerful and magisterial account of Brahms's first piano concerto […] Hough took charge and drove the enormous first movement with impressive authority, cementing his position in the front rank of Britain's pianists today."
(Stephen Pritchard, The Guardian, August 2017)
"Hough's impeccable ear for the inner voice, his way with line, the sheer musicality of his approach came through with crystal clarity. He's truly an exquisite player."
(Susan Elliott, Musical America, August 2016)
"The man is an intellectual and physical pianistic powerhouse. He raises more issues and questions per piece than almost any pianist I know. He flings out challenges to preconceptions. And he educates with every phrase […] It was all of these things and more in Hough's mesmerising probe into the heart and soul of [Schubert's Sonata in A minor]. What we were hearing, in effect, was a masterclass in musical analysis and perception."
(Michael Tumelty, The Glasgow Herald, August 2016)
"It's hard not to be a little awestruck by the breadth of Stephen Hough's passions, to say nothing of his talents. [He] is simply one of the most interesting musicians around."
(David Weininger, Boston Globe, May 2015)
"Whatever Stephen Hough plays, he either distils its essence or finds something strikingly new to say about it, and so it was with his Debussy and Chopin programme. He delivered La plus que lente with a languid silkiness, hands seeming to sink onto the keys rather than striking them, and with Estampes created exquisite impressionism. To Chopin's Ballades he brought his particular perfectionism, which resides in the scrupulous shaping of every phrase and weighing of every note."
(Michael Church, The Independent, April 2015)
"Schumann's Piano Concerto, with Stephen Hough as soloist, had been a performance of such startling freshness and clarity that one of the most familiar of all 19th-century piano concertos seemed totally reimagined, with the sweep and vigour supplied by Andris Nelsons and the City of Birmingham Symphony Orchestra as the perfect foil to Hough's cool brilliance."
(Andrew Clements, The Guardian, November 2014)
Stephen Hough
A beer in a rooftop bar in Athens, Georgia. Basketball on the TV. Where am I? "Athens, Georgia."
https://t.co/MpuqnZ1SJf
2 Apr