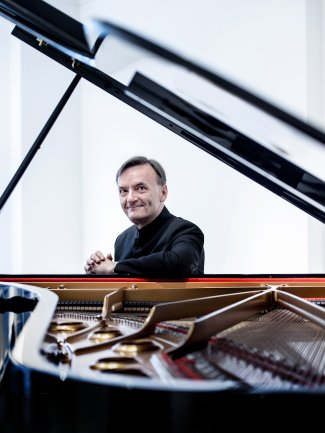 ©
Photo: Sim Canetty-Clarke
New release: Stephen Hough – Beethoven's complete piano concertos
30/4/2020
Stephen Hough​'s latest recording, Beethoven: The Piano Concertos, is now available for physical purchase as well as digital download.
The Hyperion recording was made together with the Finnish Radio Symphony Orchestra and Hannu Lintu, following performances of the complete works across two concerts in Helsinki in May 2019. Released to coincide with the 250th anniversary of the composer's birth, the set has already been described as ​"stunning" (The Independent) and ​"deeply rewarding and distinguished…Hough, Lintu and the excellent FRSO are perceptive and stylish interpreters of the music" (MusicWeb International) and represents a significant addition to Hough's growing list of acclaimed concerto recordings.
Hough used a Bösendorfer piano for the recordings; decisions regarding performance practice as well as the process of committing these works to disc are discussed by the pianist in Gramophone magazine's May 2020 cover feature. Hough will donate all royalties to Help Musicians.
Click here to buy.
Federico Hernandez
Associate Director, Artist Management
Marissa Pueschel
Artist Manager