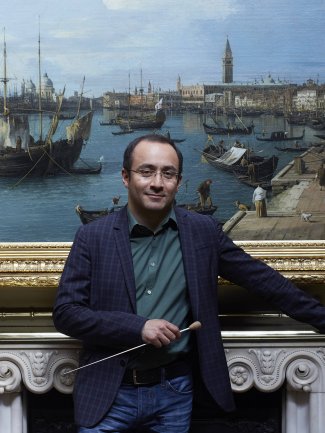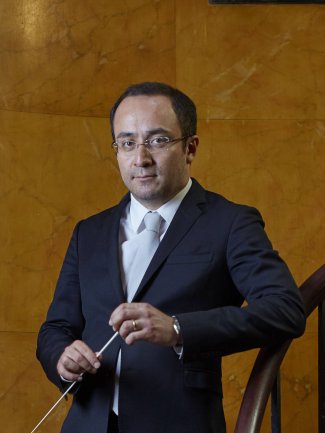 Riccardo Minasi
Conductor / Violin
"Riccardo Minasi's conducting is second to none … This is one of the great Handel recordings and very highly recommended."

(Guardian)
Chief Conductor: Mozarteumorchester Salzburg
Conductor and violinist Riccardo Minasi has quickly established a reputation as one of the most exciting talents to emerge on the European scene in recent years.
Alongside his position as chief conductor of the Mozarteumorchester Salzburg, recent and upcoming symphonic debuts include the Concertgebouworkest, Symphonieorchester des Bayerischen Rundfunks, Swedish Radio Symphony Orchestra, Deutsches Symphonie-Orchester Berlin, Belgian National Orchestra, Frankfurt Radio Symphony Orchestra and Tokyo Metropolitan Symphony Orchestra. He maintains his regular relationships with NDR Radiophilharmonie Hannover, Ensemble Resonanz and La Scintilla, whilst recent operatic highlights include Così fan tutte for the Glyndebourne Festival Opera; Les Pecheurs de Perles for the Salzburger Festspiele; Die Entführung aus dem Serail, Don Giovanni and Orlando Paladino for the Zurich Opera; Alcina, Le nozze di Figaro and Agrippina for the Hamburg State Opera; his debut at the Dutch National Opera with Rodelinda, followed by his return in 2021/22 for Der Freischütz; and Carmen for the Opéra National de Lyon. He will present his own critical edition of Norma at the Festival d'Aix-en-Provence in summer 2022.
Riccardo Minasi has a wealth of recording experience with the world's top artists, including Diana Damrau, Joyce DiDonato and Juan Diego Flórez. He appeared on four Echo Klassik Award-winning albums in 2016 and most recently his recordings of Joseph Haydn's ​"The Seven Last Words of Christ on the Cross" and C.P.E. Bach Cello Concertos with Jean-Guihen Queyras on Harmonia Mundi (both with Ensemble Resonanz) were awarded the Diapason d'Or de l'Année in consecutive years (2019 and 2018, respectively).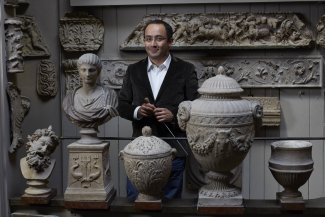 His performances are characterized by their musicological integrity and he has acted as a historical advisor for the Montréal Symphony Orchestra, as well as being curator and editor with Maurizio Biondi of the 2016 Bärenreiter critical edition of Bellini's Norma.

As a soloist and concertmaster, Riccardo Minasi has performed with the Orchestra dell'Accademia Nazionale di Santa Cecilia in Rome, Accademia Bizantina, Il Giardino Armonico, Le Concert des Nations, Al Ayre Español, the Orquesta Barroca de Sevilla and the Orquesta Sinfónica de Madrid and has collaborated with musicians such as Veronika Eberle, Bryn Terfel, Franco Fagioli, Jean-Guihen Queyras, Viktoria Mullova, Reinhard Goebel, Luca Pianca, Christophe Coin and Albrecht Mayer.

HarrisonParrott represents Riccardo Minasi for worldwide general management.
(On his recent album Pergolesi — Stabat Mater) ​"Nourished by their work of ​"resonating" old and contemporary repertoires, Riccardo Minasi and the Hamburg musicians bring an astonishingly modern light to these moving scenes. A very beautiful, very theatrical version by the gesture of the orchestra, but also thanks to the singers who dramatically embody the pain of the mother. Sometimes it feels like an opera."
(France Musique, March 2021)
'There was then Beethoven's Eroica: the Mozarteum Orchestra and Riccardo Minasi delivered a Beethoven milestone.. The piled-up closing movement turned into a grandiose triumphant finale, which was rightly enthusiastically applauded for a long time.'
(DrehPunktKultur, Horst Reischenböck, October 2020)
"Ensemble Resonazn play as freshly and surprisingly as if Mozart were a composer today. This music shakes the audience existentially. Minasi is sometimes a tamer, sometimes a dancer — neither the orchestra nor the audience can escape his energy. The small chamber orchestra has made a name for itself with this concert and new CD of Mozart's last three symphonies."
(Daniel Kaiser, Norddeutscher Rundfunk, February 2020)
The best was saved for last in an account of Mozart's Symphony No.39 that positively fizzed with good spirits. The atmosphere crackled in a fulsome introduction to the first movement, which took on a waltz-like form, Minasi's prowess as an opera conductor clear for all to see through his dramatic instincts and more tasteful rubato. The slow movement was perfectly judged, initially and deceptively straightforward but with stern interventions from the woodwind. These highlighted the lyricism of the main subject, once again beautifully phrased. A warmly coloured Minuet followed before the finale sprang out of the traps, violins easily handling the considerable demands placed on them in rushing scales and rapid string crossing. So good was this concert it was a shame when we entered the closing bars of the symphony, but we did so with great positivity, Mozart – and Minasi – inspiring us through their wonderful craft.
(Ben Hogwood, Arcana.fm, November 2019)
"Of course, the great players of the Mozarteum Orchestra seized every opportunity to bring their own flair to Stravinsky's ​"Le Sacré du Printemps" in a magnificent and impressive manner. Starting with the thoughtfully performed entry of the solo bassoon on the sonorous viola quartet in front of the podium of the Great Festspielhaus, to the shattering eight horns, or the formidably dissonant rubbing trumpets and trombones. Minasi understood the score in detail and duly fuelled the dynamically startling dramatic accents. Fascinating, simply inspiring!"
DrehPunktKultur, September 2019
"Finally the ​"Haffner" Symphony KV 385 was on the plan. It was an absolute triumph: Riccardo Minasi's instructive conducting made the opening allegro explode […][…] eventually Minasi, typically Italian, prancing and fencing with the baton as if it was a rapier, drove the Mozarteumorchester, which was in top form, through the concluding presto. ​"As fast as possible" is what the composer wanted – it became a complete Mozart bliss."
(Drehpunktkultur, February 2018)
"Directed by violinist Riccardo Minasi and harpsichordist Maxim Emelyanychev the performances sport a vivid character — not Rococo airs and graces, but earthy energy and truculent humour."
(Financial Times, March 2016)
"The music sparkles in this quick-witted and imaginatively embellished performance from Il pomo d'oro, conducted by Riccardo Minasi."
(Financial Times, December 2015)
"Never knowingly understated, Minasi and his musicians offered vibrant playing to underpin those gymnastics, with surging violins and thudding bass lines. But they showed a calmer, more fluid side in arias such as Hasse's Ebbi da te la vita from Siroe, re di Persia. The instrumental contributions between arias were more than just filler: they included concertos and sonatas by little-known Neapolitan composers."
(Guardian, November 2015)
"The symphonies continually ambush the ear, bristling with startling leaps of the imagination that resonate powerfully with Riccardo Minasi's visceral direction. The B minor Symphony's Presto is so incendiary that asbestos gloves might be in order…[but] playing it safe in these rollercoaster symphonies is never an option."
(BBC Music Magazine, September 2015)