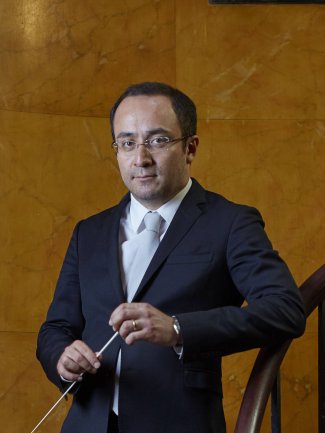 RICCARDO

MINASI

DEBUTS

WITH

SYMPHONIEORCHESTER

DES

BAYERISCHEN

RUNDFUNKS
17/9/2020
Riccardo Minasi makes his debut with the Symphonieorchester des Bayerischen Rundfunks on 24 and 25 September at Munich's Herkulessaal.
For his first collaboration with the orchestra, Minasi embarks on a programme of Viennese classics, conducting Haydn's Symphony in G Major, Hob. I:88 and Beethoven's Piano Concerto No. 1 C Major, op. 15. Igor Levit, BRSO's artist-in-residence for the 2020 – 21 season, takes the solo part in Beethoven's concerto.
The concert will be broadcast live on radio BR-KLASSIK on 25 September 20:30.
Earlier in September Minasi led the 2020 – 21 season opening concert in Salzburg with the Mozarteum Orchester in a programme with works by Shostakovich, Haydn and Respighi, and reunited with Ensemble Resonanz in Hamburg for an exuberant performance of Beethoven's Symphony no.5 at the Elbphilharmonie.