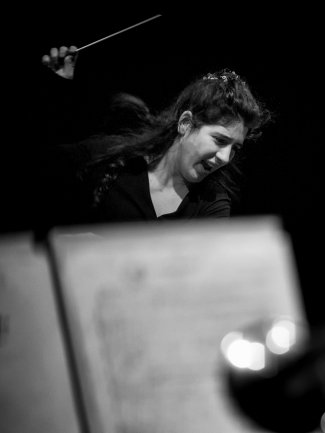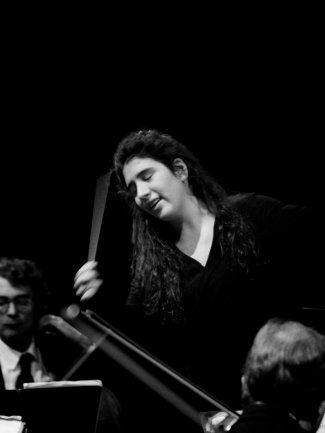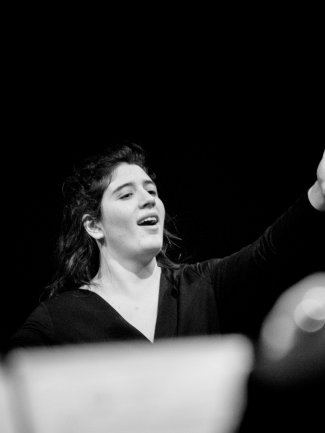 Aged only 24, Italian-Turkish conductor Nil Venditti has already established relationships with orchestras including Bilkent Symphony Orchestra, Slovenian Philharmonic Orchestra and Orchestra della Toscana. In 2019/20 she makes her debuts with the Camerata Salzburg and Ulster Orchestra, while continuing her conducting studies in Zurich.
Throughout the season, Venditti serves as Assistant Conductor to Marc Albrecht and the Netherlands Philharmonic Orchestra, making her Amsterdam Concertgebouw debut with the NPO at the end of January 2020. In the same month, she also assists Paavo Järvi and the Tonhalle-Orchester Zürich.
For her Camerata Salzburg debut in November 2019, she conducts Fazil Say in works by the pianist/​composer himself, who has become a strong supporter since they first worked together in February 2017.
With a strong affinity for the core classical repertoire of Haydn, Mozart and Beethoven, Venditti is also expanding her scope into the operatic field, having conducted Mozart's Così fan tutte, Le nozze di Figaro and Die Zauberflöte, as well as Salieri's Prima la musica poi le parole, and assisted in Verdi's Ernani.
Venditti is an advocate for finding inclusive relationships with new audiences. She has championed Nicola Campogrande's Concerto for Public and Orchestra, originally commissioned for the Paris Philarmonie, for which the audience is given plastic-wrapped sweets with which to create noise while the orchestra plays, being conducted as part of the performance. She first conducted the work for an open-air audience of 2,000 people in Matera, Italy, in 2016, and conducts it again with the Slovenian Philharmonic Orchestra in September 2019 and the Ulster Orchestra in April 2020.
Show More

She is currently pursuing a Specialised Master's Degree in conducting at the Zürcher Hochschule der Künste under the guidance of Prof. Johannes Schlaefli. She attended the Conducting Academy associated with the Pärnu Music Festival under Paavo Järvi, Neeme Järvi and Leonid Grin in 2017 and 2018, as well as the Gstaad Conducting Academy under Neeme Järvi in 2016 and Manfred Honeck in 2019.

Venditti was awarded First Prize at the national Premio Claudio Abbado for Young Musicians in 2015 at the age of 20 and won two prizes at the Jeunesses Musicales Competition in Bucharest in 2017.

Former principal cello of the Santa Cecilia Youth Orchestra in Rome, she has been taught and mentored by Bernard Haitink, Donato Renzetti and Jonathan Stockhammer among others. She holds degrees in Cello and Conducting respectively from the conservatoires of Perugia and L'Aquila, Italy.
"Nil Venditti, female conductor from Italy, seemed to be the most prominent among the students. Her music making was full of lively Italian energy and a burning desire to make music, all the while her hands were firm and clear. She was also chosen as the only conductor of the Järvi Academy to open the second half of the Academy gala concert conducted by Paavo Järvi. In the hands of the Italiana, the work Musica profana for string orchestra by Lepo Sumera, composer rarely played in Estonia, sounded very convincing."
(Kerstin Elisabeth Kullerkupp for SIRP, Eesti Kultuurileht, August 2018)
"a special alchemy catalysed the audience, conquered by the very young baton of Nil Venditti, only 23, from Perugia, pure talent who captivated everyone with Rossini's energy and the utter brio of his overtures from Il barbiere di Siviglia, Il turco in Italia and L'italiana in Algeri. Venditti conducted the first half from memory, in perfect synchrony with the large-screen images of an animated film by Gianini-Luzzati."
(Il Messaggero, January 2018)