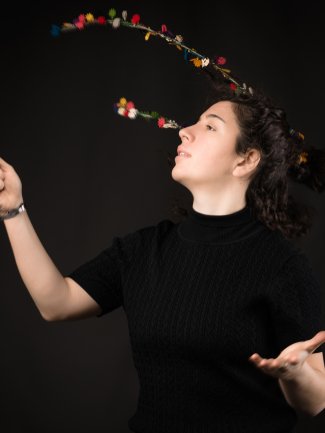 ©
Photo: Alessandro Bertani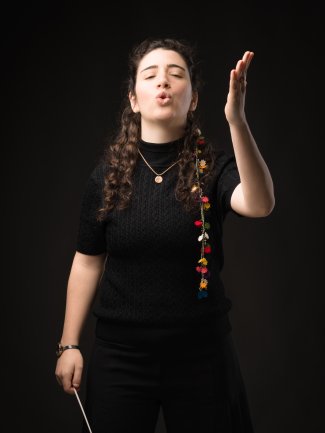 ©
Photo: Alessandro Bertani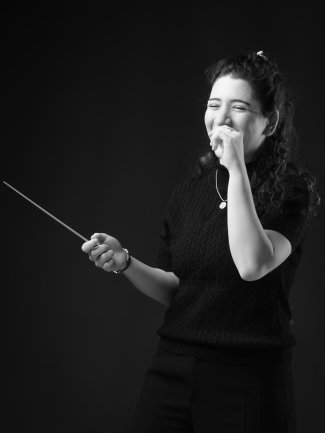 ©
Photo: Alessandro Bertani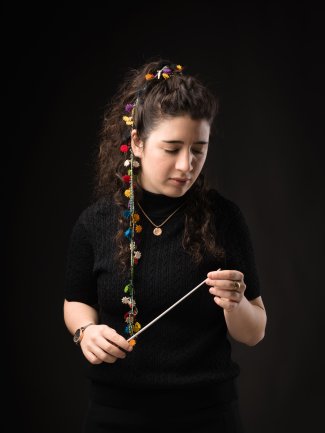 ©
Photo: Alessandro Bertani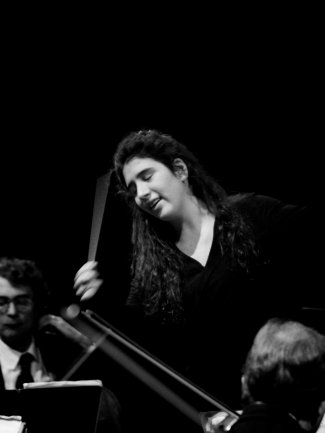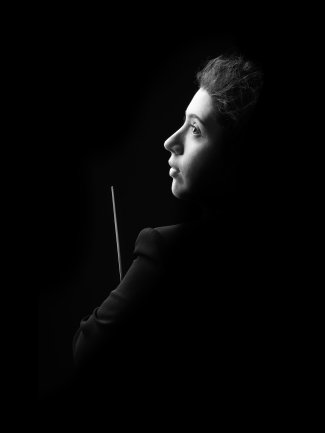 ©
Photo: Alessandro Bertani
Teodora Masi
Associate Director, Artist Management
Katya Walker-Arnott
Artist & Project Manager
Jennyfer Fouani
Artist Coordinator
"She has a great capacity for concentration and communication with the musicians, as well as magnetism and charisma, but also an enormous authority that is well understood and respected."

Scherzo, November 2022
Italian-Turkish conductor Nil Venditti is fast establishing relationships with important orchestras and ensembles around the world. Highlights from recent seasons include collaborations with Orchestre de l'Opéra national de Paris, the Deutsche Kammerphilharmonie Bremen, Dresdner Philharmonie, Castilla y León Symphony Orchestra, Tonhalle-Orchester Zürich, Stuttgart Chamber Orchestra, Irish National Opera as well as Orchestra della Toscana, of which she was Principal Guest Conductor from June 2020 until May 2022.
In the 2023/24 season, Venditti makes her debuts with Konzerthaus Berlin and Tyrolean Symphony Orchestra Innsbruck in Germany and Austria; Lahti Symphony Orchestra, Tapiola Sinfonietta and Royal Swedish Opera (for a new production of Don Giovanni) in the Nordics; BBC Symphony Orchestra and Royal Philharmonic Orchestra in the UK; and a double debut in Japan with Nagoya Philharmonic and Hiroshima Symphony orchestras. She continues her relationships with BBC National Orchestra of Wales (with three engagements across the season), Royal Liverpool Philharmonic Orchestra and Royal Northern Sinfonia, and returns to Stuttgart Opera, following her debut with the orchestra last season, for a production of Rigoletto.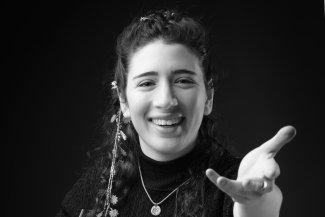 With a strong affinity for Haydn, Mozart, Mendelssohn and Beethoven, Venditti's interests are expanding to the Romantic repertoire. Her interest in contemporary programming has in recent seasons seen her focus on the works of Fazil Say (whose Symphony No.5 she premiered at the Bremen Musikfest), Fabien Waksman, Lepo Sumera and Caroline Shaw. She continues to excel in the operatic genre, having conducted operas from Mozart's Così fan tutte to Peter Maxwell-Davies' The Lighthouse.

Venditti is an advocate for finding inclusive experiences for new audiences. She has championed Nicola Campogrande's Concerto for Audience and Orchestra, originally commissioned for Philharmonie de Paris. In June 2022, Nil conducted Irish National Opera's first virtual reality community opera Out of the Ordinary, which was developed for and with people living across Ireland, placing communities at the centre of the opera creation process.

Venditti trained in conducting at the Zürcher Hochschule der Künste under the guidance of Professor Johannes Schlaefli, as well as attending the Conducting Academy associated with the Pärnu Music Festival under Paavo Järvi, Neeme Järvi and Leonid Grin. In Italy, she graduated in cello performance with Francesco Pepicelli and orchestral conducting with Marcello Bufalini.

HarrisonParrott represents Nil Venditti for worldwide general management.
"She has a great capacity for concentration and communication with the musicians, as well as magnetism and charisma, but also an enormous authority that is well understood and respected."
Scherzo, November 2022
"The Stuttgart Chamber Orchestra showed absolute class, conducted by the excellent Italian-Turkish conductor Nil Venditti. What a discovery: with soft but energetic signs, she created a full yet differentiated overall sound that was both opulent and sensual."
(Main Post, May 2022)
"Entrusted to the baton of Nil Venditti, a young Italian-Turkish conductor barely 26 years old, the Orchestre National Bordeaux Aquitaine is in unison with the colourful tale presented on stage. Urged by the orchestration of Donizetti, the horns, trumpets, trombones and timpani sound surprisingly rustic and render in the pit the friendly and scruffy accents of a village brass band. The conductor also succeeds in winding up her orchestra and dragging all the desks with her into frantic tempos. There indeed lies the difficulty of interpreting the musica buffa of the beginning of the 19th Century: Nil Venditti plays with it and pulls off the little miracle necessary to infuse madness into her entire group, without ever confusing speed with haste. Stylistically, her conducting already shows so much maturity that we can't wait to hear her in a darker repertoire. The Opéra National de Bordeaux would be well advised to invite her to conduct Lucia or one of the Tudor queens…"
(Première Loge, Apr 2022)
"The Friday night concert was led by the vibrant Italian-Turkish conductor Nil Venditti who injected plenty of life into proceedings with her upbeat personality and amusing asides between pieces."
(Journal of Music, Mar 2022)
"…the direction of this evening has shown the mastery of the repertoire by Nil Venditti, who has not used a score throughout […] the energy evoked by the conductor, to which we will add enthusiasm and participation, constitutes a very charming triptych for a concert!"
(Bachtrack, November 2021)
"Nil Venditti, female conductor from Italy, seemed to be the most prominent among the students. Her music making was full of lively Italian energy and a burning desire to make music, all the while her hands were firm and clear. She was also chosen as the only conductor of the Järvi Academy to open the second half of the Academy gala concert conducted by Paavo Järvi. In the hands of the Italiana, the work Musica profana for string orchestra by Lepo Sumera, composer rarely played in Estonia, sounded very convincing."
(Kerstin Elisabeth Kullerkupp for SIRP, Eesti Kultuurileht, August 2018)
"a special alchemy catalysed the audience, conquered by the very young baton of Nil Venditti, only 23, from Perugia, pure talent who captivated everyone with Rossini's energy and the utter brio of his overtures from Il barbiere di Siviglia, Il turco in Italia and L'italiana in Algeri. Venditti conducted the first half from memory, in perfect synchrony with the large-screen images of an animated film by Gianini-Luzzati."
(Il Messaggero, January 2018)
Teodora Masi
Associate Director, Artist Management
Katya Walker-Arnott
Artist & Project Manager
Jennyfer Fouani
Artist Coordinator