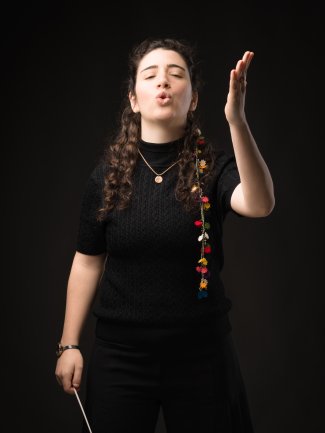 ©
Photo: Alessandro Bertani
NIL

VENDITTI

MAKES

HER

RETURN

TO

FRANCE
9/12/2022
Nil Venditti returns to France for multiple engagements, featuring three debuts and a return visit, in a range of exciting programmes across the season.
On 14 December, Venditti makes her debut with Orchestre de l'Opéra national de Paris in a concert of arias from beloved operas such as Rossini's Il barbiere di Siviglia and Gounod's Faust. The following month, she conducts three concerts with Orchestre de Pau Pays de Béarn, which include the world premiere of Benjamin Attahir's Safar as well as Beethoven's Triple Concerto (with soloists Zadig Trio) and Symphony No.8. These take place on 26, 27 and 28 January 2023.
Venditti later travels to Mulhouse for two concerts on 14 and 15 April 2023 in her debut with the Orchestre Symphonique de Mulhouse. The programme features cellist Victor Julien-Laferrière in Dvořák​'s Cello Concerto in B minor.
The final French engagement of Venditti's 2022/23 season brings her to Angers, where she conducts the Orchestre National des Pays de la Loire in a concert on 25 May 2023. The soloist is organist Isabelle Demers, who performs Corentin Apparailly's In memoriam Marmanda 1219 and the world premiere of Gregoire Rolland's Concerto for Organ and Orchestra, and the programme concludes with Louise Farrenc's Symphony No.3.
Katya Walker-Arnott
Artist & Project Manager