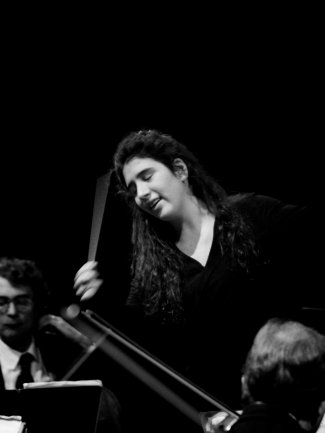 Nil Venditti appointed Assistant Conductor of Nederlands Philharmonisch Orkest
5/7/2019
HarrisonParrott is delighted to announce that Nil Venditti is appointed to the position of Assistant Conductor of the Nederlands Philharmonisch Orkest for the 2019/20 season.
She will be assisting Maestro Marc Albrecht in his last season as Chief Conductor of the Netherlands Philharmonic Orchestra|Netherlands Chamber Orchestra in a repertoire including Beethoven, Strauss, Brahms, Ravel, Mahler and Messiaen.
Willem des Bordes, artistic director of the Netherlands Philharmonic Orchestra said on Venditti's appointment: ​'She is a talented conductor, but already has the maturity to lead certain rehearsals and productions. There was great energy between Venditti and the orchestra. Our musicians found her directness, passion and enthusiasm very appealing.'
Nil has a busy summer ahead, making her debut with the Orchestra della Toscana and the Musikkollegium Winterthur, graduating her Masters Degree in Conducting at the Zürcher Hochschule der Künste in Zürich, attending the Gstaad Conducting Academy and assisting Mozart Die Zauberflöte in Teplice, Czech Republic. She will also return to the Bilkent Symphony Orchestra to open the Bodrum Music Festival with Fazil Say.
Teodora Masi (maternity leave)
Associate Director, Artist Management