Nil Venditti at

PUT

a

STOP

to Women's Invisibility Conference
27/5/2020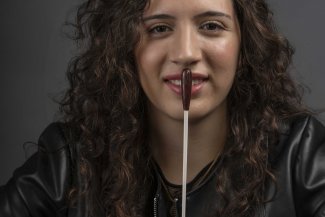 Nil Venditti takes part in an Instagram Conference PUT a STOP to Women's Invisibility led by the Turkish movement Stop Violence Against Women as an expert from the arts.
The organisation raises awareness of the different types of violence against women (physical, emotional, economical, digital etc.) and what to do as a victim or witness. The objective of this solidarity movement for women's safety and empowerment, is providing a practical, solution-oriented approach in which young people can engage and become change agents.
This year's conference will take place on Instagram from 28 – 31 May and include interviews and panels with experts including sociologists, lawyers, activists or business people. Venditti will discuss career choices as a woman live on Instagram on Thursday 28 May, at 4pm GMT on the instagram page @siddetenoktakoy.
Teodora Masi
Associate Director, Artist Management