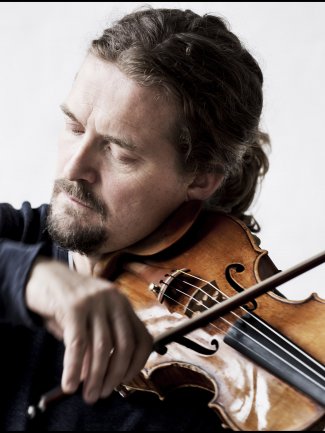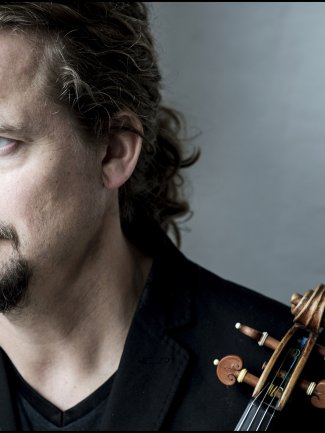 Christian Tetzlaff
Violin
"Tetzlaff, playing as if his life depended on it, transported his audience from the Hungarian gypsy camp to the salons of Vienna. It was the trip of lifetime."

(Independent on Sunday)
Christian Tetzlaff has been one of the most sought-after violinists and exciting musicians on the classical music scene for many years. With an extensive repertoire and equally at home in Classical, Romantic and contemporary repertoire, he sets new standards with his interpretations of the concerti of Beethoven, Brahms, Tchaikovsky, Berg and Ligeti, and is renowned for his innovative chamber music projects and performances of Bach solo repertoire. He frequently turns his attention to forgotten masterpieces, such as Joseph Joachim's Violin Concerto which he successfully championed, while attempting to bring new works to the mainstream repertoire such as Jörg Widmann's Violin Concerto, which he premiered in 2013.
Tetzlaff follows the musical manuscript as closely as possible, foregoing standard performance tradition and without indulging in usual technical short-cuts on the instrument, which often allows a renewed clarity and richness to develop in works that are already well-known to audiences.
A former Artist-in-Residence with Carnegie Hall, Berliner Philharmoniker, Tonhalle-Orchester Zürich and hr-Sinfonieorchester, this 2021/22 season Tetzlaff shares his artistic ideas as Artist-in-Residence with the Wigmore Hall. In January 2022 he performs Shostakovich's Violin Concerto No.2 with the London Philharmonic Orchestra under the baton of Karina Canellakis.
Further engagements in the 2021/22 season include tours across Europe and to the U.S. as well as a tour with Konzerthausorchester Berlin and invitations from Deutsches Symphonie-Orchester Berlin, Orchestre Philharmonique de Radio France and Bergen Philharmonic Orchestra.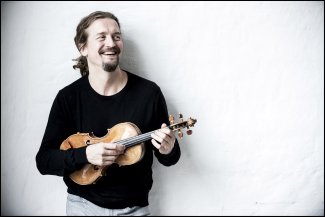 His recordings have received numerous awards such as the Gramophone Classical Music Award in 2018 for his album of Bartók's concerti Nos.1&2 with Hannu Lintu and the Finnish Radio Symphony Orchestra. His most recent recording for the label Ondine of Beethoven and Sibelius violin concerti with the Deutsches Symphonie-Orchester Berlin and Robin Ticciati, released in the autumn 2019, immediately received a mention as Album of the Month in Gramophone Magazine. Other awards include a Diapason d'Or and the Jahrespreis der Deutschen Schallplattenkritik in 2018, Midem Classical in 2017, the Edison, and several Grammy nominations. His discography includes violin concerti by Dvořák, Mozart, Lalo, Sibelius, Tchaikovsky, Beethoven and Jörg Widmann; Mark-Anthony Turnage's Mambo Blues and Tarantella; violin sonatas by Mozart, Bartók, Schumann and Brahms; and of special significance, Bach's complete solo Sonatas and Partitas, which he recorded three times over the years, the latest having been released in September 2017.

Chamber music is as much an important facet of his musical life as his work as a soloist, both with and without the orchestra. Christian founded the Tetzlaff Quartett in 1994, which received the Diapason d'Or in 2015, while the trio with his sister Tanja Tetzlaff and pianist Lars Vogt was nominated for a Grammy award.

Born in Hamburg in 1966, Christian Tetzlaff studied at the Lübeck Conservatory with Uwe-Martin Haiberg and in Cincinnati with Walter Levin.

He plays a violin by German maker Peter Greiner and teaches regularly at the Kronberg Academy, near Frankfurt.

HarrisonParrott represents Christian Tetzlaff in the UK.
"Christian Tetzlaff (…) continues to own the [Birtwistle] concerto, as it were, with playing of ferocious accuracy throughout an almost unbroken sequence of urgent, keening recitatives exploiting the instrument's full range."
(Gramophone Magazine, November 2019)
"Christian Tetzlaff [was] so completely inside the score's majesty, intimacy and remoteness that he didn't drop a stitch when a string snapped about four minutes in, with him seizing the leader's violin to take him through to just before the cadenza [of Sibelius' Violin Concerto]. The rapport between him and Ticciati was intense, with the first movement spellbinding in the beautifully geared shifts of retreat and advance between soloist and orchestra. (…) his is the sort of command that makes both technical and interpretative challenges just melt away. The slow movement showed off the beauties of his tone, while his undemonstrative performance style supports a white-hot musical imagination and intelligence. The rhythmic tautness of the Allegro Finale (with the ma non tanto qualifier put on the back burner) was balanced vertiginously between momentum and delirium, Tetzlaff on incandescent form. It was one of those performances where you pinch yourself to check something so thrilling and profound had really happened. His encore, some penetratingly introspective Bach, only compounded Tetzlaff's impact and insight."
(Classical Source, February 2019)
"[The programme (…) Brahms's three violin sonatas, followed by a Brahms encore] allowed us to savour Tetzlaff's unusual artistry. No other violinist so steadfastly abjures the seductive capacities of their instrument, its luxurious warmth and potential range of colour."
***** (The Independent, February 2018)
"With Christian Tetzlaff up front, however, the primacy of the soloist is assured (…) with playing of ferocious accuracy throughout an almost unbroken sequence of urgent, keening recitatives exploiting the instrument's full range. (…) Tetzlaff brought impressive definition to the closing pages [of the Birtwistle Violin Concerto] as the soloist is absorbed, Berg-like, within the onward passage of orchestral time. A commercial recording with these forces is urgently needed."
(The Strad, September 2017)
"Some of the world's greatest performers are simply in a class of their own. Unquestionably part of this elite are violinist Christian Tetzlaff and pianist Leif Ove Andsnes. Their truly collaborative musical language was one which spoke with direct humanity to connect with the audience on a seldom experienced, deep, emotional level."
(5-stars, The Scotsman, August 2017)
"[Christian and Tanja Tetzlaff] gave an astonishing performance – gruff, when it needed to be, vulnerable too, with natural, unforced communication between them, honing in on the [Brahms' Double] Concerto's singular mix of joy and tragedy."
(5-stars, The Scotsman, May 2017)
"No other violinist so steadfastly abjures the seductive capacities of their instrument, its luxurious warmth and potential range of colour. Tetzlaff goes for absolute clarity of detail and purity of intonation, and as a result Brahms's dramatic and melodic richness here shone very brightly. […] Their performance here was technically flawless, with the two players closely aligned in every aspect of interpretation. But there was never any sense of routine, and Tetzlaff's ability to breathe life into each of Brahms's songful melodies was matched by Vogt's subtle harmonic shifts and gently rolling accompaniment textures."
(The Arts Desk, December 2017)
"When Christian Tetzlaff took up the fugue movement in Bach's Sonata No. 2 for solo violin, early on in his recital at Davies Hall, an almost eerie sense that he was not alone onstage took hold. (…) In carving out the movement's theme and densely wrought developments over a softly pulsing ostinato, Tetzlaff seemed to become two performers at once, so distinctly were the musical lines drawn and interwoven. One body, it seemed, couldn't possibly contain all that technical skill and talent. Those attributes were on ample and often jaw-dropping display at Davies [Hall]."
(San Francisco Classical Voice, December 2017)
"With Christian Tetzlaff as soloist, Sibelius's Violin Concerto was highly charged, mercurial, quivering with vibrato and with a fiery first-movement cadenza."
(Classical Source, March 2016)
"Tetzlaff was simply electrifying, making his way through the score's most daunting passagework with equal parts technical mastery and interpretive fire."
(San Jose Mercury News, October 2015)
"He seemed so completely immersed in the concerto that the overall impression was not so much of his playing it as living it. Any performance has to transcend concepts of virtuosity if it is to have its full impact. Technically, Tetzlaff is flawless, and the sound he makes with his modern Greiner violin – he doesn't play a Strad – is effortlessly beautiful. But it's the way the shape and meaning of every phrase is joyously integrated into a seamless whole that is so utterly beguiling. This is true even in the vast cadenzas, which Tetzlaff based on those Beethoven added to a later piano transcription of the work, having left his original violinist to improvise his own. …Unforgettable: the greatest performance of the work I've ever heard."
(Tim Ashley, The Guardian, May 2015)
"Purity and security, perspective and spaciousness. … The violinist Christian Tetzlaff made the hoarse, occluded acoustic of the Queen Elizabeth Hall sing. His recital of unaccompanied sonatas and partitas by Bach and Bartók moved between introspection and savage expressivity in athletic dances, votive arias, enigmatic fugues and dusty laments from two centuries."
5 stars (Anna Picard, The Times, April 2015)
"Christian Tetzlaff is becoming an ever more fascinating and engaging artist. (…) This was a virtuoso display of technical bravura and emotional eloquence, all wrapped into one beautifully integrated package."
(San Francisco Chronicle, May 2014)
"Christian Tetzlaff, more than any other violinist around today, is utterly attuned to Schumann's idiom in these later works."
(Harriet Smith, Gramophone, January 2014)