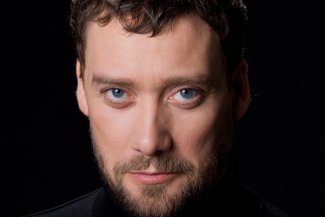 "One of the great Wagner basses of our time."

(Tim Ashley, The Guardian)
Estonian bass Ain Anger is a regular presence on the world's most celebrated operatic stages and was honoured as Kammersänger by the Austrian government in 2020. Since his house debut at Wiener Staatsoper as Monterone in Rigoletto in 2004, he has sung more than forty roles there including Dosifei in Mussorgsky's Khovanshchina conducted by Semyon Bychkov, König Heinrich in a new Lohengrin with Christian Thielemann, Commendatore in Barrie Kosky's new Don Giovanni under Philippe Jordan, and many of his key Italian roles including Filippo II (Don Carlos), Zaccaria (Nabucco), Fiesco (Simone Boccanegra) and Sparafucile (Rigoletto).
Ranked as one of today's finest Wagnerian basses, Anger made his Bayreuth Festival debut as Fafner in Das Rheingold and Siegfried under Christian Thielemann, and his debut at Teatro alla Scala as Daland (Der fliegende Holländer) under Hartmut Haenchen. As Hunding, he has appeared in new Ring Cycles at Bayerische Staatsoper under Kent Nagano, Wiener Staatsoper under Franz Welser-Möst, Oper Frankfurt under Sebastian Weigle, Lyric Opera of Chicago under Sir Andrew Davis, and at the Royal Opera House, Covent Garden under Sir Antonio Pappano. As Pogner (Die Meistersinger von Nürnberg), Anger debuted at San Francisco Opera under Sir Mark Elder, and is a frequent guest of Deutsche Oper Berlin with whom he also appeared at the BBC Proms in Tannhäuser under Donald Runnicles. Recent seasons have brought further expansion of the repertoire with debuts as Hagen (Götterdämmerung) for the Canadian Opera Company conducted by Johannes Debus, and at the Edinburgh International Festival with Sir Andrew Davis, and as König Marke (Tristan und Isolde) for The Cleveland Orchestra under Franz Welser-Möst, and West Australian Symphony Orchestra under Asher Fisch released by ABC Classics.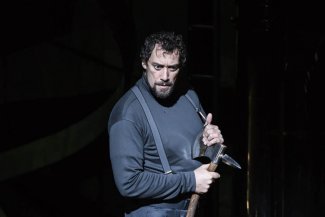 Anger gave his acclaimed first performances as Boris Godunov in Richard Jones' production at Deutsche Oper Berlin, the same production that marked his debut at the Royal Opera House, Covent Garden in the role of Pimen. He made his anticipated debut at the Metropolitan Opera last season as Pimen under Sebastian Weigle, since returning as Gremin (Eugene Onegin). At Opéra national de Paris, he has appeared most recently in new productions of Boris Godunov and Don Giovanni and is a regular guest of Bayerische Staatsoper where he has sung several of his core roles as well as Cardinal Brogni in Halévy's seldom-performed La Juive under Bertrand de Billy.

In concert, Anger's recent appearances include Haydn's Nelson Mass with Omer Meir Wellber and Münchner Philharmoniker, Verdi's Messa da Requiem with Daniel Oren and Accademia Nazionale di Santa Cecilia, Beethoven's Symphony No.9 with Gianandrea Noseda and Wiener Symphoniker and Mahler's Symphony No.8 with Paavo Järvi and NHK Symphony Orchestra.

Ain Anger's 2022/23 season includes new productions of Boris Godunov (Pimen) at Teatro alla Scala under Riccardo Chailly and of Pélleas et Mélisande (Arkel) at Santa Fe Opera under Harry Bicket, as well as revivals of Tristan und Isolde (König Marke) at Palau de les Arts Reina Sofiá with James Gaffigan and of Don Giovanni and Wagner's Ring Cycle at Wiener Staatsoper under Antonello Manacorda and Franz Welser-Möst respectively. In concert, he joins Riccardo Chailly for Mahler's Symphony No.8 at Teatro alla Scala and Aziz Shokhakimov for Verdi's Messa da Requiem with Orchestre philharmonique de Strasbourg.
Gallery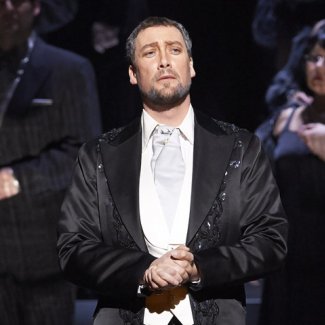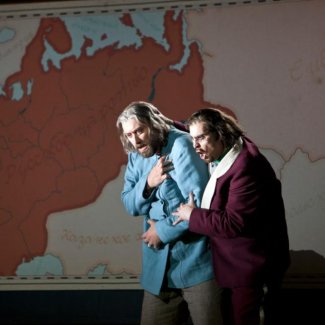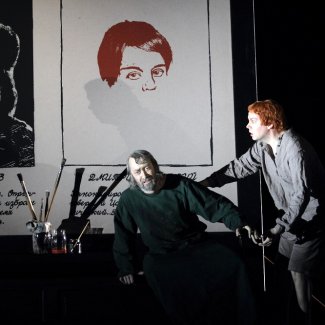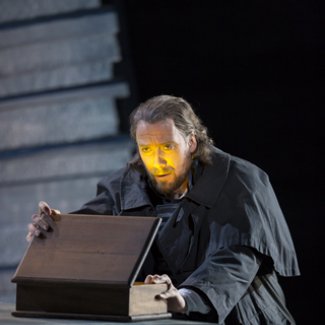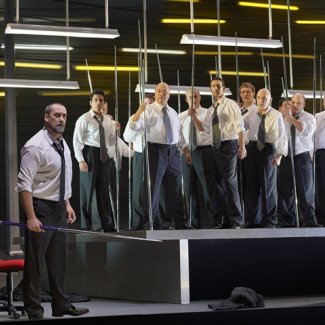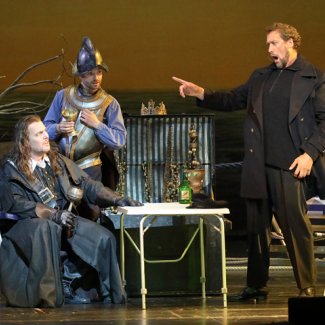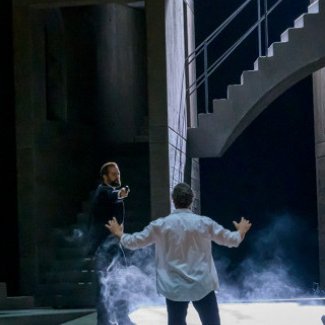 "Ain Anger was an expressive, big-voiced Gremin."
Opera Magazine, June 2022
"Bass Ain Anger made for a robust, handsome Prince Gremin. The vibrancy of his voice and the mist of romance with which he infused his Act III aria was particularly effective."
(New York Classical Review, March 2022)
"Ain Anger embodies the Commendatore with charisma and a strong stage presence. The darkness that characterizes his timbre is manifested in the resonance of his voice. His brief appearance is enough to command attention by the sheer precision and gravity of his voice, in all its registers."
(Ôlyrix, December 2021)
"Like the production, the basses portraying Pimen and Boris could not have been more different in vocal quality and delivery. And both René Pape and Ain Anger delivered devastating performances…Ain Anger was making his Met debut as Pimen and from the moment he stepped on stage, he was a strong presence. His Pimen was measured in his body language, yet he was able to portray the torment in his character with subtlety. As he began telling the story of Russia, Anger sang with a clarion tone full of smooth legato lines and gorgeous dynamic contrasts. His pianos were full of warmth while his fortes were formidable. As he became increasingly agitated in the recounting of Boris' treasonous actions, his voice took on a breathier tone but it never lost the elegance or smoothness. During these moments Anger showed an intensity in his voice that filled the house with a thunderous sound."
(Opera Wire, September 2021)
"This staging is the occasion for several accomplished Met debuts: the bass Ain Anger, commanding as the monk Pimen, who predicts Boris's downfall."
(NY Times, September 2021)
"As Senta's father Daland, Ain Anger embodied the good-humoured opportunist who willingly sells his daughter for a few sparkling stones. He's the ideal rugged sailor, with a rough voice – coloured by saltwater and grain – and impresses here with his broad, distinctive bass."
(Bachtrack, July 2021)
"Have the two giants Fasolt and Fafner ever been heard with more splendid voices than those of Ain Anger…?"
(Das Opernmagazin, July 2021)
"The match between gestures and words is also noticed in Ain Anger portrayal of Hagen. The depth and intensity of his voice give the character a very strong dynamic."
(Toute La Culture, December 2020)
"Ain Anger's Marke is delivered with grandeur and wounded nobility; overall it's a distinguished performance, his famous lament memorably realised, with a touch of the epic about it."
(George Hall, OperaMag, Feb 2020)
"Ain Anger's Hagen brought to mind a Don Giovanni reincarnated as the devil – smooth, suave, saturnine"
(Opera Magazine, November 2019)
"Ain Anger was a refreshing, non-hammy Hagen, a smooth-voiced villain feigning the part of honest broker to his idiotic half-siblings."
(5*, The Times, August 2019)
"Ain Anger presented a lean and mean Hagen, a baleful presence who needed no recourse to phoney histrionic snarling to suggest his villainy."
(5*, The Telegraph, August 2019)
"Particularly Ain Anger's splendidly world-weary, implacable Hagen."
(5*, Guardian, August 2019)
"the Estonian bass Ain Anger was supremely regal as König Marke."
(Opera Magazine, January 2019)
"The stunning talent of Ain Anger was wasted as Hunding."
(Rupert Christiansen, The Telegraph, September 2018)
"…the night's true discovery was Ain Anger's Marke. It's a luxurious bass instrument that you could quite happily take a bath in, and the Estonian bass was nothing short of brilliant as the wronged King of Cornwall. Naturally imposing, with oodles of presence, he showed audiences a man who has discovered an irreparable fracture in his world."
(Limelight, August 2018)
"Estonian bass Ain Anger was a wonderful King Marke, with rich resonant tone and confident deep notes, as well as cutting a noble figure."
(Bachtrack, August 2018)
"The role has surely never had a more jaw-droppingly powerful interpreter than Estonian Ain Anger, the real bass article and an artist with an ability to lift the key drama right off the page"
(Arts Desk, February 2018)
"As the axe-bearing Hunding, Ain Anger's menacing presence was vocally resplendent across his range."
(Bachtrack, November 2017)
"the excellent, glowering Ain Anger"
(Opera Magazine, December 2017)
"Ain Anger, on the hand, offers unfailingly superb vocalism as Hunding, combining toughness with a sexiness one doesn't often find in this character"
(Roger Pines, International Record Review, January 2015)
"Ain Anger graduated from Pimen – his part at Covent Garden – to give a rounded and moving portrait of the title role, both vocally and dramatically. His large, wide-ranging bass accommodated easily the Tsar's pained outbursts while finding intimate tones for the familial scenes."
(Opera Magazine, October 2017)
"Ain Anger's noble, stentorian Dosifey"
(Opera Magazine, October 2017)
"Towering above all physically, vocally and dramatically, however, was bass Ain Anger as Dosifei. It was a monumental performance of the mystical, fanatical, uncompromising religious zealot that was the bedrock of the production"
(Seen and Heard, September 2017)
"Anger, blessed with a wealth of charisma as the leader of the Old Believers, easily overshadowed Furlanetto in the demonstration of vocal potency, and the Estonian succeeded in miraculously nuanced, thoughtful tones in the first movement"
(Der Standard, September 2017)
"Estonian bass Ain Anger was well cast as Dosifey, leader of the Old Believers, impressively rolling out unforced waves of well-founded singing"
(The Financial Times, August 2017)
"Best were Ain Anger as warmly eloquent Dosifey"
(The Independent, August 2017)
"Ain Anger had a massive and minatory dignity as the leader of the Old Believers."
(The Telegraph, August 2017)
"After incarnating a Pimen of beautiful stature, Ain Anger reveals a great Boris. The nobility of tone he cultivated in the character works with his complex composition of the tsar, which more subtly reflects the suffering. Suddenly, the impressive vocal authority has nothing to do with these too often overdue arguments: sober, powerful, dense, this Godounov has impact in his interrogative and spiritual presence."
(Anaclase, July 2017)
"His exceptional monologue in the fifth scene was notable less for its anxiety than its calm intelligence and hints of resignation: in his gentle phrasing, punctuated by moments of rising doubt, one could discern a tsar who was only beginning to understand that his own life was subject to forces beyond his control. In the equally impressive final scene Anger managed to avoid the obvious pitfalls of vocal overacting, instead summoning nobility and clarity for Boris' final address to his son."
(Mundo Clasico, July 2017)
"In the title role Ain Anger convinces vocally with a powerful performance, rich in nuances."
(Neue Musikzeitung, July 2017)
"Ain Anger enters the scene as Godunov… The Estonian, who sings this role for the first time, has something Christ-like with his long smoothed hair; his deep, penetrating bass is permeated with honest felt emotions — poetic, desperate, but also powerful. Voice and appearance are of touching fragility and at the same time of Old Testament power… they are all surpassed by Ain Anger, who also makes the dying scene, which is fundamentally ridiculous, into a character study."
(Der Tagesspiegel, June 2017)
"In the title part, Ain Anger convinces vocally and with dramatic nuance."
(NMZ online, June 2017)
"Ain Anger, a brooding, dark Fafner"
(Hugo Shirley, Opera magazine, February 2017)
"Ain Anger [is] a powerful Cardinal Brogni"
(Opera magazine, October 2016)
"There was the added bonus that Terfel's voice contrasted well with the far darker sound of Ain Anger's Pimen, an assumption that rivaled and at times surpassed that of Terfel. Pimen's long monologues in Part Two were an example of someone completely inside a part, from the resonant opening ("Just one final tale") through to the climactic strains of his witnessing of ​"the bloody sin"."
(Seen and Heard International, July 2016)
"When was the last time you heard a room-filling, well-modulated, magnificent bass as that of Ain Anger? His Brogni captivates from the first note."
(Opernnetz, July 2016)
"[Ain Anger] has all the characteristics of the most profound Russian basses; namely cavernous authority and the narrative articulation to match. He is utterly commanding in this repertoire, not just in setting the narrative scene – showing that you don't need an opera stage to tell a story – but especially when he spoke the words of Death himself, booming with authority when, for example, he spoke the words ​"You are mine!" at the end of the Serenade. His is a voice you don't argue with and you don't forget."
(Seen and Heard, April 2016)
"Ain Anger was outstanding as the monk Pimen, relating the tale of the Tsarevich's murder in a bass voice that came down the centuries"
(Bachtrack, March 2016)
"There is real darkness in the rich-toned chronicling of Ain Anger's Pimen"
(The Guardian, March 2016)
"Notable in the strong cast are Ain Anger's rugged Pimen"
(Evening Standard, March 2016)
"Ain Anger, as the monk Pimen, has wonderfully sympathetic gravitas"
(The Independent)
"… bass Ain Anger as the Pater Profundus evoked scenes of the sublime in nature with a potent, focused delivery."
(Boston Classical Review, September 2015)
"Ain Anger's mellow, booming bass voice perfectly suited Peneios"
(New York Times, July 2015)
"The splendid bass Ain Anger excelled as Daphne's father Peneios"
(George Loomis, Financial Times, June 2015)
"As Dosifey, Ain Anger was enormously impressive : a tall, imposing stage presence, he rolled out his phrases in a generous, beautiful bass, mixing dignity and dangerous charisma in his characterization."
(Hugo Shirley, Opera Magazine, February 2015)