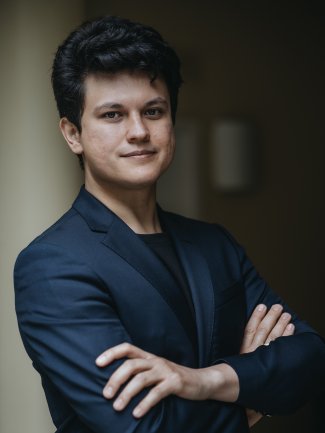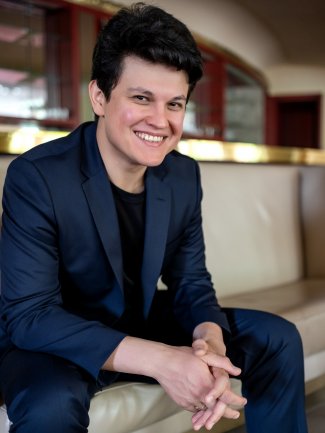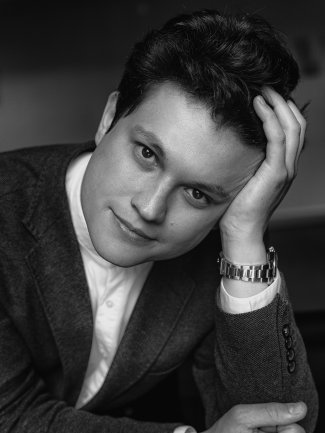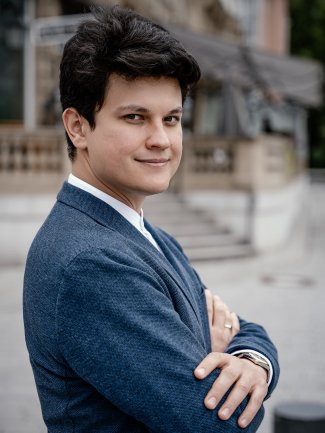 Aziz Shokhakimov
Conductor
Kapellmeister: Deutsche Oper am Rhein
Artistic Director: Tekfen Philharmonic Orchestra
Music Director Designate: Strasbourg Philharmonic Orchestra
Aziz Shokhakimov burst on to the music scene at the age of just 21 when he won second place in the Gustav Mahler International Conducting Competition in Bamberg, under the auspices of the Bamberger Symphoniker. Since then he has conducted distinguished orchestras such as SWR Sinfonieorchester, Elbphilharmonie Orchester (NDR Hamburg), WDR Sinfonieorchester, London Philharmonic Orchestra and the Toronto and Houston Symphonies as well as a previous season highlight – Orchestre Philharmonique de Radio France during a very successful step-in for Yuri Temirkanov.
In the coming seasons, Shokhakimov has been invited to conduct Wiener Symphoniker, Tonkünstler-Orchester Niederösterreich, Luzern Sinfonieorchester, Basel Symphony Orchestra, Orchestre de la Suisse Romande, Orchestre Philharmonique de Radio France, Orchestre National de France, Orchestre Philharmonique de Strasbourg, Orchestre National de Belgique, Antwerp Symphony Orchestra, Warsaw Philharmonic, Seoul Philharmonic Orchestra and Yomiuri Nippon Symphony Orchestra among others.
Next to his symphonic career Shokhakimov is also active in opera. He has held the position of Kapellmeister at Deutsche Oper am Rhein since 2015 and has recently conducted a new, highly acclaimed production of The Queen of Spades. He has also been invited to conduct a new production of Rimsky-Korsakov's The Golden Cockerel directed by Barrie Kosky at Festival d'Aix-en-Provence.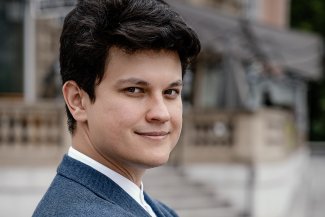 Show More

Shokhakimov has an ongoing relationship with Salzburg Festival where, having been selected from more than 100 candidates, he won the prestigious Salzburg Festival Young Conductors Award in August 2016. He returned to the Salzburg Festival in August 2017 for the prize-winner's concert with RSO Wien and conducted the Opening Ceremony of Salzburg Festival with Patricia Kopatchinskaja in 2019.

Born in 1988 in Tashkent, Uzbekistan, Shokhakimov entered Uspensky Music School for Gifted Children at the age of 6, studying violin, viola and orchestral conducting (in the class of Professor Vladimir Neymer). At 13 he made his debut with the National Symphony Orchestra of Uzbekistan, conducting Beethoven's Symphony No.5 and Liszt's Piano Concerto No.1. During the following year he conducted his first opera, Carmen, at the National Opera of Uzbekistan. He was appointed Assistant conductor of the National Symphony Orchestra of Uzbekistan in 2001 and became its Principal Conductor in 2006.
Aziz Shokhakimov -Prokofiev symphony No.5
© hr-Sinfonieorchester
"[..] the young conductor Aziz Shokhakimov gave substance to the intense [Shostakovich] 10th Symphony. This major work of the twentieth century, rich and complex, requires experience, mastery, a quasi-architectural understanding of the work, finesse and power. And this Wednesday evening at Radio France, Aziz Shokhakimov embraced the full extent of this monumental symphony."
(Flore Vedry-Roussev, Classic Agenda, March 2019)
"Set in perfect harmony with admirable solos, the orchestra shows its full dimension under the baton of Aziz Shokhakimov!"
(Flore Vedry-Roussev, Classic Agenda, March 2019)
"His lightning interpretation unleashes the storm, seeming to take everything in its wake by its devastating breath."
(Michel Jakubowicz, ON-mag, March 2019)
"An interpretation full of musicality and good ideas from the young Aziz Shokhakimov who triumphed in his Parisian debut. A well-deserved ovation for this dynamic conductor who has a great career ahead of him. This young man is worth following!"
("Andika's blog", March 2019)
"The second half was composed entirely of Brahms' mighty Symphony No. 4… Shokhakimov showed his deft skill at balancing the sections of the orchestra while building overall momentum – with only fleeting respite during the Allegro giocoso that finally culminated with the fiery Allegro energico e passionate. Once again, the crowd awarded their new conducting hero and re-energized orchestra with a rousing standing ovation."
(Winnipeg Free Press)
"An incredible conductor, just 22 years old, that we hope will be secured as Principal Guest Conductor of the Comunale Orchestra before another theatre discovers his great talent. At the end, the large audience went literally mad…"
(Il Resto del Carlino)
"The set repertoire, with Mahler's earnest Fourth Symphony at its core, had already given an edge to participants who combined intense focus with a strong ability to structure rehearsals. Shokhakimov commanded the orchestra in an old-world manner."
(Financial Times)
"The Finale was striking in the unleashing of undreamed-of energy. Many only scratch the surface with excessive tempo, but here there was real depth."
(Sächsische Zeitung)