Eleven HarrisonParrott and Polyarts artists at the

30

th Rheingau Musik festival
24/6/2017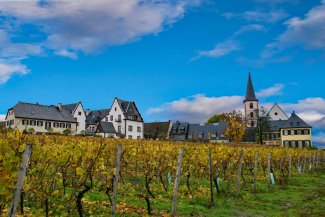 Eleven HarrisonParrott and Polyarts artists perform at the 30th Rheingau Musik Festival from 24 June – 2 September.
Four HarrisonParrott/​Polyarts artists make their debut at the Festival this year. On 1 August Behzod Abduraimov makes his debut playing a solo recital with pieces by Bach, Schubert, Beethoven and Prokofiev. Ksenija Sidorova then makes her debut on 16 August performing her Tango Project, playing with Alexander Sitkovetsky (violin) and Claudio Constantini (piano). They perform a selection of pieces by Piazzolla, Jacob Gade, Gerardo Matos Rodríguez and Carlos Gardel. Also making her debut on 1 September is Sophie Pacini who plays Beethoven's Piano Concerto No.3 with the Cuban-European Youth Academy under the baton of Duncan Ward. Avishai Cohen makes his debut at the Festival performing ​'An Evening with Avishai Cohen' with Stuttgarter Kammerorchester on 30 August. The programme includes settings of Cohen's own contemporary jazz and world music compositions, orchestrated traditional Hebrew and Ladino songs, and selected classical works, while the arrangements span set-ups for solo, trio and full orchestra.
Other artists at this year's Festival include Paavo Järvi who conducts The Deutsche Kammerphilharmonie Bremen on 27 July in a programme that includes Mozart's Symphony No.34 and Violin Concerto No.3 with Janine Jansen, and Beethoven's Symphony No.3. Gautier Capuçon features in two recitals during this year's Rheingau Festival. Capuçon performs alongside Renaud Capuçon and Frank Braley for a performance of Schubert's Trio in E‑flat major (8 July) and again with Braley on 9 July for a number of Beethoven sonatas and variations from their recent album on Erato.
Martin Fröst performs on 28 June with the Amsterdam Sinfonietta as part of his tour around Germany and the Netherlands. Fröst plays Schumann's Fünf Stücke im Volkston, Brahms' Hungarian Dances, Bartòk's Romanian Folk Dances and Fröst's Klezmer Dances.
Francesco Tristano performs on 21 July with a programme of Bach's Piano Concerto and Concerto for Two Pianos with David Greilsammer, Tristano's Hello · Elektron I · Elektron II · Eastern market· Opa! and John Adams' Shaker Loops with the Geneva Camerata. Andreas Scholl sings Vivaldi's Stabat Mater and rare unpublished Marie-cantatas from the 17th century by Nicola Porpora, Leonardo Vinci and Pasquale Anfossi with the Accademia Bizantina on 25 August.
Two violinists perform at the Festival. On 1 July Leticia Moreno performs a programme of Piazzolla's Four Seasons of Buenos Aires with the Colombian Youth Orchestra under the baton of Andreés Orozco-Estrada. Lisa Batiashvili performs chamber music in tribute and celebration of Ana Chumachenko on 2 July alongside the Münchener Kammerorchester under the baton of Clemens Schudlt. Along with fellow former students of Chumachenko, the performance includes Bartholdy's Symphony for strings No.1, Vivaldi's Concerto for Four Violins, Bach's Concerto for Two Violins and Orchestra and Concerto for Three Violins.