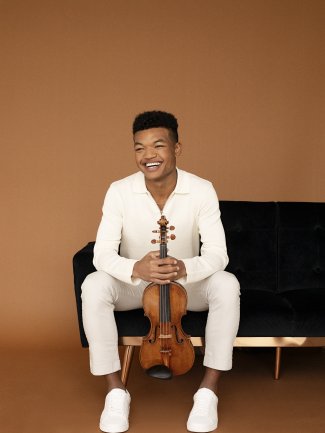 ©
Photo: Jeremy Mitchell, Decca Classics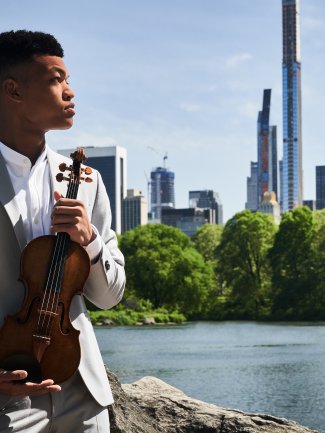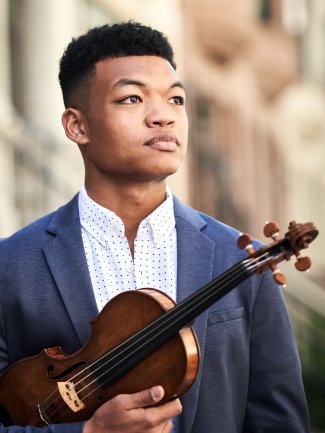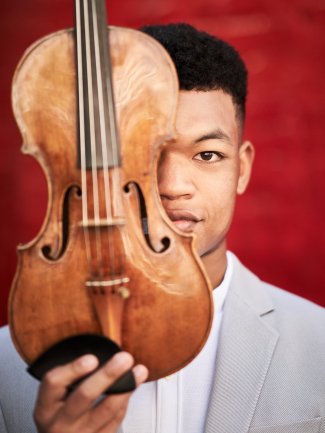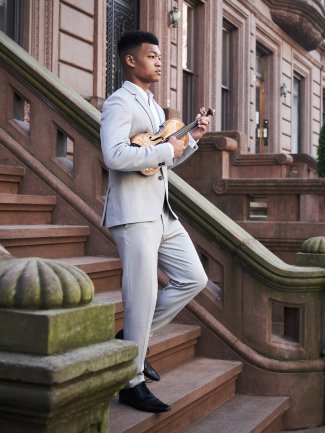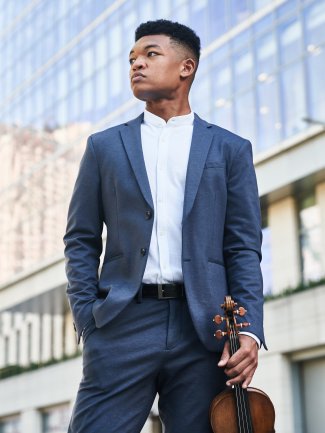 Lydia Connolly
Director, Head of Artist Management
Katie Cardell-Oliver
Associate Director, Artist Management
Ance Kolibere
Associate Artist Manager
"An exquisite tone and sheer virtuosity."

(New York Times)
General Management: Jointly in association with Primo Artists
"For me, personally, music has been a way to inspire others" – Randall Goosby's own words sum up perfectly his commitment to being an artist who makes a difference. Signed exclusively to Decca Classics in 2020 at the age of 24, American violinist Randall Goosby is acclaimed for the sensitivity and intensity of his musicianship alongside his determination to make music more inclusive and accessible, as well as bringing the music of under-represented composers to light.
Highlights of Randall Goosby's 2023/24 season include debut performances with Boston Symphony Orchestra/​Andris Nelsons, Washington's National Symphony Orchestra/​Thomas Wilkins, Pittsburgh Symphony Orchestra/​Manfred Honeck, Seattle Symphony Orchestra and St Louis Symphony Orchestra both under Christian Reif, with European debuts including a European tour with Rotterdam Philharmonic Orchestra under Yannick Nezet-Seguin, Danish National Radio Symphony/Jukka-Pekka Saraste, Oslo Philharmonic Orchestra/​Ryan Bancroft and Lahti Symphony Orchestra/​Dalia Stasevska.
During 2023/24 Goosby will be Artist in Residence at London's Southbank Centre which will include a return to London Philharmonic Orchestra, performing Mozart's Violin Concerto No.3 under the direction of Gemma New and feature both recital and chamber concerts. Other upcoming recital appearances include Chamber Music Cincinnati, Emory University in Georgia, Elbphilharmonie Recital Hall in Hamburg, Perth Concert Hall in Scotland and La Società dei Concerti in Milan.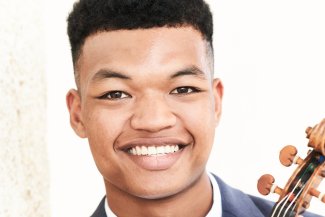 Summer 2023 includes Goosby's debut at the Mostly Mozart Festival under Louis Langrée performing Tchaikovsky's Violin Concerto as well as at Marlboro Music. Previous engagements have included The Philadelphia Orchestra/​Yannick Nezet-Seguin, San Francisco Symphony/Esa-Pekka Salonen, returns to Philharmonia Orchestra/Santtu-Matias Rouvali and Los Angeles Philharmonic/​Dalia Stasevska, Royal Scottish National Orchestra/​Tabita Berglund, and Dallas Symphony Orchestra/​Karina Canellakis. Goosby made his debuts in South Korea in recital and in Japan with Orchestra Ensemble Kanazawa/​Kahchun Wong performing Bruch's Violin Concerto in G minor. In summer 2022, he returned to the Hollywood Bowl with his mentor, Itzhak Perlman and Los Angeles Philharmonic.

In spring 2023, Goosby's debut concerto album was released for Decca Classics together with Yannick Nézet-Séguin and The Philadelphia Orchestra performing the violin concertos by Max Bruch and Florence Price. Gramophone Magazine observed, ​"There's an honesty and modesty…This playing isn't dressed to impress but to express."

Goosby's first album for Decca, entitled Roots, is a celebration of African-American music which explores its evolution from the spiritual through to present-day compositions. Collaborating with pianist Zhu Wang, Goosby curated an album paying homage to the pioneering artists that paved the way for him and other artists of colour. It features three world-premiere recordings of music written by African-American composer Florence Price, and includes works by composers William Grant Still and Coleridge-Taylor Perkinson plus a newly commissioned piece by acclaimed double bassist Xavier Foley, a fellow Sphinx and Young Concert Artists alumnus.

Goosby is deeply passionate about inspiring and serving others through education, social engagement and outreach activities. He has enjoyed working with non-profit organisations such as the Opportunity Music Project and Concerts in Motion in New York City, as well as participating in community engagement programmes for schools, hospitals and assisted living facilities across the United States. In 2022/23 Goosby hosted a residency with the Iris Collective in Memphis with pianist, Zhu Wang. Together they explore how the students family history can relate to music and building community collaboration through narrative and performances.

Randall Goosby was first prize winner in the 2018 Young Concert Artists International Auditions. In 2019, he was named the inaugural Robey Artist by Young Classical Artists Trust in partnership with Music Masters in London; and in 2020 he became an Ambassador for Music Masters, a role that sees him mentoring and inspiring students in schools around the United Kingdom. In 2010 he won first prize of the Sphinx Concerto Competition, he is a recipient of Sphinx's Isaac Stern Award and of a career advancement grant from the Bagby Foundation and of the 2022 Avery Fisher Career Grant. An active chamber musician, he has spent his summers studying at the Perlman Music Program, Verbier Festival Academy and Mozarteum Summer Academy among others.

Goosby made his debut with Jacksonville Symphony at age nine and with New York Philharmonic on a Young People's Concert at Lincoln Center's Avery Fisher Hall at age 13. A former student of Itzhak Perlman and Catherine Cho, he received his Bachelor's, Master's and Artist Diploma degrees from the Juilliard School. He is an alumni of the Perlman Music Program and studied previously with Philippe Quint. He plays the Antonio Stradivarius, Cremona, ​"ex-Strauss," 1708 on generous loan from Samsung Foundation of Culture.
"Goosby is not only technically impressive, but he also has those rare qualities of a first-class soloist: charisma for days, and the strong point of view of an artist with a distinct voice."
The Philadelphia Enquirer, 2022
"With a signature tone of simmering heat, polish, and power, this 25-year-old violinist could have been destined to take on leading roles in the major concert halls of the world … Goosby rendered the calmly ecstatic lines with a bow hand so subtle that the individual bow strokes seemed to fuse into a single breath."
(Musical America, December 2021)
"Make no mistake, Goosby is a virtuoso: he can sing, full-throated, and shape fluid, gleaming phrases high on the E string with the best of them. .. one of the more intelligent – and engaging – debut discs I've heard in recent years."
(Gramophone, 2021)
"He exerted a masterly level of control and lavished an exquisite tone…his performance won him a deserved standing ovation for its sheer virtuosity."
(The New York Times)
"Goosby's tone walked a perfect balance between silky smooth and gutturally abrasive, conveying the piece's tumultuous cavalcade of emotions with the expert precision normally associated with folk legends rather than real people. Whether delivering searing long notes or intricate speed runs, each note of Goosby's performance stood alone as an individual work of art."
(Artsatl.org - Bruch VC/Atlanta SO/New)
Lydia Connolly
Director, Head of Artist Management
Katie Cardell-Oliver
Associate Director, Artist Management
Ance Kolibere
Associate Artist Manager