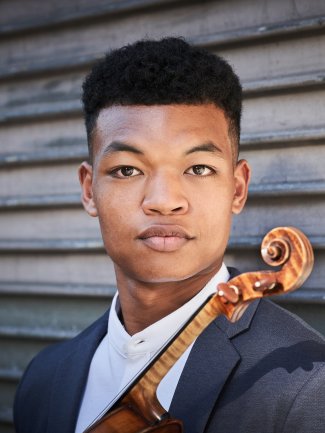 HARRISONPARROTT

SIGNS

VIOLINIST

RANDALL

GOOSBY

FOR

JOINT

GENERAL

MANAGEMENT

WITH

PRIMO

ARTISTS
24/6/2021
HarrisonParrott announces the signing of 24-year-old American violinist Randall Goosby to its roster for joint general management with Primo Artists effective immediately.

​"For me, personally, music has been a way to inspire others" – Randall Goosby's own words sum up perfectly his commitment to being an artist who makes a difference.

Signed in 2020 as an exclusive Decca Classics artist, Randall Goosby is acclaimed for the sensitivity and intensity of his musicianship alongside his determination to make music more inclusive and accessible, as well as bringing the music of under-represented composers to light. 25 June, marks the release of his debut album for Decca entitled Roots, a celebration of African-American music which explores its evolution from the spiritual through to present-day compositions.

On 6 June, Goosby performed on the 43rd Kennedy Center Honors ceremony which was broadcast on CBS for an audience of over 5 million television viewers.

Highlights of the 2021/22 season include debuts with the Los Angeles Philharmonic under Gustavo Dudamel at the Hollywood Bowl, Baltimore Symphony Orchestra under Dalia Stasevska, Detroit Symphony Orchestra under Jader Bignamini, London Philharmonic Orchestra and Philharmonia Orchestra. He makes recital appearances at London's Wigmore Hall, New York's 92nd Street Y, San Francisco Symphony's Davies Symphony Hall and Boston's Isabella Stewart Gardner Museum.

He has performed with orchestras across the United States such as the New York Philharmonic, Cleveland Orchestra, Nashville Symphony and the New World Symphony. Recital appearances have included the Kennedy Center, Kravis Center and Wigmore Hall.

Randall Goosby's General Management will be shared evenly by Lydia Connolly/​Katie Cardell-Oliver of HarrisonParrott and Charlotte Lee of Primo Artists. HarrisonParrott will handle Europe, Asia and Australasia and Primo Artists will handle North/​South America, and the agencies will work jointly together with the artist on all career development strategy and decisions.