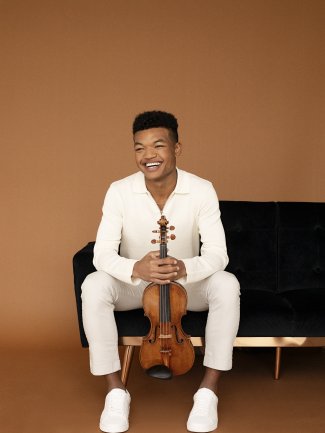 ©
Photo: Jeremy Mitchell, Decca Classics
ALBUM

RELEASE

: Randall Goosby — Max Bruch

&

Florence Price Violin Concertos
17/4/2023
On 19 May, dynamic American violinist Randall Goosby releases his keenly awaited second album with Decca Classics: Randall Goosby, Yannick Nézet-Séguin • Max Bruch & Florence Price Violin Concertos. The recording is an impressive collaboration with the Grammy Award-winning partnership of Yannick Nézet-Séguin and the Philadelphia Orchestra cementing Goosby's ever-growing stature as a multifaceted talent. Building on his debut album Roots (2021), which celebrated Black classical composers, this album showcases the trailblazing composer Florence Price and German romantic composer and conductor Max Bruch.
"I am filled with gratitude for the opportunity to record three stunning concertos with Yannick Nezet-Seguin and the Philadelphia Orchestra.
I fell in love with Bruch Concerto No.1 when I was a kid, and it's one of those pieces that just doesn't get old. It is loaded with drama, excitement, heartbreak, and everything in between. What a joy it was to record this all-time favorite with the lush and expressive sound of the Philadelphia Orchestra behind me!
It was only a little more than a decade ago that Florence Price's Violin Concertos were discovered in what used to be her summer home. Since the discovery, Florence Price's unique musical language and style has enjoyed widespread recognition and appreciation, thanks in large part to Philadelphia's incredible recordings of her orchestral works. Our recording of the violin concertos was incredibly special, not only because it was taken from live performances, but also because of the tangible energy and passion we share for Price's music and legacy. Her music is an important part of American History, and it tells a story that I bet you haven't heard before" – Randall Goosby.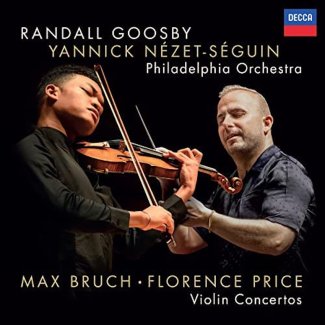 Acclaimed for the sensitivity and intensity of his musicianship, Goosby is also known for his desire to make music inclusive and accessible, bringing the work of under-represented composers to light.
"I wanted to be the one to share these pieces in this way for the first time," said Goosby of the new album – the first commercial recording and release by a major label of Florence Price's violin concerti.
Also on the record is an arrangement for string orchestra and solo violin by Jim Gray of Price's Adoration. Published in 1951, it was initially written as a short piece for organ intended for use in church and has become something of a trademark encore for Goosby in live performances.
On working with Yannick Nézet-Séguin and the Philadelphia Orchestra, Goosby said: ​"Yannick is great. He sort of spearheaded the Orchestra's mission to bring Price's music to the foreground. It's very clear how much he cares about this music, what it means to him. That definitely found its way into the sound of the orchestra and recordings. I couldn't have asked for a more ideal collaboration."
The album will be released worldwide on Decca Classics on 19 May 2023.
Ance Kolibere
Associate Artist Manager