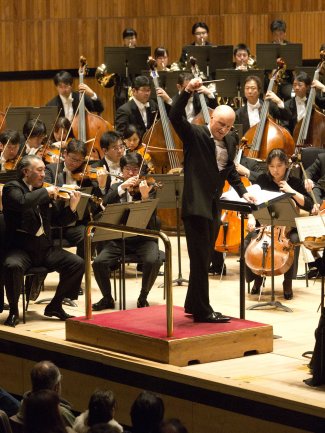 NHK

Symphony Orchestra, Tokyo
"One is impressed by the extraordinary discipline of the ensemble, section by section, the dazzling reactivity to the imperious gesture of the leader."

Diapason, March 2017
Founded in 1926, the NHK Symphony Orchestra Tokyo is Japan's leading orchestra.
Paavo Järvi is NHK Symphony's current Chief Conductor and the Orchestra has a long history of collaborating with some of the world's most renowned conductors including, Josef Rosenstock, Herbert von Karajan, Ernest Ansermet, Joseph Keilberth, Lovro von Matačić and Vladimir Ashkenazy.
In recent years, the Orchestra has presented approximately 120 concerts nationwide annually, including 54 subscription concerts which have been relayed to every corner of the country on NHK Television and through FM radio broadcasts. The concerts can also be heard in Europe, the United States and Asia through its international broadcast service. The Orchestra has also won worldwide acclaim for its overseas tours, including its debut at the Salzburger Festspiele in August 2013.
HarrisonParrott was delighted to work with NHK Symphony on its European tour in 2017, with concerts in Berlin, Luxembourg, Amsterdam, Paris, London, Vienna and Cologne.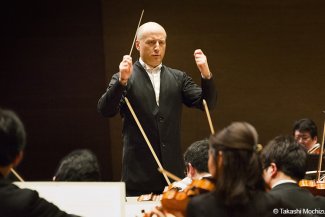 "Shostakovich's 10th in the second half was performed to perfection"
Radio France, le Club des Critiques, March 2017
"This visit by Tokyo's NHK Symphony Orchestra and its chief conductor, Paavo Järvi, was a rare UK showcase for an ensemble on bristlingly good form."
The Guardian, March 2017
"if the playing was loud, it was also often thrilling: fabulously disciplined, crisp and purposeful, and yet also expressive …"
The Guardian, March 2017
"This was a Mahler Six in which every detail was clearly etched, every phrase flexible but firm of purpose … One thing's for sure: none of us will ever hear a Mahler Sixth more confidently or trenchantly executed than this one."
The Arts Desk, March 2017
"The abstract poetry hovered almost like cool darkness, in order to tilt into music of anxiety, of merciless density. The brutality of the second movement is completed with great conciseness. In sum, it is an unvarnished performance — with intensity and without sentiment."
Der Standard, March 2017