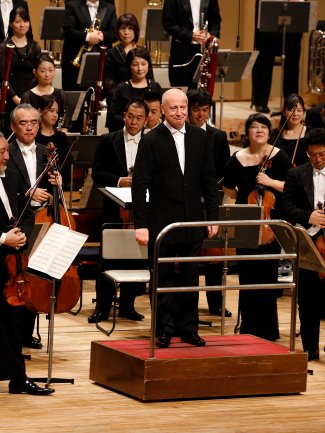 ©
Photo: Takashi Mochizuki
NHK

SYMPHONY

ORCHESTRA

NOMINATED

FOR

GRAMOPHONE

'S ​

"

ORCHESTRA

OF

THE

YEAR

"
15/6/2020
The NHK Symphony Orchestra has been nominated for Orchestra of the Year Award by the prestigious Gramophone Magazine. It is the only award decided on by public vote so now is the time to cast your vote for Paavo Järvi and the elite Tokyo ensemble.

Gramophone has created 11 Apple Music playlists – one for each ensemble, as well as a dynamic playlist that will be updated throughout the summer, exclusively available to listen to on Apple Music. Listen HERE. To support the voting process, Gramophone will be hosting an Orchestra of the Year Online Festival for 10 days from July 24 featuring 10 filmed evening concerts from each of the nominated ensembles in a programme that reflects its individual style and character.

Voting opens at noon on Friday, June 12 and remains live until 8am (London time) on Monday, September 7. Votes can be cast on Gramophone's website – www​.gramo​phone​.co​.uk/​a​wards. The Orchestra of the Year will be revealed on October 6 at the 2020 Gramophone Classical Music Awards.