NHK

Symphony Orchestra tour Europe with Paavo Järvi
24/2/2017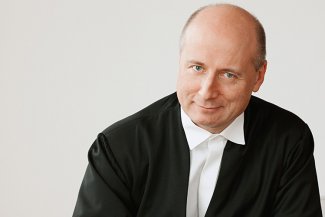 As NHK Symphony Orchestra celebrates its 90th birthday, the anniversary projects continue into February and March 2017 with a seven-city tour of Europe, led by Chief Conductor Paavo Järvi. This is Järvi's first overseas tour with the orchestra since becoming its Chief Conductor in September 2015. Janine Jansen will join the tour in all cities, except London.
The extensive tour starts with a concert at Berlin Philharmonie on 28 February, the programme features Mozart's Violin Concerto No.3 and Mahler's Symphony No.6. This is followed by the performance of a second programme – Sibelius' Violin Concerto and Shostakovich's Symphony No.10, on 1 March at Philharmonie Luxembourg.
On 2 March, the orchestra gives a repeat performance of the second programme at Philharmonie de Paris, travelling onwards to Amsterdam for a concert at Concertgebouw on 4 March.
On 6 March, the orchestra performs Takemitsu's Requiem for Strings and Mahler's Symphony No.6 at the Royal Festival Hall of Southbank Centre, London. 23 years have passed since the Orchestra has played at the Hall and 16 years since they last came to London.
The last two concerts of the tour take place at Wiener Konzerthaus on 7 March and Cologne Philharmonie on 8 March.
Upon describing Järvi's tenure as Chief Conductor of NHK Symphony Orchestra, The Times said ​"Järvi has taken to Japan. Now in his second season as chief conductor, he has extended his contract for three years and brings the orchestra to the Southbank Centre next month as part of the group's 90th birthday celebrations … and he's unashamed about how much he values the regard that the Japanese give to classical music." Bachtrack goes on to summarise with precision: ​"When it comes to the NHK, Järvi is a man on a mission."
Teodora Masi (maternity leave)
Associate Director, Artist Management